Buy Gold Bullion bars at Low Premiums

Gold Bars Raise the Bar for Investors
Gold bars are a valuable addition to investment portfolios that can help protect wealth for the future. Gold has many benefits, including being an excellent hedge against failing governments, rising inflation, and failing fiat currency.
Gold values are not affected by many economic and political changes, and tend to rise in price with the pace of inflation, making it a good type of financial insurance offering stable returns and portfolio diversification for almost anyone. A gold bar is sometimes referred to as a gold ingot or gold bullion bar. A bar is shaped from refined metallic gold. A bar of gold is measured by the troy ounce (troy oz).
Gold is loved and cherished around the world. From the people of the United States to the British, from Africa to South America, whether Chinese or Australian, Queen or citizen, a client or the press, gold is considered valuable.
You may not be able to walk into an Apple Store at your shopping mall and buy the newest iPhone with a bar of gold, but that bar is likely going to fetch you plenty of cash to be able to buy the phone of your choice.
Find out why buying bars in gold bullion content is one of the most coveted types of precious metals for a wide array of investors.
Basics About Gold Bars
Many investors in the United States and around the world appreciate the value of precious metals such as silver, gold, platinum, and palladium. A gold coin crafted at a mint is typically smaller than a gold bar made at a refinery.
Very large and serious precious metals investors typically invest in a bar over coins, rounds, ingots, or fractionals because they are generally the most cost-effective way to acquire physical gold bullion and they come in a wider range of choice sizes, options, and quantities.
Small gold bars are made by stamping or minting rolled gold sheets. The largest bars, such as kilos, 100 ounces, and 400 ounces, are generally made by pouring molten metal into cast molds that give them their shape at refineries. Markings and any surface detail are usually made by a press. You may have seen people stacking gold bars on social media outlets such as TikTok, YouTube, Instagram, and Facebook.
Consider the Size
Gold bar sizes start as small as 1 gram. They can go up to an exchange-sized bar that weighs 400 ounces each. A variety of gold bar weights, such as 1 Troy weight (ounces) to 10 ounces, is usually the most attractive and commonly chosen option for investors and some collectors.
They are usually individually packaged by the refiners, and marked with their signature logo, making them tamper-resistant. Certificate holders are guaranteed weight and purity by the company on all orders.
Anything larger than 10 ounces of gold or others sold without the original packaging is often discounted. Dealers, or the refiner, will then send them for melt (spot price) and assay. It is easier to tamper with larger gold bars. Often, buyers find the level of risk is not worth the
Why Prominent Manufacturers Matter
Savvy investors recognize the importance of buying a gold product from a prominent manufacturer to get top dollar when they are sold.
Savvy investors recognize the importance of buying a gold bullion product from a prominent manufacturer to get top dollar when they are sold.
Money Metals Exchange offers gold bars for sale from some of the leading mints in the industry, with quality assurance, from markets around the world including the U.S., Australia, Austria, Britain, Canada, Switzerland, and other government mints:
Royal Canadian Mint
Republic Metals
Ohio Precious Metals (OPM)
Sunshine Mint
Perth Mint
Austrian Mint
Well-known options for investors looking to buy gold bars include:
PAMP Suisse Lunar
PAMP Suisse Lady Fortuna
PAMP Suisse Multigram Portfolio
Valcambi CombiBar
The Valcambi Combibars are innovative bars, and they are assets scored and designed to be easily separated into smaller segments, such as 1-gram or 1/10th-ounce amounts. Each segment asset carries the Valcambi brand designs along with its weight and purity number.
They are an ideal way to get the advantage of versatility with small denomination bullion coins at a lower price for greater returns, or profit, from your gold investments. These can make a great gift for an investor or a collector.
Get to Know More About the Fineness of Gold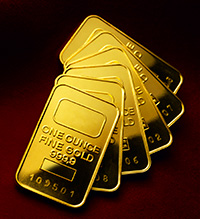 Beyond weight, quantity, and the manufacturer, the purity of the gold makes a difference in its value, not whether they are from the Royal Mint, the U.S. Mint, or any other name. The higher purity of the gold will likely have a pristine appearance.
A scale of millesimal fineness is used to determine gold that is almost pure. Many fine gold pieces are labeled .9999, which means they contain 99.99 percent gold. Since 100 percent purity is practically impossible to achieve, the highest level of purity on the market is .99999 (five-nines).
This is often used to make certain circulated gold coins for sale. For minted products, the most common fineness is .9999 (four-nines). The next category is 995, which is the minimum amount permissible in a Good Delivery gold bar.
A Good Delivery gold bar is the standard 400-troy-ounce gold bar held in a system of gold reserves by central banks in areas around the country and traded among bullion dealers. Because 24k fine gold is so soft, it is not used for everyday products such as jewelry, design accessories, or statues. This type is reserved for investment purposes, for use in gold bullion bars and gold coins. Fine gold has little-to-no impurities.
Where Can I Purchase Gold Bars?
There are several places where gold is sold. A pawn shop is a local option that can often be risky, especially if stolen goods are involved. Some people attend gold shows but this is not always convenient. Plus, buyers must know the reputation of these sellers to purchase with confidence.
A neighborhood coin shop may sell gold along with a collection of silver coins, platinum, palladium, and copper, and have years of experience, but typically the prices are higher to cover the overhead of having a physical business location.
There are also websites where pricing bids can be made on bullion and private listing items on sites such as Amazon and eBay. These purchases are usually at the seller's risk, which could prove to be a costly fortune in the future without the right information. The most convenient and reliable way to invest in gold bars is from a reputable online dealer such as Money Metals Exchange.
How Much Do Gold Bars Cost?
Here's a nugget of wisdom to a FAQ... Wise investors conduct research times on the day of a stock market investment or at the moment they want to invest in gold bars. The gold bar price may vary by the day, hour, and minute – based on many financial factors including premium, form, and several other factors.
Currency, as opposed to specie, can lose its value and may not be the best way to protect wealth. Buying precious metals at the lowest possible prices is a way to preserve wealth for the future. Gold bars have international value and can be used to build a solid investment portfolio with high performance.
The goal is to purchase gold when the prices are low and perhaps sell some of it when the prices are high. Precious metals are a volatile, yet potentially lucrative, investment for those who are well-researched and smart.
Facts to Know About Buying and Trading Gold Bars
The US Mint sells gold in legal tender US Mint coins. A gold bullion bar should be purchased from a dealer with a solid reputation that stands behind what it sells. Storage is another factor to consider, especially for those who are buying large gold bars.
If gold is stored in a bank safe deposit box, it is not insured by the Federal Deposit Insurance Corporation and may not always be accessible. Storing it in a safe at home can put buyers at somewhat greater risk for theft, although personal valuables insurance can be obtained at a reasonable cost.
Storing your gold bars at a maximum security facility such as Money Metals Exchange's Money Metals Depository is a good option.
Buying Gold Bars Online
Most dealers on the selling side of things expect payment at the time of the order since prices vary and it is such a high-priced item. The payment method must be cleared before a shipment is made, based on availability and whether they are currently in stock. When the order is ready, the buyer is informed so they are aware of its progress. The gold bars can be stored or sent to the buyer, based on their preferences.
As a general rule of thumb, it is better to buy physical gold nuggets, bars, ingots, rounds, coins, gold IRA, or even a piece of gold itself, etc. than it is to invest in gold ETFs or gold stocks. The closer you are to actually owning and possessing the physical specimen, the more control over it you have. There are many ways and cases where people lose their investments when they do not have physical possessions of gold to account for.
Money Metals Exchange takes the mystery out of the gold buying process. You have questions, we have answers. From beginners to seasoned investors, our professionals can help investors purchase and sell gold. Buyers appreciate competitive prices with unmatched service and fast, secure, and discreet shipping and delivery. Simply order on our site in your browser or call one of our friendly, customer service, precious metals experts, to help give you a hand with your order or to seek consultation and answer any questions at 1-800-800-1865.