The Money Metals Exchange Affiliate Program
What is the Money Metals Exchange Affiliate Program?
Money Metals Exchange is one of the easiest and most lucrative affiliate programs offered in the precious metals industry. Put simply, you'll receive a check each month for every online referral that you send to our website that results in a paid order within thirty days.
How does it work?
The first step is to become an affiliate. Once approved, you can quickly and easily select from a variety preconfigured text links, banners, and content that will link to MoneyMetals.com.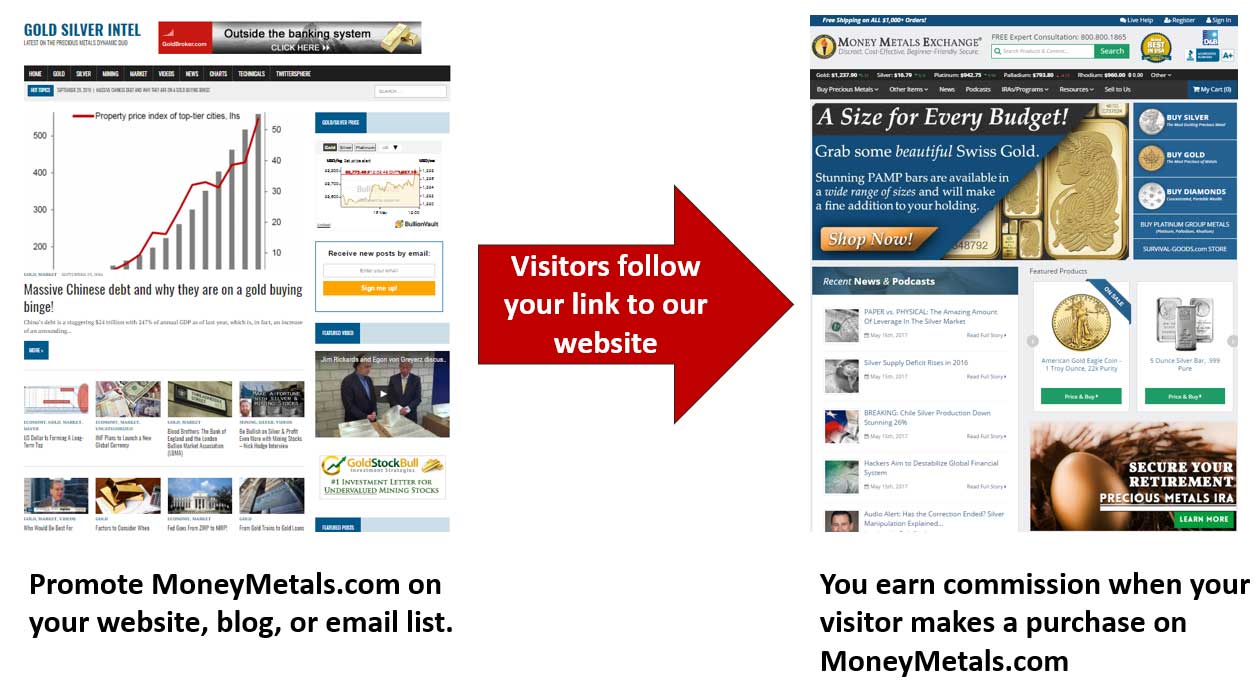 Each time a visitor from your web property clicks on one of our links(or banners), they will be assigned a unique tracking link that records your website as the lead source. After that visitor make a purchase on our website (either that day, or any time up to thirty days in the future), Money Metals Exchange will pay you a commission of $23 for each paid sale originating from your site.
What Advertising Elements do we provide?
Depending on your online marketing channels, Money Metals offers a wide variety of creative advertising elements including web banners, text links, and email creatives. These can be added to blogs, websites, posted to your social media platform, or sent to your newsletter subscribers. We even make full pages content available if you would like to populate your site with our news articles.
Tracking and Reporting
From within the affiliate portal, you can view your individual reporting data, detailing every step of the process from first click to verified sale.
Join for Free Today
It only takes a few minutes, and you will get access to all the tools needed to get you up and running to start monetizing your visitors' demand for precious metals.