Vault Silver - 1 Troy Oz Pure Silver, Securely Stored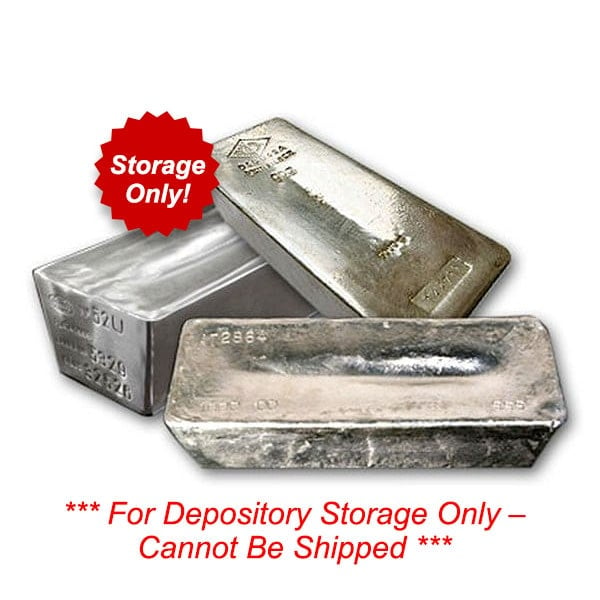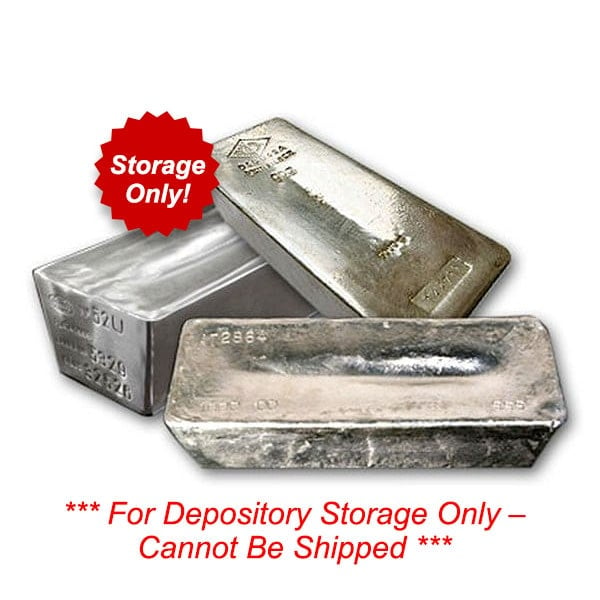 $26.35
(as low as $1.07 over spot)
Get a Free Kennedy 90% Silver Coin w/ Your $500+ Silver Order (excludes Vault Silver & Monthly)
This is a low-cost, STORAGE-ONLY item and cannot be shipped. You will be prompted to set up a Vault Metals storage agreement upon completion of your order and there is a small storage fee.

Also available in gold, platinum, palladium and rhodium -- click HERE for details!
Quantity
Premium/Oz
Total Price Each
5 - 1999
$1.27
$26.55
2000 - 5000
$1.17
$26.45
5001 - 7000
$1.07
$26.35
7001+
Call for discount



Free Shipping
On All $199+ Orders
Introducing the Lowest Cost Way to Buy Pure Silver
**NOTE: Vault Silver is a storage product. The ounces purchased are held in bailment on your behalf and stored in a Class 3 vault. Clients must complete a storage agreement after checkout and there is an affordable fee for storage. The fee starts at just $96 per year and goes as low as 39 basis points (.0039) per year for holdings of $1,000,000 or more. For example, clients with $100,000 in Value stored pay just $490 per year (.0049 x $100,000)**
Now you can buy physical silver without the markup of most minted bullion products. You can avoid the cost, hassle, and delay associated with having your silver shipped. And you get the ultimate security for your silver by storing it in Class 3 state-of-the-art vaults at CNT Depository in Massachusetts, Delaware Depository in Delaware, and Money Metals Depository in Idaho.
Thousand-ounce silver bars generally offer the lowest cost. The challenge is in making them genuinely available to clients -- not via phony paper derivatives which purport to represent silver.
The trouble is that each bar weighs approximately 70 lbs making them expensive and risky to ship -- and hard to handle. Later, when it is time to sell, bars that have left the vault system must be melted and re-assayed. This means significant additional costs and delays. Low-cost exchange-sized bars work best for investors when they remain in an exchange-approved depository.
The solution is Vault Silver.
How do we do it? By providing clients with the ability to accumulate ounces through direct, allocated ownership in exchange-sized (1,000 oz) silver bars (or other sized silver bullion items when practicable) which are stored physically segregated for Vault Metals customers.
Why do we do it? There is just one reason. Clients want it.
More specifically:
Fabricated coins, rounds, and smaller bars are often in short supply, particularly during periods of turmoil and high demand. Silver is either unavailable or premiums go sky-high, just when investors need silver most.
Some customers worry about security and the difficulty of handling silver at home -- especially when it comes to large holdings.
Some customers prefer to avoid the cost, hassle, and delay associated with shipping silver -- particularly when it is time for them to sell some of their holdings.
Customers can liquidate their Vault Silver ounces anytime for U.S. dollars -- or convert the ounces into items that can be shipped directly to them using a standard exchange transaction (charges may apply).
Although these large commercial bars are too heavy and too risky to ship via common carriers, customers can arrange to take direct personal possession of these large bars directly by picking them up at the depository.
We also have a few clients who want to buy and sell silver. They don't want to trade securities or paper contracts with crooked Wall Street bankers, in the COMEX's highly leveraged casino which some feel is rigged by the big banks. They want the security and trust associated with holding unleveraged physical metal owned by them directly, securely stored by someone they can trust, outside and away from Wall Street and the rickety financial system. But they need an option with a low bid/ask spread.
Vault Silver is low-cost -- like an ETF. However, unlike an ETF, Vault Silver holders own actual physical silver directly -- rather through a security instrument with counterparty risk. Every ounce our clients own is insured, securely stored without encumbrances, and available for them to liquidate quickly for cash, exchange into other items, or take direct personal possession of these large bars from the depository.
Product Specifications
| | |
| --- | --- |
| Weight: | 1 troy ounce (31.103 grams) |
| Purity: | 99.9% fine silver |
Sell to Us
We are buying this item back daily, and we pay you promptly!
Our current buy pricing is $24.72 each and we will buy up to 200,000 ounces at this price. Simply call us on any weekday to lock pricing at 1-800-800-1865.
Learn more about the process for selling to us here.
Shipping Info
We take great pride in the way your order is packaged and delivered.
You can expect:
Prompt Shipping – We ship orders shortly after your payment has been cleared – generally within 2 business days.
Fully Insured – We fully insure all shipments with Lloyd's of London.
Privacy – Your package will have no external markings that provide any clue as to the contents. Because we insure packages with Lloyd's of London, we do not declare a value or insure with the carrier.
Accountability for Package Contents – Your order will be packed under video surveillance, weighed and double-checked prior to shipping to ensure you receive exactly what you ordered.
Professional Packaging – Your order will be packaged securely and professionally.
Tracking – We will provide you with the carrier's tracking number for your shipment so you can monitor its progress and plan for delivery.
Signature Confirmation – Delivery carriers are instructed to request a signature upon delivery.
Cost to Ship & Insure
(absent periodic special offers for free or discounted shipping)
| Insured Value | Cost |
| --- | --- |
| Up to $198.99 | $7.97 |
| Insured Value | Cost |
| --- | --- |
| $199.00 + | FREE |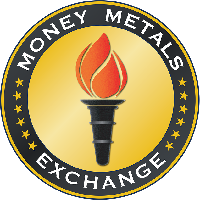 Sign in to Your Account
Please Sign In or Register to leave a review
Nanci K.

October 15th, 2023

I will do good enough with them again

Very secure

Glad you are selling in lots of 5, instead of lots of 45 Makes it much easy financially to afford in smaller lots. Great Concept, keep up the good work.

Kwasi B.

February 14th, 2022

Here's how it works for those wondering: The first thing is to set up a precious metals IRA account with new Direction Trust Company for they will be holding your P.M. Yes, there are fees, especially initially but even they are reasonable. After you fund your account which you can do several ways (I do mine with auto monthly contributions) simply call Money Metals Exchange with your NDTC IRA account number and tell them you want to purchase X amount of PM. It's as easy as that! No hoops to jump through, no hidden fees and the staff at Money Metals are professional, friendly and always provide excellent quality and service! I would also suggest Money Metals Gold & Silver Program too. All you do is set up an account and include your monthly contribution amount for as little as $100 a month and then choose what specific PM you want, bars, rounds, coins, etc. Every 3 months Money Metals will mail you your precious metals which I also believe is free of charge. It's a great way to stack PM and they always send excellent quality metals! Unfortunately due to the current rise in inflation I ended my Gold & Silver subscription to tighten my belt, but I STILL have my PM IRA. I forgot to mention the folks over at new Direction Trust Company. They are prompt in responding to emails and they will also reach out to you if anything should go wrong like change of payment, etc. I hope this helps.

Larry J.

October 29th, 2021

Love this metal investment option!

I bought into this option when it first became available. The super low premium and secure storage cannot be beaten. Period. And when it's time to sell, that's great too. The check hit my account in a few days. It's a great way to protect and grow your nest egg.

Michael M.

December 6th, 2020

Cheaper and Better Sliver Storage

I'm just getting started with purchasing precious metals, this new lowest Vault Sliver storage option helps you to invest with confidence that your investments are securely protected and verified .999 pure sliver. M. McKinzy Sr. 12-06-2020