The Beauty and Elegance of Silver Statues: An Exploration of the Timeless Art Form
Silver statues are popular in many cultures, including India, China, and the United States. The United States is the largest consumer of silver statues, accounting for around 40% of the global market share. With silver artists all over the world creating a wide variety of magnificent pieces and silver statues, there is certainly an aesthetic that almost anyone can find enjoyment in having.
Some investors are not concerned about the appearance of silver statues, they are instead more concerned with the item and its capacity to act as a store of value while hedging against long-term inflation of the U.S. dollar.
While statues may have a significant amount of silver, especially the sterling silver statues sold on the Money Metals Exchange site, silver statues may not be as good of an investment as silver bars, silver fractionals, silver rounds, and junk silver coins. Silver statues tend to have higher premiums than other silver investment options. However, if a person wants to create a store of value while also having nice art in the form of a silver statue, then getting a silver statue is a great option! A silver statue would also be an amazing gift.
Who Makes Silver Statues?
There are not many companies making silver statues these days, but there are some industry standard names you may come across while researching silver statues. Interestingly, neither the U.S. Mint, the Royal Canadian Mint, nor the Perth Mint produces silver statues although they produce coins, rounds, bars, jewelry (e.g. bracelet & necklace), etc. The following are some mints and manufacturers that have made silver statues:
Heads or Tales Coin Company

Silver Statues

New Zealand Mint

Rearden Metals
What is a Silver Statue Made of?
Silver statues are typically made of sterling silver, which is an alloy of 92.5% silver and 7.5% copper. This alloy is most often a combination of silver and other metals such as copper, zinc, and lead. Silver statues are the third most popular type of statue, behind bronze and marble statues, with a market share of around 15%.
How big can silver statues be?
Silver statues can be found in a variety of sizes, from small figurines to large, life-size sculptures, and beyond. Silver statues can also be found in many different styles, from classical to modern.
One of the largest silver statues was a remake of Michelangelo's Pieta, cast in .999 pure fine silver and weighing 20,021 Troy ounces, or around 1372 pounds of pure silver (~ 622 kg).
What is the purpose of the silver statue?
Silver statues are normally used as decorative pieces but can be used as religious or cultural symbols. They are quite often presented to commemorate important events, such as the opening of a new building or the anniversary of a company. Silver statues make for excellent gifts and silver investment pieces. If something can be made into a statue, it can be made from silver- so the only limitations are the artist's abilities, imagination, and the cost of the silver.
What are some differences between fine silver, sterling silver, and pewter?
Fine Silver
Silver is a precious metal just like gold, platinum, palladium, and rhodium. Silver is valued not only for its rarity, but also for its wide range of applicability, such as in electronics, the medical field, automotive, the solar industry, and more. Silver's fineness is known as its millesimal fineness.
For silver to be considered fine, it must be at least 0.940 fine. Most companies, mints, and refineries, however, consider silver to be fine at .999 fine (999, three nines fine), making it pure silver. The difficulty with a pure silver statue is keeping it bright and shiny without a patina or changing colors over time, while also giving it a definitive shape that lasts since silver is naturally softer than many metals.
Sterling Silver
Sterling silver is an alloy of 92.5% silver and 7.5% other metals, usually copper. Today, the millesimal fineness of sterling silver is .925 fine (925), although historically it may range from 91.5% - 92.5%. Sterling silver is stronger than pure or fine silver, which makes it perfect for creating exquisite silver statues.
Sterling silver costs less than fine silver, and it maintains its luster longer, especially depending on the alloy it is mixed with, such as germanium, zinc, argentium, sterlium, silvadium, etc.. Sterling silver statues are the type of high-quality statues sold on MoneyMetals.com.
Pewter
Pewter is a malleable metal alloy of tin, antimony, copper, bismuth, lead, and sometimes a small percentage of silver. Historically, pewter had a significant amount of lead, but this has changed over the years, especially since news came out about the toxicity of lead.
Pewter is often mistaken for silver because they are often found on the same or similar items, such as statues, and they have about the same coloration as one another. However, pewter is not a fraction of the cost of silver, and pewter does not have a natural store of value as silver does. Pewter is a much cheaper metal.
Silver Statue Designs
There are a number of silver statue collections and design series options for silver statues on the market today. These statues are made by hand and by 3D casting. Silver statues range in applications, such as for home decor, office decor, room accents, shelf ornaments, wedding registry gifts, religious practices, passing wealth through generations, and just fun collectibles for collectors of all types.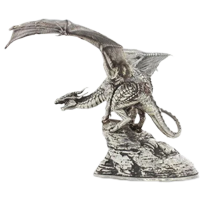 Silver statues come in a variety of sizes from short to tall, tiny or huge, little or big, round or square, light or dark, and they may have a set or version with different features.
Some of the more popular silver statues include freedom military soldiers as seen in battle, such as line artillery loader Arty Red Leg, assault Greaseman Gary, browning operator Trigger Ted, medic Martinez, Officer Captain Troy, Rifleman Glover S. Johns, and a statue dedicated to the victory in Iwo Jima.
There are also symbolic figures such as the Britannia, Libertad, and Lady Liberty (aka the Statue of Liberty). The animal line includes Ozzy the grizzly bear, the soaring American bald eagle, and Troy the Wall Street bull. The line of dinosaurs is equally popular with the tyrannosaurus rex and triceratops. The exotic collection holds the Coco dragon, the Draco dragon, and the Skull of the Dead. Lastly, there is the Brazilian statue of Christ the Redeemer, a crucifix depicting the crucified Jesus Christ in The Price He Paid, and a Donald Trump bust.
Other silver statues may include various idols; a Chinese Buddha; a bird; baby Jesus; another religious group, symbol, or figure; a dedication to the red, white, and blue, stars and stripes; and, men or women of significant popularity or historical presence.
Each silver statue comes with a certificate of authenticity, applicable information, content details, a protective box for each figure, and the names of the sellers with their respective particulars.
Where can silver statues be bought?
Silver statues can be purchased on the Money Metals Exchange website, or by calling and speaking with one of our friendly customer service representatives or precious metals experts. All of our products and shipments are insured, protecting your product orders throughout the shipping process.Money Metals Exchange has been in business since 2010 and has maintained an A+ rating from the Better Business Bureau (BBB) while receiving thousands of 5-star reviews from customers all over the United States of America.
Money Metals Exchange: 1-800-800-1865
Where can I sell my silver statues?
Some silver statues can be sold directly to Money Metals Exchange by giving us a call during normal business hours and speaking with one of our friendly customer service representatives or precious metals experts.
Money Metals Exchange: 1-800-800-1865