Overstocked, Discounted (and Unique) Items Available: Help Us Liquidate This Inventory!
While the prices on precious metals products on the Money Metals site are always competitive, we frequently have special deals available. We also come across less common products and prefer to move them out the door at steep discounts. Whether you're looking to buy silver, gold or other precious metals, check out today's great deals below!
All $199+ Orders Ship Free!
Orders of $199 or more include free shipping & insurance. And a very small charge on orders less than $199. (Orders less than $199 have a flat rate charge of $7.97).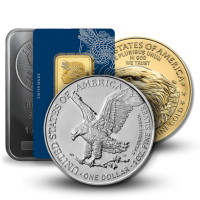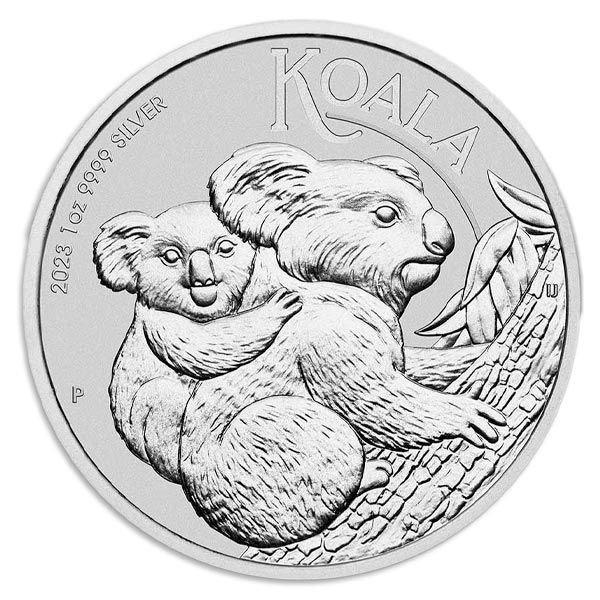 2023 Perth Mint 1-Oz Silver Koalas - Lowest Price Anywhere!
As low as $5.99 over spot on the 2023 Perth Mint Silver Koala. Each beautiful coin comes in air-tite plastic coin capsules, in sleeves of 20. These coins regularly sell for twice the premium, but get yours today from Money Metals for only $5.99 over spot (when buying 100+), or just $6.49 over spot for orders of less than 100!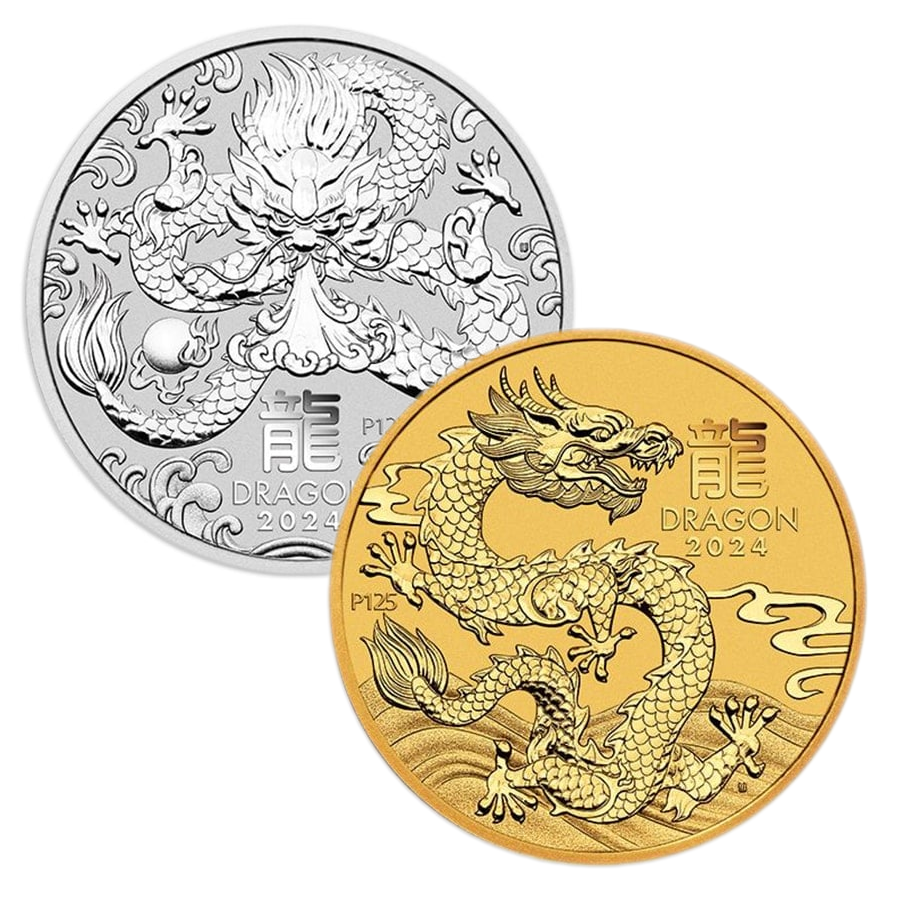 ***JUST RELEASED AND NOW AVAILABLE*** Perth Mint 2024 1-oz Gold & Silver Lunar Year of the Dragon Coins!
Get the brand new, limited mintage and highly sought after 2024 Perth Mint Year of the Dragon 1-oz Gold and Silver coins! Grab yours today, before they run out!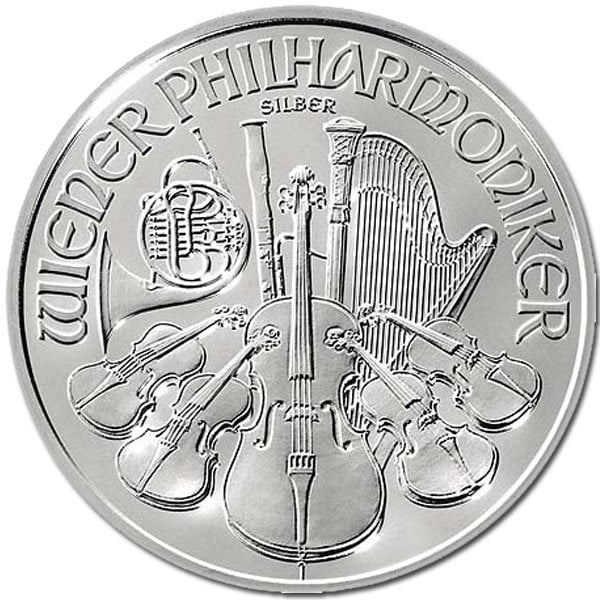 Silver Philharmonics - Lowest Premium 1-oz Silver Coin
Save big versus Silver Eagles on the world renowned 1-oz Silver Philharmonic from the prestigious Austrian Mint. Get this pure silver coin with the unique smooth edge, for essentially the same price as a silver round. Newly minted coins come in tubes of 20 or sealed boxes of 500.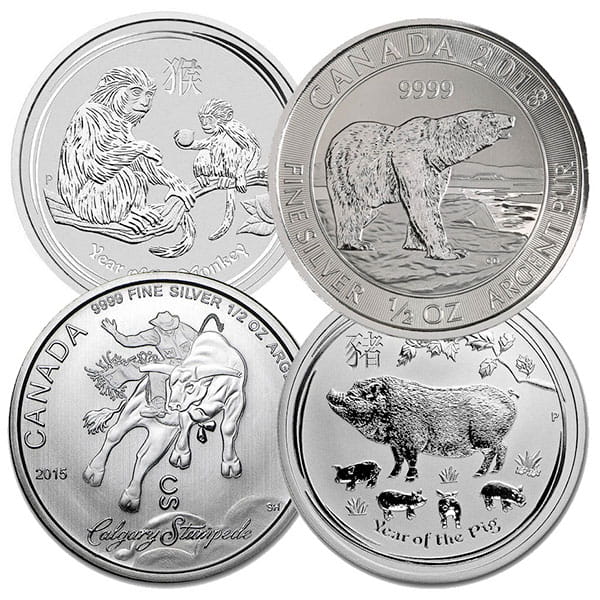 Half Ounce Pure Silver Coins (REDUCED PREMIUM)!

Reduced premium on the beautiful half oz coin featuring various designs, most all from the Royal Canadian Mint. There are not many government silver coins in the half ounce size available in the market. Grab this unique size today.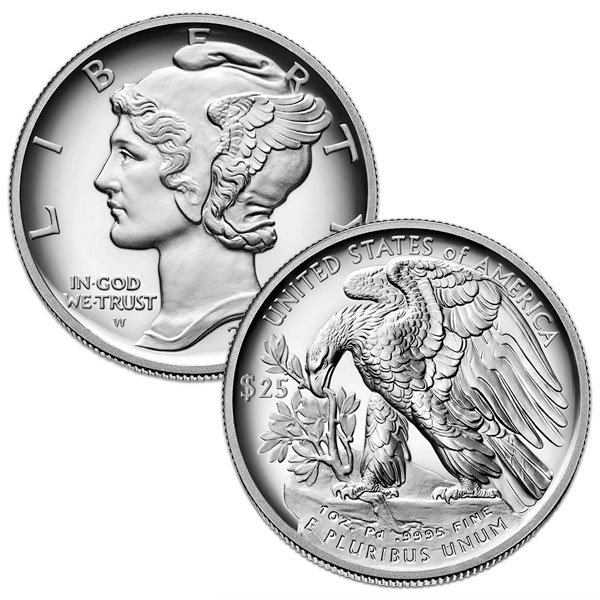 Limited Quantity Remaining on the Hard to Find Palladium Eagles!!!
We have a handful of the very hard to find Palladium American Eagle 1-oz Coins. Very few if any dealers have had any stock on these coins in months, but we've got them (for now anyway)! Don't delay!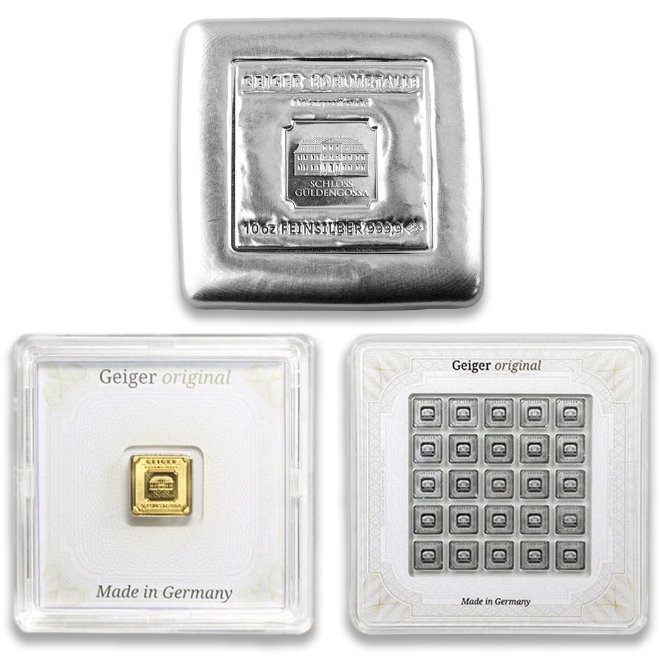 Geiger Gold and Silver Bars!

One of the most prestigious and hard-to-get product lines in the retail bullion market. Grab some Geiger Gold Bars and Geiger Silver Bars today!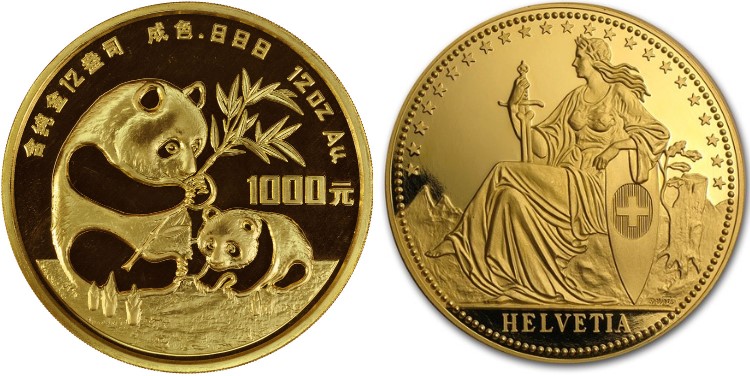 Unique 12-oz Gold Coins!
Magnify your Bullion investment with these beautiful coins. Each of these coins contains 12-Oz of .999 fine Gold, and the limited mintage of these coins makes them an excellent item for collectors or simply to have as a Gold investment. Don't miss out on this opportunity to own these rare to come by coins!

We currently have these coins available. Pricing is as follows...
(2) 12-Oz Gold Panda coins (varying condition, with tarnish) available for just $99 per ounce over spot each!
(1) 12-Oz Proof Gold Swiss Helvetia (in box with COA) available for just $119 per ounce over spot each!

SKU: 349 (x12 for each single coin)
Since availability is quite limited, this item is available by phone only at 1-800-800-1865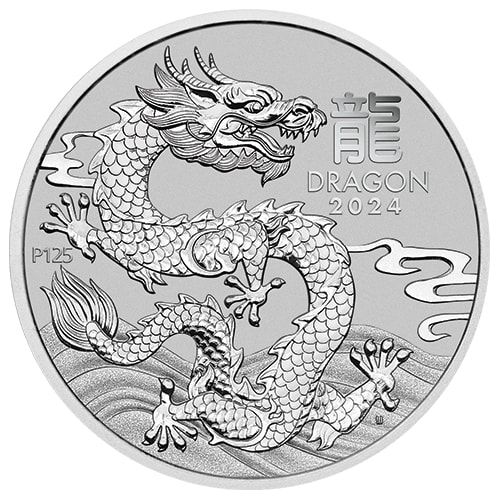 Perth Lunar Series: 2024 Year of the Dragon 1-oz Platinum Coins!
The fifth of 12 animals in the calendar, the dragon bestows bravery, ambition, intelligence, and good fortune on those born under its influence. The coin portrays a Chinese mythical dragon with stylized waves and fog - allusions to its control of the elements. Included in this 2024 (Lunar Series III) design is the inscription 'P125' mintmark signifying The Perth Mint's 125th anniversary. This is your opportunity to add this beautiful coin to your collection!

We currently have (57) available for just $129 over spot each!

SKU: 861
Since availability is quite limited, this item is available by phone only at 1-800-800-1865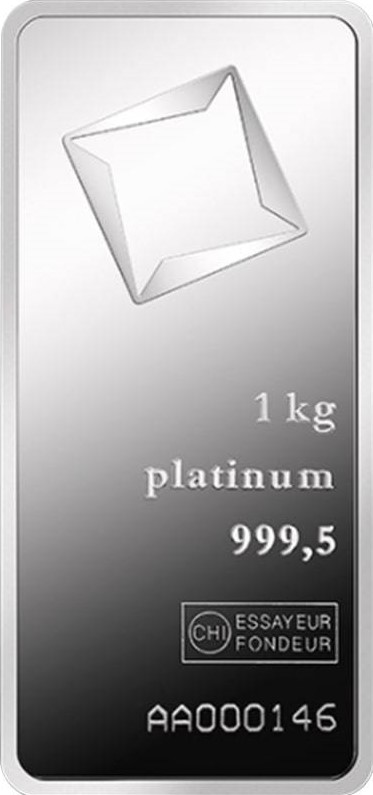 REDUCED: Kilo Valcambi Platinum Bar (no assay, light scratches)
Valcambi was formed on May 15, 1961, as Valori & Cambi by a group of businessmen/entrepreneurs. Throughout its 60 year history, Valcambi has focused solely on the business of precious metals refining. The company produces a wide range of bullion bars that include both cast specimens and minted ingots. This is your opportunity to own a Kilo Platinum Bar (.9995 pure) from the renowned refiner, at a low premium!

We currently have just (1) Valcambi Kilo bar (32.15 troy oz) with light scratching, available for just $39 over spot per ounce!

SKU: 917
Since availability is quite limited, this item is available by phone only at 1-800-800-1865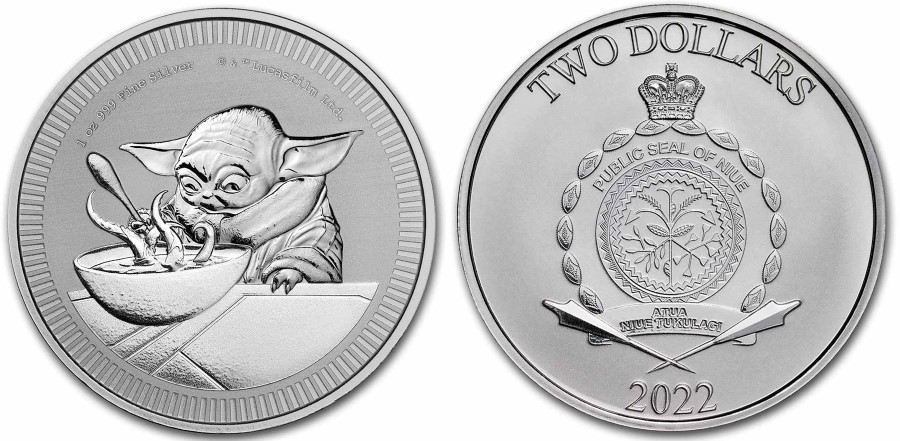 2022 Niue 1-oz Star Wars: Grogu "Baby Yoda" Silver Coin
Baby Yoda, or Grogu (real name), is a mysterious child pursued by bounty hunters on behalf of Imperial interests who found protection with the Mandalorian Din Djarin. Once a student at the Jedi Temple on Coruscant, Grogu survived Order 66 and was hidden away. For a time, Grogu studied at Skywalker's temple on Ossus, but his attachment to Djarin remained strong. When given the choice, Grogu decided to return to the Mandalorian and continues to share his adventures as they take a stand against the Imperial remnant. This is your opportunity to add this silver coin to your collection!

We currently have (15) coins available for $19.99 over spot each.

SKU: 88
Since availability is quite limited, this item is available by phone only at 1-800-800-1865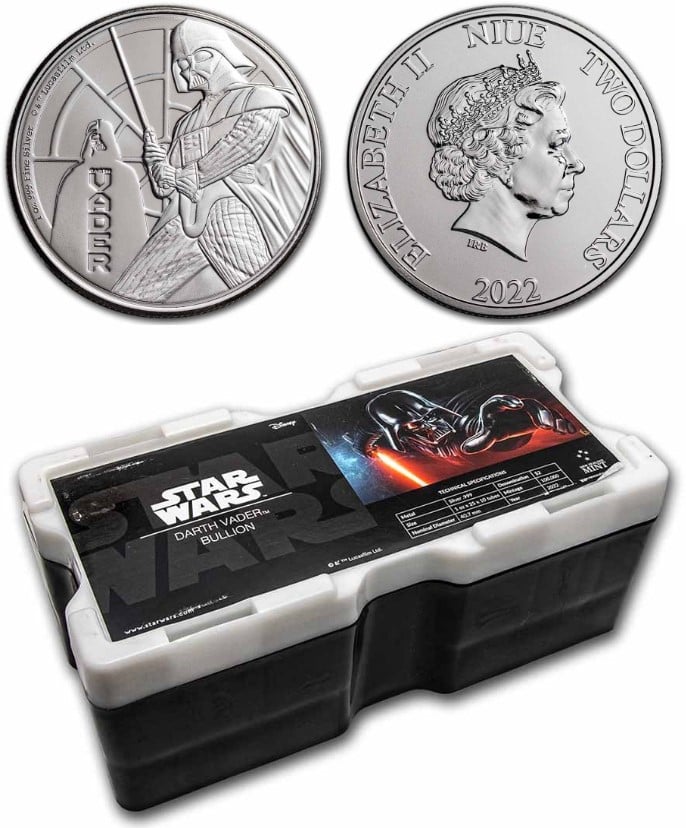 2022 Niue 1-oz Star Wars: Darth Vader Silver Coin
Once the heroic Jedi Knight named Anakin Skywalker, Darth Vader was seduced by the dark side of the Force. At the dawn of the Empire, Vader led the Empire's eradication of the Jedi Order and the search for survivors. He is perhaps the most famous villain of any movie franchise, and beloved by fans around the world. The New Zealand mint immortalizes the iconic villain in this coin design containing 1-oz of .999 Silver. This is your opportunity to add this coin to your collection!

We currently have these coins available for as low as $5.99 over spot each. Pricing is as follows...
$5.99 over spot for 500+,
$6.99 over spot for 100-499, or
$7.99 over for 1-99
...with increments of 250 shipping in the pictured mint box!

SKU: 88
Since availability is quite limited, this item is available by phone only at 1-800-800-1865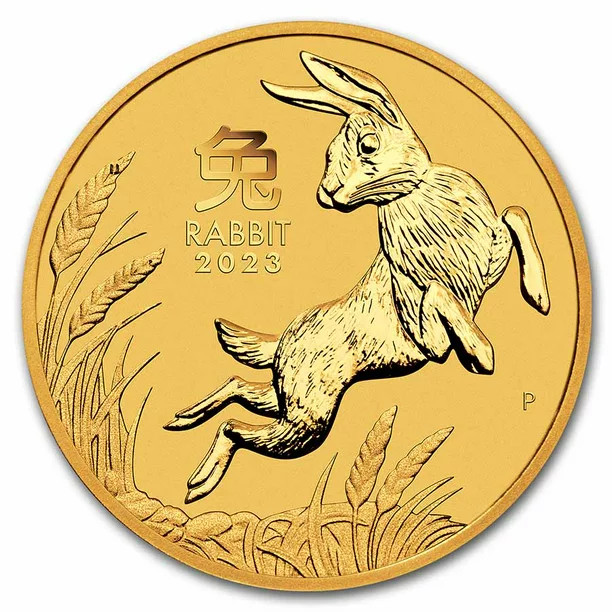 REDUCED: 2023 1/20-oz Perth Gold Lunar Rabbits (Series III)
Celebrate the Year of the Rabbit with the latest of Perth's popular Lunar Series (now in its third cycle) - available in a convenient 1/20 troy ounce increment! Australia's Perth Mint began this popular series, featuring the Chinese zodiac sign animal of the year, in 1996, with this third cycle beginning in 2020. Each coin is minted with .9999 fine gold, and is backed by the Australian government for its face value of $5 AUD.

We currently have (138) 1/20-oz Gold Lunar Rabbits available for 38% over melt value. Get yours while they last!

SKU: 524
Since availability is quite limited, this item is available by phone only at 1-800-800-1865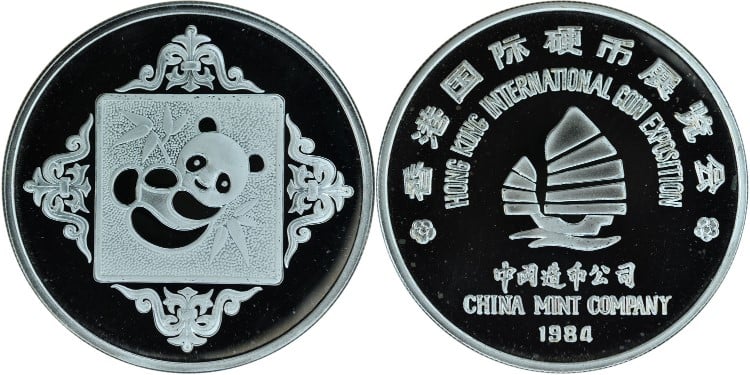 REDUCED: 1984 Silver Panda Commemorative 3rd Hong Kong Expo
Panda commemorative (known as "show pandas") started in 1984 when the China mint created a silver 1 ounce panda commemorative for the 3rd Hong Kong International Coin Exposition. With a limited mintage of 1000, the first issue is rather hard to find, especially in original packaging! Each coin is minted with 1-oz of .925 fine silver. This is your chance to own this very rare Panda!

We currently have:
(1) 1984 Silver Panda Commemorative 3rd Hong Kong Expo **in OGP** - available for $699 each!
(3) 1984 Silver Panda Commemorative 3rd Hong Kong Expo (in plastic flip) - available for $399 each!

SKU: 359
Since availability is quite limited, this item is available by phone only at 1-800-800-1865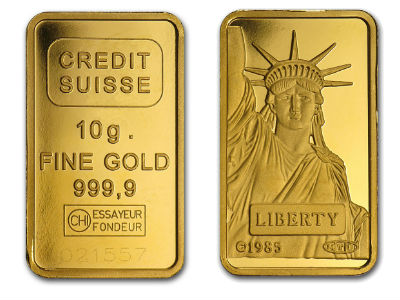 Vintage 1985 10 x 10g Sheets of Credit Suisse Statue of Liberty Gold Bars
We currently have available for purchase the beautiful 1985 Vintage 10g .9999 Credit Suisse Statue of Liberty Gold bars in sheets of 10 (100 grams total per sheet). These bars come in original plastic assay package and serial numbers, in mint condition. These bars are being offered for sale in sheets of 10 and would be a great addition to your collection!

We currently have (3) 10 x 10g Sheets of 1985 Vintage Credit Suisse Statue of Liberty Gold Bars - available for $35 over the regular 10 Gram Gold Bar price per bar [total price = (regular price + $35) x 10 bars; per bar unit price = (regular price + $35)]

SKU: 317 (x10 per sheet)
Since availability is quite limited, this item is available by phone only at 1-800-800-1865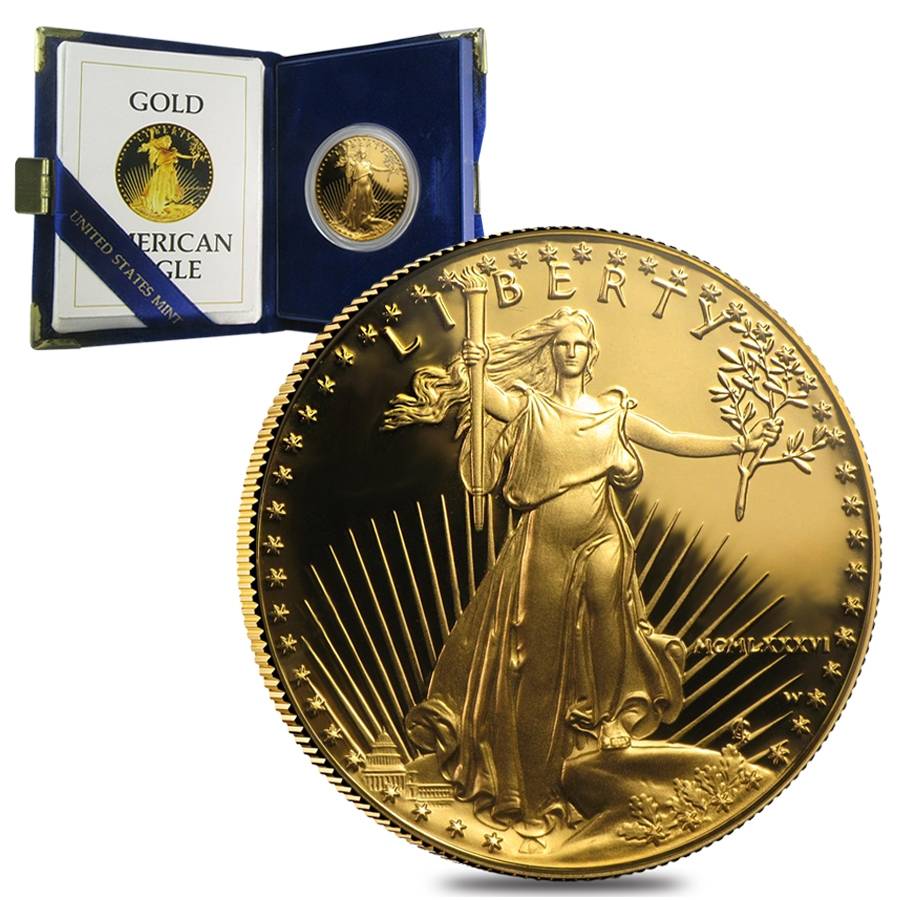 1986 (First Year of Issue) 1-oz Proof Gold Eagles in display case
Get the beautiful U.S. Mint Gold American Eagle, Proof Strike in display case (no box or COA). Proof Gold Eagle coins are the collector versions of the U.S. Mint's beloved Gold Eagle bullion coins and have limited mintages. These 1986 proof Gold Eagles will make a great addition to your precious metals collection!

We currently have just (1) available for just $499 over spot each!

SKU: 349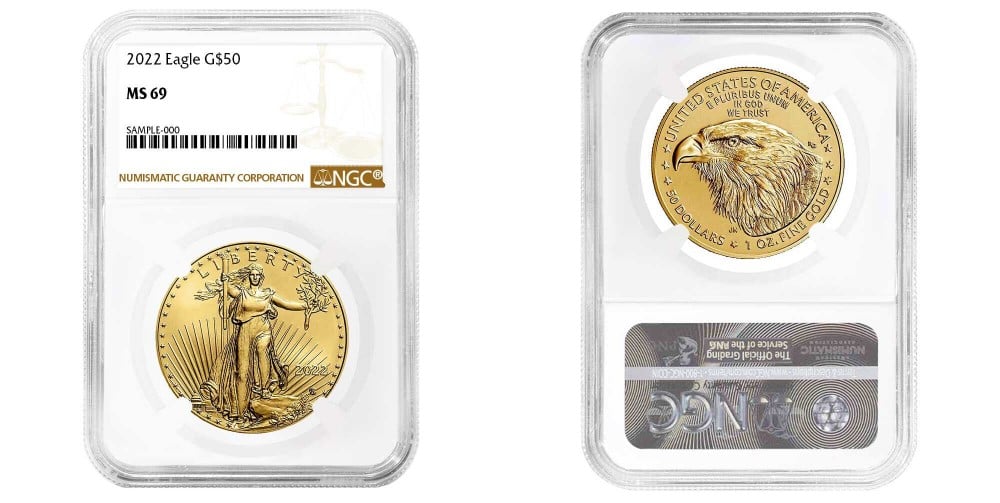 Graded Gold Eagles, New Style Reverse
We have the following graded Gold Eagles available (all dates our choice):

1-oz Gold Eagles (regular price found HERE):
(2) 2021 PCGS MS70 available for just $199 over spot each
SKU: 385
Since availability is quite limited, this item is available by phone only at 1-800-800-1865

Graded Gold Eagles, Old Style Reverse
We have the following graded Gold Eagles available (all dates our choice):

1-oz Gold Eagles (regular price found HERE):
(1) PCGS MS70 - at $189 over spot each
SKU: 385
Since availability is quite limited, this item is available by phone only at 1-800-800-1865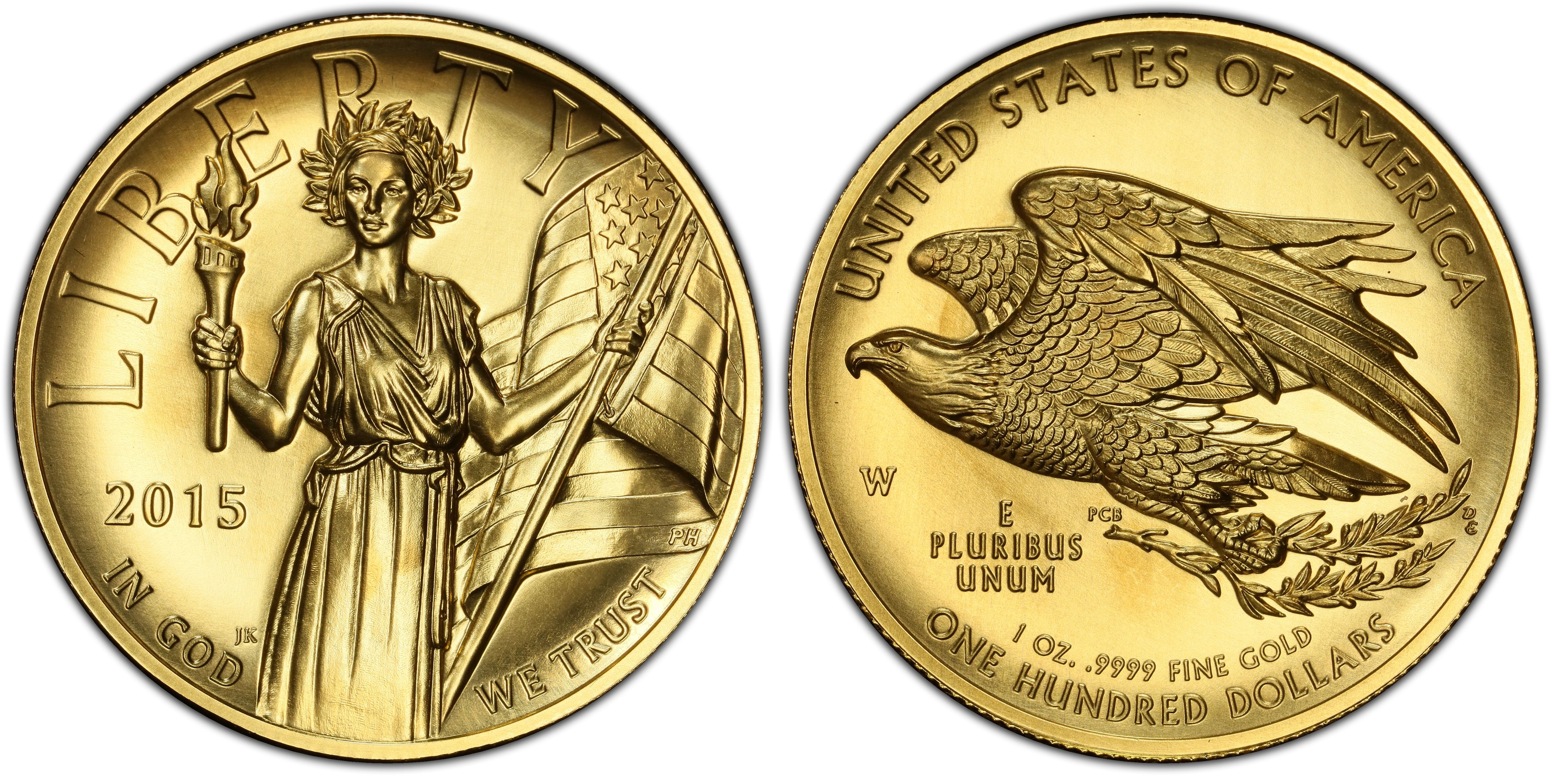 2015-W 1-oz Liberty High Relief Gold Coins, Graded PCGS MS69
The 2015 American Liberty Gold Coin from the United States Mint was a high-relief strike with the first $100 (USD) face value issued by the United States on a gold coin. Lady Liberty and the American bald eagle are not just the most popular and common coin designs in American history, the duo was the first coin design combination ever available! With a limited mintage of these coins, this is your opportunity to own a Graded version of this beautiful coin!

We currently have (6) PCGS MS69 2015-W High Relief 1-oz Gold Liberty for just $2699 each!

SKU: 349
Since availability is quite limited, this item is available by phone only at 1-800-800-1865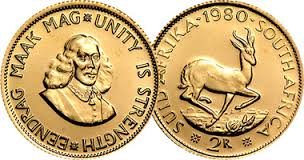 South African 2 Rand Gold Coins (.2354-oz AGW)
The South African 2 Rand coin is comprised of 22k gold and contains .2354 troy ounces of Actual Gold Weight (AGW; same as a British Sovereign). Obverse depicts a bust of Jan van Riebeck, Dutch founder of Cape Town, South Africa. Reverse features the springbok -- a well known symbol of South Africa.

We have just (17) 2 Rand Gold coin (.2354-oz AGW) - available for 10% over melt value.

SKU: 54
Since availability is quite limited, this item is available by phone only at 1-800-800-1865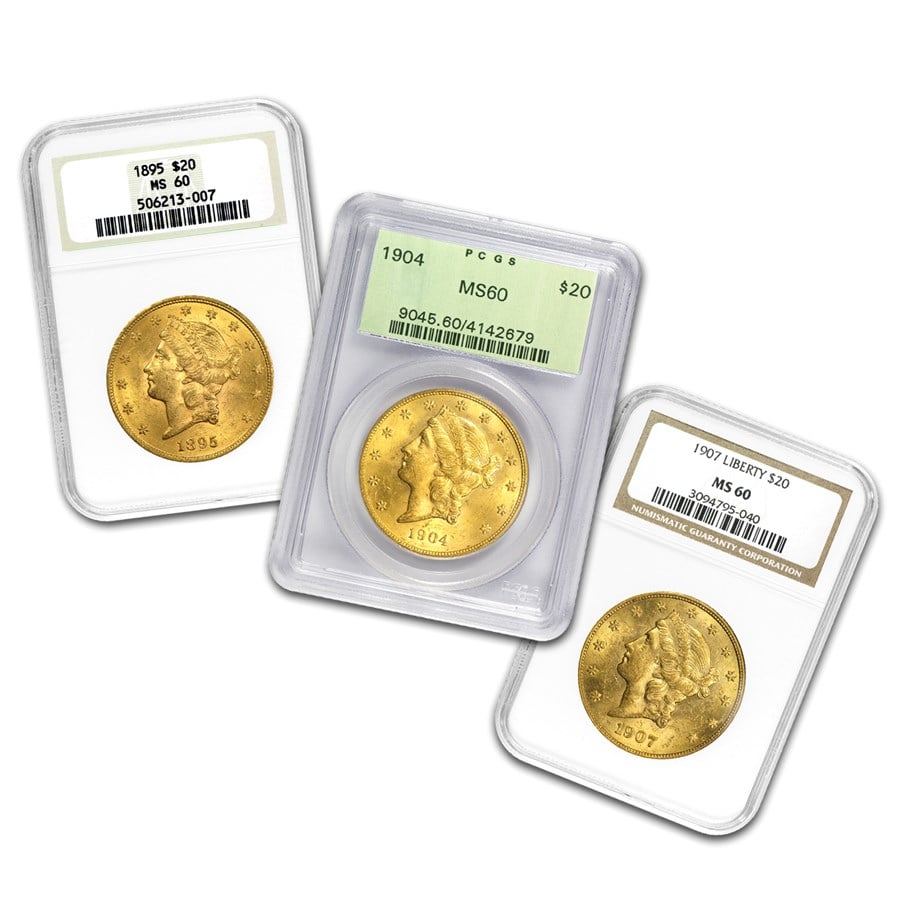 Graded Pre-'33 Gold Coins
We currently have the following graded pre-'33 gold coins available (all dates our choice, unless otherwise stated):

$20 St. Gaudens Double Eagles (regular price found HERE):
(2) PCGS MS60 in Gen 1 "Rattler" Slabs (coins may be uncentered in the holster) - available for only $45 over the regular $20 St. Gaudens price
SKU: 384

$10 Liberties (regular price found HERE):
(2) NGC / PCGS MS62 - available for only $250 over the regular $10 Liberty price
SKU: 386

$5 Liberties (regular price found HERE):
(21) PCGS MS62 - available for only $50 over the regular $5 Liberty price
SKU: 578
Since availability is quite limited, this item is available by phone only at 1-800-800-1865