Buy Palladium Bullion Coins & Bars Online

Palladium Bullion – A Great Way To Diversify Your Metals Investment
Gold and silver prices rose following the bottom put in in late 2015. During the 2-1/2 years following those gains failed to attract much notice. Gold prices rose roughly 28% and silver increased 20%. But another metal more than doubled since bottoming. That performance was certainly worthy of attention from investors, but relatively few are watching this market. The metal is palladium. For those who haven't paid much attention, it is time for a brief introduction.
Palladium is one of the platinum group metals (PGMs) and it has a lot in common with its higher profile brother.
Like platinum, palladium is a lustrous, silver-white metal. It has many of the same applications. The largest application is in automobile catalytic converters, but there are also uses in jewelry, dentistry, surgical instruments and electronics.
The metal is a useful and versatile catalyst. It is a key component in fuel cells, where hydrogen reacts with oxygen to produce energy and heat, with water a byproduct. This technology is growing and may drive significant demand for the metal over time.
Palladium also shares platinum's troubled supply chain.
The top producers are Russia and South Africa. Russia is known as the palladium capital of the world. Relations with the west however, remain tense. When the US imposed sanctions on Russia in April, 2018 the palladium spot price jumped 6% overnight.
South Africa, the second largest producer, has fallen deeper into turmoil in recent years. Mines there have long had to deal with unreliable electricity and labor strife. Now, operators are at risk of the having mine properties seized by government officials as the people in power look to confiscate white-owned properties and redistribute them.
Because palladium and platinum both offer utility as catalysts, the recent price run in which palladium reached parity with the traditionally more expensive metal makes sense. Many expect palladium will maintain its higher valuation. Demand is likely to rise whenever automakers and other manufacturers perceive an opportunity to switch to a less costly alternative.
Buying Palladium Bullion
The number of product options available to bullion investors have grown. Twenty years ago, it would have been very difficult for Americans to buy palladium bullion in any form, but that has changed. Both coins and bars are now readily available and widely traded.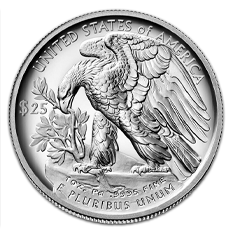 The U.S. Mint produced a 1 oz palladium American Eagle for the first time in 2017. The small issuance of those coins sold out very quickly. Going forward the number of coins minted will likely increase as the mint works to match supply with demand.
The Royal Canadian Mint has been producing a palladium Maple Leaf since 2005, though not consistently each year. Today, this is the best option for investors who want an official, government issue coin. They are almost always in stock and premiums are affordable.
Finally, investors can get palladium in bar form. Bars in assay packaging from Swiss refiners such as PAMP and Credit Suisse are comparably priced to the Maple Leaf. And there are more size options available – including 1-gram and 10-ounce.
There are also palladium coins from Russia or Bermuda. We would not recommend North American investors purchase these coins unless the savings are significant. Dealers trade them very infrequently. Because the liquidity is lower, sellers can expect them to bring significantly less than a more liquid coin or bar.
Palladium Bullion In Comparison to Silver and Gold
The platinum group metals represent a good way for bullion investors to diversify and gain exposure to different market fundamentals. Diversification can reduce the volatility in any investment and can produce better results -- particularly in weaker markets. Just consider the relative outperformance of palladium versus gold and silver between the end of 2015 and the beginning of 2018. Gold and silver prices (gold bar price) were 20 – 30% higher while palladium prices more than doubled.
Investing in palladium makes sense for investors who anticipate rising demand for cars and trucks which produce lower emissions globally. If the economies of China and India continue to develop rapidly, demand for the metal should keep rising. It will not take a lot of additional demand to completely outstrip supplies.
One wild card is the adoption of electric vehicles, which do not have catalytic converters and require very little of the metal. For now, these types of vehicles cost more and have severely limited capabilities in terms of range and power. And, if fuel cells garner widespread adoption, it could offset the loss of demand from declining sales of internal combustion engines.
Industrial demand is a major driver for palladium prices, whereas gold trades as a monetary metal and as a safe haven asset. Its fortunes rise and fall based on inflation expectations and geopolitical turmoil. While palladium will likely be a major beneficiary of the ongoing debasement of the US dollar, it does not depend as heavily upon that trend.
Palladium prices can be more volatile, however. The market is much smaller and relatively modest sums entering or leaving can significantly impact prices.
Investing vs. Collecting
To date, palladium coins are best suited for investment purposes. Collectors have paid little attention to PGM metals, so paying any significant premium for a "rare" palladium coin is not recommended. Finding a willing buyer for that coin may be difficult later on.
However, investors cannot go wrong buying bullion coins, such as the Maple Leaf. They pay no additional premium relative to brand name bars, and the issuances of these coins are tiny relative to the more popular gold and silver American coins. If palladium catches on with collectors in the years ahead, it will be a nice bonus on top any appreciation in the underlying metal.
Conclusion
The fundamentals driving palladium are quite different, but very compelling. Worldwide demand for automobiles keeps rising over time and the metal's utility in technologies, such as fuel cells, promises to drive additional demand going forward. At the same time, supply of the metal is anything but certain because of political risk in two of the top producing nations – Russia and South Africa.
Investors buy physical gold and silver to diversify portfolios which tend to be dominated by traditional "paper" securities such as stocks and bonds. Palladium is a great way to diversify a bullion holding.

About the Author:
Stefan Gleason is President of Money Metals Exchange, the company recently named "Best Overall Online Precious Metals Dealer" by Investopedia. A graduate of the University of Florida, Gleason is a seasoned business leader, investor, political strategist, and grassroots activist. Gleason has frequently appeared on national television networks such as CNN, FoxNews, and CNBC and in hundreds of publications such as the Wall Street Journal, TheStreet, and Seeking Alpha.