Cull Morgan Dollar - Common Circulated, No Grade, 90% Silver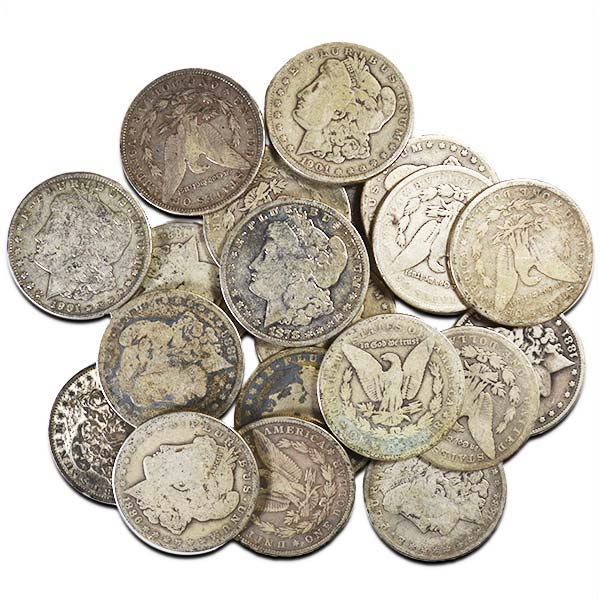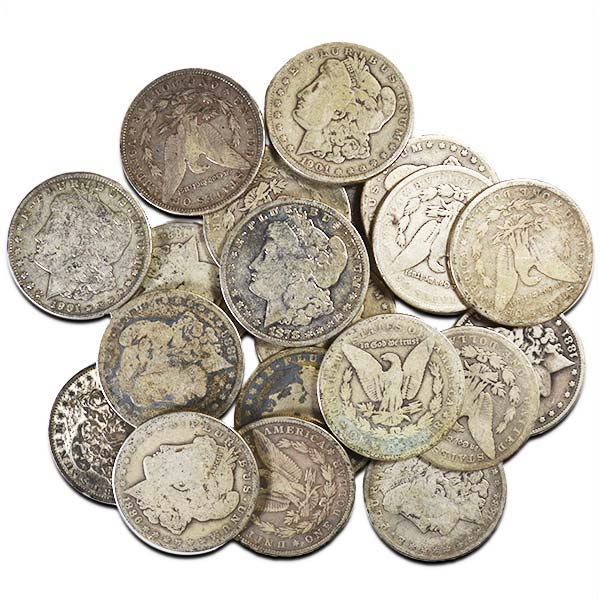 Get a Free Kennedy 90% Silver Coin w/ Your $500+ Silver Order (excludes Vault Silver & Monthly)
Quantity
Price Each
Total Price Each
1 - 99
$29.35
$29.35
100 - 499
$28.60
$28.60
500 - 999
$27.85
$27.85
1000+
Call for our best pricing! 1-800-800-1865



Free Shipping
On All $199+ Orders
Sell to Us Price: $19.38 each
Cull Morgan Dollars for Sale
Money Metals Exchange is proud to offer pieces of history at bargain prices. Morgan silver dollars spent decades circulating by hand at a time before the United States Mint and U.S. Treasury abandoned precious metals silver and gold coinage for a pure fiat (paper currency without a commodity backing) money system. Precious metals include gold, silver, platinum, palladium, and rhodium.
The cull condition of all of these coins is a bit rough due to standard wear and tear; but, they are certainly in far better shape than the paper notes (dollar bills), which have been mauled by decades of damage brought on by monetary inflation, price inflation issues, and a series of other factors.
The "Morgan" designed silver dollar was minted from 1878 to 1904, and again in 1921. Since 2021, there has been a revival of choice Morgan silver dollars, and the U.S. Mint will begin releasing a new Morgan dollar annually as a quality commemorative investment piece, a proof coin for collectors and investors alike, as of 2023. The one dollar face value coins are called by the name of the signature designer - George T. Morgan. The obverse (heads) features a head profile of a Lady Liberty crowned with "Liberty" as modeled by Anna Willess Williams and encircled by stars; the reverse (tails) displays an American bald eagle with wings spread while clutching an olive branch and arrows in its talons.
The Morgan dollar was the first silver dollar produced after the passage of the Coinage Act of 1873. The U.S. dollar was authorized by information details in the Bland-Allison Act, also known by the title of the Grand Bland Plan of 1878, in a legal move that included the national promotion of bimetallism.
Since the Morgan dollar's start, it has been minted (including the mint mark) in Philadelphia (P or no mint mark), New Orleans (O), San Francisco (S), Carson City (CC), and Denver (D).
The composition of the actual silver weight (ASW) of the 1878 uncirculated Morgan dollar was .77344 Troy ounces with a 90% millesimal fineness, with the remaining 10% being copper, meaning a Morgan dollar is not bullion. The Morgan dollar was eventually replaced by the 1921 Peace silver dollar.
Perhaps the best thing about these Morgan silver dollar culls is their price and accessibility. They are a great way to buy official U.S. silver dollars at the lowest possible premiums and overall pricing. This makes the coin values desirable for those more interested in the amount of troy ounces of silver content you can get, versus the look, age, mintage, type, or design of the coin. Morgan dollars, even if considered cull or junk, still make a fantastic gift and can be used in DIY jewelry or accessories.
Cull coins, much like standard junk silver coins, are primarily bought for their melt value according to their spot value at the time of a sale. Most junk silver coins include pre-1965, 90% silver, dimes, quarters, and half dollars. You can find multiples of these bags of cull silver or junk silver coins for sale on the Money Metals Exchange site. Uncirculated silver coin collections are generally sold in packaging such as tubes, boxes, or assays, as opposed to everything in bags. The price of the bags of junk silver is determined by the quantity of coins.
Money Metals Exchange has been in business since 2010. Our company has maintained an A+ rating from the Better Business Bureau (BBB) and received thousands of 5-star reviews from our satisfied customers.
You may have recently seen cull silver coins or junk silver coins on Google or social media sites such as TikTok, YouTube, Instagram, and Facebook. Money Metals Exchange has a significant number of items and precious metals products available to choose from for purchase. Be sure to check the Money Metals Exchange website to ensure selection availability and that we have the quantities of the item(s) you want to stock up on.
If you have questions in regard to your account, shopping cart, placing a checkout order, previous orders, shipping, delivery, a specific product description, or anything else (FAQ) and wish to speak to a customer care representative, feel free to call us for a chat on our phone number 1-800-800-1865.
Money Metals Exchange accepts payment in the form of bank wire, paper check, debit card, credit card, PayPal, crypto, etc.. Please note that Money Metals Exchange will notify you before we ship your items to your respective addresses. All Money Metals products have insurance, and our shipments will utilize only a responsible carrier for package delivery.
Product Specifications
| | |
| --- | --- |
| Mint Facility: | United States Mint |
| Denomination: | $1 US |
| Date: | 1878 - 1904, 1921 |
| Quality / Type: | Cull, No Grade |
| Purity: | 90% Silver |
| Metal Weight: | .77344 Ozs per $1 Face |
| Diameter: | 1.5" (38.1mm) |
| Edge: | Reeded |
| Obverse: | Woman crowned with Liberty |
| Reverse: | Eagle with wings spread |
Sell to Us
We are buying this item back daily, and we pay you promptly!
Our current buy pricing is $19.38 each and we will buy up to 1,000 ounces at this price. Simply call us on any weekday to lock pricing at 1-800-800-1865.
Learn more about the process for selling to us here.
Shipping Info
We take great pride in the way your order is packaged and delivered.
You can expect:
Prompt Shipping – We ship orders shortly after your payment has been cleared – generally within 2 business days.
Fully Insured – We fully insure all shipments with Lloyd's of London.
Privacy – Your package will have no external markings that provide any clue as to the contents. Because we insure packages with Lloyd's of London, we do not declare a value or insure with the carrier.
Accountability for Package Contents – Your order will be packed under video surveillance, weighed and double-checked prior to shipping to ensure you receive exactly what you ordered.
Professional Packaging – Your order will be packaged securely and professionally.
Tracking – We will provide you with the carrier's tracking number for your shipment so you can monitor its progress and plan for delivery.
Signature Confirmation – Delivery carriers are instructed to request a signature upon delivery.
Cost to Ship & Insure
(absent periodic special offers for free or discounted shipping)
| Insured Value | Cost |
| --- | --- |
| Up to $198.99 | $7.97 |
| Insured Value | Cost |
| --- | --- |
| $199.00 + | FREE |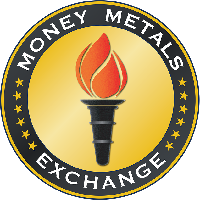 Sign in to Your Account
Please Sign In or Register to leave a review
Atwood B.

October 26th, 2023

I was really surprised at the grade of these coins. I was expecting nearly flat worn out disks but that was not the case. I bought 8 and they were all in VG to VF grade ranging from 1878 to 1921 with no duplicate dates and P, S and O mints (don't expect to get a CC). The price was well below what I had paid for some other similar grade Morgans at a coin show a few days before. A great way to start acquiring silver and start a collection with decent pieces at the same time. These place holders will always be worth their bullion value and they are a great piece of American history during the Westward expansion. I also get silver rounds through the MMX monthly savings plan, which is a good deal as well. I will get some more Morgans in the near future.

Kenneth J.

August 26th, 2023

One thing I have learned is you don't have to be rich to start collecting gold and silver. You can start out small and you watch your investment grow. You can't do any better than Money Metals. Give them a try you will happy.

Michael W.

July 12th, 2023

MMX always hits it out of the park. Reminds me of what my Grandfathers toted in their pockets.

Richard S.

April 13th, 2023

Fast shipping, great quality coins!!!

I think The Money Metals Exchange guys rock!! The quality of the Morgan dollars I ended up getting were amazing and I will definitely be making more purchases in the future!! Thank you guys for everything you do!!

Andrew C.

March 3rd, 2023

Just received order number five. As a small silver and coin investor the prices are very competitive. I ordered a Morgan dollar each time and can say unequivocally, for an ungraded coin this 1921 Philadelphia mint Morgan is close to AU 50. Takes a bit for a ACH payment to clear but delivery received two days ahead of schedule. The silver bar and rounds were impeccable!