MapleGram25 - Qty 25 Maple Leaf 1 Gram Coins .9999 Pure Gold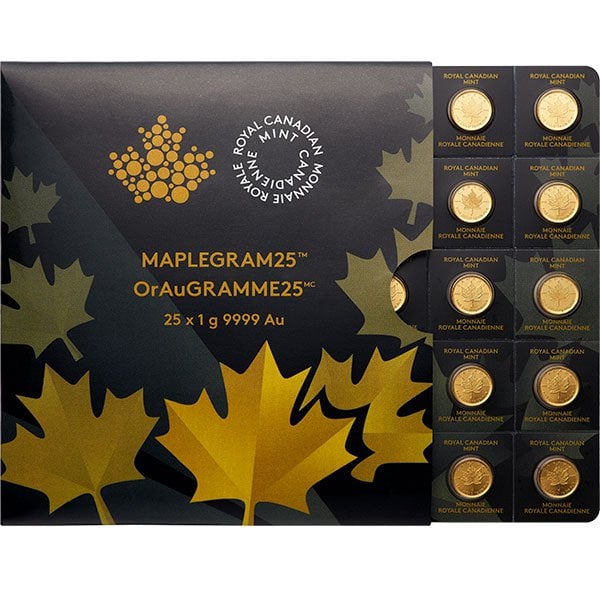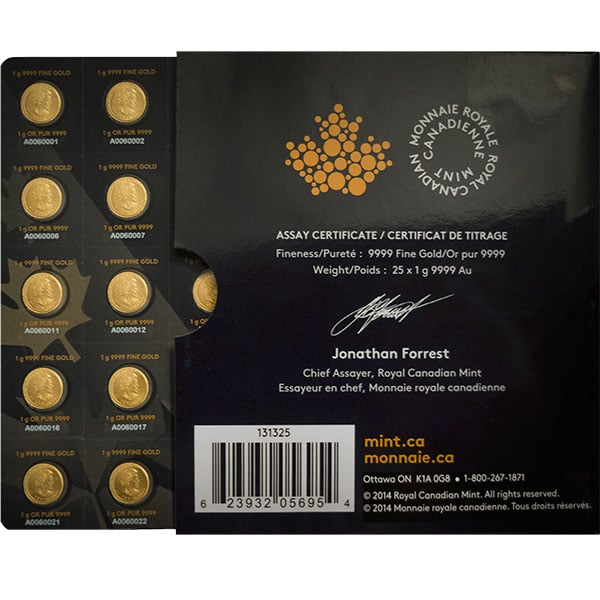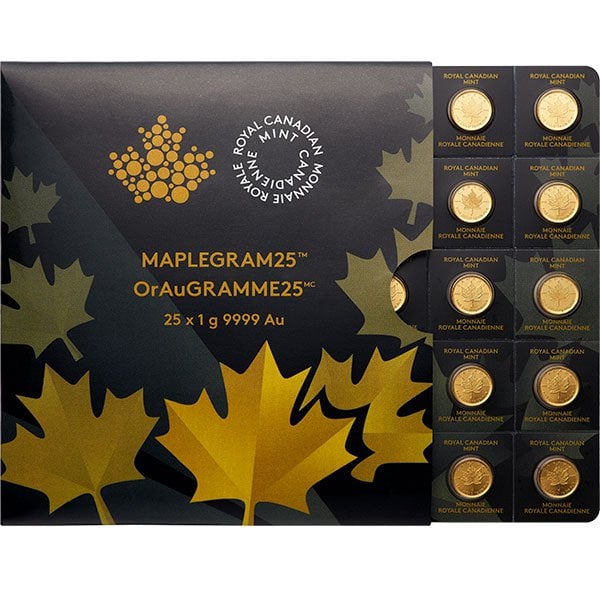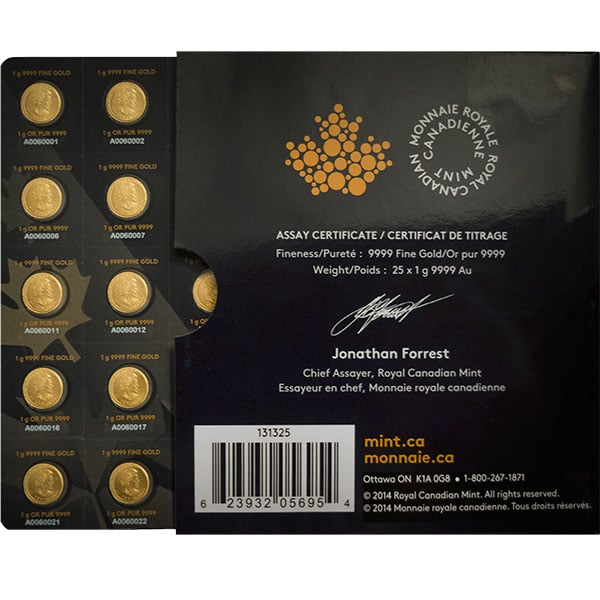 $1,817.42
(as low as $301.64 over spot)
Quantity
Premium/Unit
Total Price Each
1 - 2
$338.02
$1,853.80
3 - 14
$319.83
$1,835.61
15 - 50
$301.64
$1,817.42
51+
Call for discount



Free Shipping
On All $199+ Orders
Sell to Us Price: $1,561.26 each
1 Gram Gold MapleGram25 Coins for Collectors and Small Investors
Money Metals Exchange now offers the Royal Canadian Mint's MapleGram25 - a pack of 25 one-gram gold coin Maple Leafs, .9999 pure. Buy 1g gold Maples at the lowest possible premium.
The gold MapleGram25 coins portfolio is perhaps the best way to buy fractional-sized and barter-ready gold coins based on a combination of low cost, small denomination, and the trust and recognizability of Canadian Gold Maple Leaf.
Each gold coin is self-contained in a perforated section within the larger sheet, allowing the coins to be separated as necessary. Every gold coin carries its own serial number and assay information to assure authenticity. The design of these gold coins is familiar and beloved by bullion investors around the world. Queen Elizabeth II is featured on the obverse, and the iconic Canadian Maple gold coin adorns the reverse.
People need a reliable way of securing their wealth in times of economic uncertainty and crisis. Over a few thousand years, gold and silver became the "go-to" asset for this purpose. Gold coins, in particular, have always been one of the most popular choices. The coins may have been minted long ago, but their purchasing power is constant and often increases with time. This makes gold coins a safe choice for investors.
Additionally, gold coins can accrue numismatic value. The designs and symbols they carry along with historical significance may make the coin attractive to collectors worldwide. Each year, various sovereign mints release new series of gold coins, sometimes in limited quantities. Exclusivity and scarcity of course help draw the attention of numismatists and collectors.
Here we will focus on 1-gram gold coins. The smaller denomination and more affordably priced gold coins grow increasingly popular over time as gold prices rise. We will explain what they are, offer more information about these coins, and spotlight one of the most sought-after coins, the Canadian Maple Leaf gold coins.
Buying 1 Gram Gold Coins
One gram is one of the smallest weights produced when it comes to gold coins. A single gram represents just 0.032 troy ounces – there are 31.1035 grams in a troy ounce. The size puts them within reach of any investor, and they are great for beginners in precious metals investing. They are also easily tradable in barter, which is another reason to consider them.
Investors source the majority of 1-gram coins from traditional coin dealers, such as Money Metals Exchange. The sovereign mints that produce them may sell some coins via retail, but they tend to be more expensive proofs and collectibles.
Dealers also make a two-way market in the coins. Mints typically will not purchase gold and silver of any type from retail clients. Reputable dealers will both buy and sell at a moment's notice and both bid and ask prices are often published live online. By evaluating both prices, an investor can determine how an item will need to appreciate to 'break even' on the coin.
Coin dealers will also be the most likely source for coins which are no longer in production. Some firms specialize in antique and rare coins. Others, including Money Metals Exchange, focus on selling more liquid and lower-cost coins to investors rather than collectors.
Types of 1 Gram Gold Coins
Government mints continuously release new coins, so there is a wide variety to choose from. That said, the smaller 1-gram gold coins are not as common as some larger-sized coins and only a relative handful of sovereign mints produce them.
Some of the most in-demand gold coin series currently available are the Chinese Panda and the Canadian Maple Leaf series.
MapleGram25
For investors interested in purchasing in multiples rather than individual coins, the MapleGram25 might be a good choice. The set consists of 25 individual 1-gram Canadian Gold Maple Leaf coins, which are, again, made from 99.99% pure metal. The 8mm diameter coins are packaged in a perforated blister pack.
Individual packs can be broken from the larger card along the perforations. Each has a different serial number, and assay information certifying the coin's weight and purity. Of course, all coins in the pack feature the same iconic design, which is impressively detailed considering the smaller size.
The 25 grams of gold contained in the MapleGram25 represents just over 0.8 troy ounces in total with a value, as of this writing, of approximately $1,200. That value can be divided up to 25 times into units as small as $48. That makes the MapleGram25 particularly useful for investors who also want an option to use the coins in barter.
1 Gram Gold Panda
The Chinese Panda 1 g gold coins first came out in 2016. This is also the first year the Chinese Mint switched from the imperial to metric system weights.
The coin has a face value of 10 yuan and features the panda as a symbol of Chinese wildlife on its reverse. Like all coins in the series, the obverse depicts the Temple of Heaven in Beijing.
1 Gram Gold Maple Leaf
The Canadian Maple Leaf coins are some of the most popular bullion coins ever minted. The first Maples were minted and released in 1978. The series was a hit based on the beautiful, simple, and iconic design.
The Royal Canadian Mint began producing Maple Leafs in a 1-gram size more recently. They too quickly gained in popularity as first-time investors took interest and existing fans looked to round out their coin holding with smaller sizes.
One-gram gold Maple Leafs are struck in .9999 pure gold, and the Canadian government guarantees them for weight and purity. The Royal Canadian Mint is recognized and well-regarded for producing great-quality coins around the world. Coins produced by them are trusted and traded in large volumes throughout the world.
Maple Leaf's design has become famous in the world of precious metals. The obverse features a portrait of Queen Elizabeth II, designed by Susanna Blunt. Alongside the portrait are inscriptions that read 'Elizabeth II,' the year of minting, and the 50-cent face value. On the reverse, you will see the maple leaf, the well-known symbol of Canada. You will also see the inscriptions 'Fine Gold 1 g Or Pur' and '9999,' representing the 99.99% purity of these coins.
For those interested in owning a precious piece of Canada's culture in the form of a gold coin, the 1-gram gold Maple Leaf coins are one of the most affordable ways to do it. They feature the same design as their larger counterparts, but the price is significantly lower.
Conclusion
Whether as an investment, a collection piece, or a simple gift, these coins are a great way to obtain affordable gold. You can purchase them easily online or from your local dealer; just make sure to find and choose a firm you can trust. This Canadian Mint Coin is also offered in silver if you would prefer that as an investment.
Product Specifications
| | |
| --- | --- |
| Mint Facility: | Royal Canadian Mint |
| Denomination: | $0.50 CDN |
| Quality / Type: | Brilliant Uncirculated |
| Purity: | .9999 Pure |
| Metal Weight: | 25 one-gram bars totaling .803 troy ounces |
| Diameter: | 8 mm (.315") |
| Obverse: | Queen Elizabeth II |
| Reverse: | Maple Leaf |
Sell to Us
We are buying this item back daily, and we pay you promptly!
Our current buy pricing is $1,561.26 each and we will buy up to 10 ounces at this price. Simply call us on any weekday to lock pricing at 1-800-800-1865.
Learn more about the process for selling to us here.
Shipping Info
We take great pride in the way your order is packaged and delivered.
You can expect:
Prompt Shipping – We ship orders shortly after your payment has been cleared – generally within 2 business days.
Fully Insured – We fully insure all shipments with Lloyd's of London.
Privacy – Your package will have no external markings that provide any clue as to the contents. Because we insure packages with Lloyd's of London, we do not declare a value or insure with the carrier.
Accountability for Package Contents – Your order will be packed under video surveillance, weighed and double-checked prior to shipping to ensure you receive exactly what you ordered.
Professional Packaging – Your order will be packaged securely and professionally.
Tracking – We will provide you with the carrier's tracking number for your shipment so you can monitor its progress and plan for delivery.
Signature Confirmation – Delivery carriers are instructed to request a signature upon delivery.
Cost to Ship & Insure
(absent periodic special offers for free or discounted shipping)
| Insured Value | Cost |
| --- | --- |
| Up to $198.99 | $7.97 |
| Insured Value | Cost |
| --- | --- |
| $199.00 + | FREE |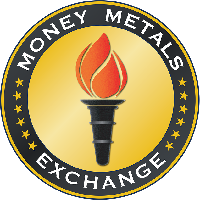 Sign in to Your Account
Please Sign In or Register to leave a review
Karl M.

October 28th, 2022

More of a Company Rating Than Gold Rating

Money Metals sent me this piece in excellent condition, and when I called with a shipping request, the lady who answered the phone was very helpful and very polite. Gold is gold and if you want it, you either want larger single-quantities or you want it in fractional quantities. This 1 gram sleeve of 25 is a very nice choice if you want fractional, and I highly recommend buying whatever you want from this company. I've bought from them in the past and will continue to do so.

What a great way to buy gold and they are just so darn cute. Very satisfied with Money Metals price and selections

Darius L.

September 23rd, 2021

The maple grams look so good to me! I really appreciate the sleek design and that it's pure gold. Will definitely get more maple grams in the future!

I think these were one of the many items I got from Money Metals that I am so satisfied with. I highly recommend, they are smaller than you think when you get them cause we don't consider the size/weight factor of what your ordering. Remember great things come in small packages, especially GOLD :)

Janet L.

August 15th, 2019

Excellent pure Gold 1 Gram Maple Coins. Great customer service from MMX. Highly recommend these little coins. Thank you MMX, I'll be back!