Silver Bars for Sale at Low Premiums

For over four thousand years, silver has been a renowned store of value that was also used as a form of currency backing and specie money along with copper and nickel. Similarly, gold has been a cornerstone in wealth and investment strategies, often compared with silver for its store of value properties. While the silver standard for commodity money is no longer prevalent, silver bars continue to be a global standard for investors buying silver bullion around the world.
Buying silver bars at the lowest possible premium makes them the best bet for investors simply looking for the most silver and security for their money. A silver bar costs less for mints and refiners to produce than smaller fabricated a round or coins. That means savings for an investor who wants to stack them.
In addition, smart consumers are also buying silver bars and items as an investment to hedge against inflation and protect future wealth. As history suggests, the goal is to buy silver at low prices and hold it as a form of savings and investment, and eventually investors will want to start selling silver bars at a high price, when they need to draw on the dollar. In fact, most people cash out in times of financial instability, uncertainty, or in need of money for shopping themselves or for gifts. Just like with silver, investors also look towards gold as a hedge against inflation and a means to protect future wealth.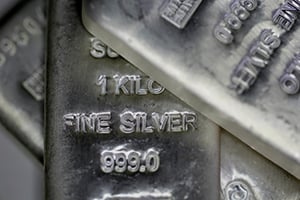 Silver bars can also be part of an investment portfolio in the form of a precious metals IRA. This option is perfect for investors who are looking to diversify their portfolio with physical precious metals. The various options available for silver bar sizes ensure that the portfolio is not too heavy with large silver bullion or too light with small bars.
Silver bars range in size from 1 troy ounce up to 1,000 troy ounces. The 10-ounce and 100-ounce bars are perhaps the best options, as those sizes provide the best overall benefits. The series of varying design sizes makes it easy to store the physical bars in durable safes because they can easily be stacked on top of one another, and have a unified shape, reducing the space requirement for a private or commercial vault. Silver bars may be the way to go if room in safe storage is limited.
Fractional silver and silver ingots are a way to invest in this well-known precious metal at a lower cost of entry than larger silver bullion bars. Some dealers may sale junk silver bars made from silverware or coins, but these are not usually worth the cost. There are also fractional options for gold, platinum, palladium, and rhodium. Fractionals tend to come in an assay for verification purposes.
Silver Bars Are the Best Bargain Among Silver Options
Unlike the collectible type silver coins produced by the US Mint, or other prominent mints and shady types pushing coins for unscrupulous reasons, the silver bar industry is straightforward without question. The value is dictated by the content purity and weight of the silver bars, which concerns the spot price of the silver content itself, rather than privy information. We generally do not recommend paying a higher premium when buying silver bars that are produced by any specific brand name producer. We also do not recommend paying extra for bars with serial numbers. It just isn't going to matter much to dealers when it is time to resell, so the extra premium may be wasted. As long as the silver bar is in good marketable condition, carries a stamp with its weight and purity, and is made by a recognized producer, little else matters.
"As long as the silver bar is in good marketable condition, carries a stamp with its weight and purity, and is made by a recognized producer, little else matters."
Most people getting started investing in precious metals should steer clear of buying 1000-ounce exchange-sized silver bars. For one, these bars are incredibly cumbersome to handle due to their weights and specifications. 1000 troy ounces equals 68.5714 pounds or 31.10346384 kilograms. These orders are expensive and difficult to ship. If you have not heard the bad news, selling 1000-ounce bars requires dealers to automatically issue a 1099B on the seller (unless the seller exchanges it into another form of silver instead of taking cash) which logs the sales and purchases (client and business) to the United States government for tax purposes.
Perhaps most importantly, sellers of these 68+ pound silver bars will typically find dealers significantly discounting the buy-back price. Many small dealers avoid them altogether as they will not be able to readily resell bars that size. And larger dealers with quality control programs will buy these large bars but send any that come from outside the COMEX chain of custody to be melted by a refiner and assayed. The purchase price will be discounted accordingly. A significant number of the exchange-sized bars we buy come from investors or collectors who are unhappy holding them and are actively looking to swap them for smaller, more convenient, and more liquid forms of silver.
Silver Bar Size Comparison
Money Metals Exchange offers silver bars for sale from the most prominent company mints and refiners in North America, including:
Republic Metals Corporation
OPM Metals
We recommend investors to buy bars and choose from the sizes below and avoid "off-weight" sizes, such as the popular off-weight bars that have an image of Lady Fortuna or a British queen on them - these probably look nice for jewelry or gifts, but not so much as an investment. Similarly, gold bars with elaborate designs might attract investors for their aesthetic value but may not offer the same investment efficiency. Our experience teaches us that these off-weight bars are likely to be discounted or harder to sell in various markets at times when cashing in matters most.
1 oz Silver Bars
1 Troy oz silver bars for sale (one ounce bar) are popular among investors. Having multiple one-ounce bars allows investors to sell off a portion of their inventory while holding on to the rest until another price opportunity arises. These smaller bars also provide the perfect opportunity to diversify an investment portfolio that is filled with larger bars. They also make for a great gift or stocking stuffer.
5 oz Silver Bars
The storied Sunshine Mint in the Idaho Silver Valley produces all of the 5 oz bars in our lineup. The bars are beautifully crafted and designed to fill a gap in the bar roster. They have a lower premium than the 1-ounce bars while still being smaller than the 10-ounce alternative. Some designs may include the goddess Fortuna, an Australian kangaroo, Chinese lunar calendar characters, British Royal Mint Britannia, Royal Canadian Mint maple leafs, Coca-Cola, a portrait, or another particular collection.
This is another common size for silver bars. This size is still affordable, portable, and easy to store. Entry-level investors with a limited budget are often attracted to these bars to help them get started.
10 oz Silver Bars
The premium savings that bars offer compared to silver rounds begin with the 10 Troy oz size. Investors can expect to save 5 to 10 cents per ounce versus rounds, and significantly more versus government issue bullion coins such as the American Eagle bullion coin or silver coin Maple Leaf. 10-oz bars of silver are available from a handful of manufacturers. The silver bars come individually sealed in plastic assaying, generally in sheets of five or ten which can be separated as needed. Money Metals Exchange carries bars from the most prominent and best-regarded refiners in the U.S., including Republic Metals, PAMP Suisse, Monarch Precious Metals, SilverTowne, Ohio Precious Metals, Royal Canadian Mint, NTR, Geiger Silver Bars, Sunshine Mint, and others.
Kilo (32.15 troy ounces) Silver Bars
Money Metals Exchange added kilo silver bars to our lineup as a "middle ground" option between 10-ounce and 100-ounce variety sizes. These bars typically offer some savings versus smaller bars while remaining small enough to easily hold by hand and stack. Republic Metals is the current provider of our quantities of silver bars in this handy size.
These bars are another great choice for investors who wish to accrue wealth through a wide selection of diversified portfolio investments.
100 oz Silver Bars
100 Troy oz silver bars offer the absolute lowest silver premiums in our product lineup. They are the best way to buy silver as close as possible to the spot market price while preserving portability and ease of resale or liquidity. Those purchasing 100-ounce bars will generally save 10 to 20 cents per ounce (or more) versus 1-oz silver bullion bars and rounds products.
When it comes to the 100-ounce size, the mint mark carries a little more importance. We offer fine silver bars from Johnson Matthey, the Royal Canadian Mint (Royal Canadian Mint silver for sale), Republic Metals, and Ohio Precious Metals. Every silver bar is marked by the manufacturer along with its weight and purity and is always fully guaranteed.
Many dealers, including Money Metals Exchange, will slightly discount bars that are not produced by IRA-approved manufacturers since many 100-ounce bars are sold to self-directed IRA account holders. An IRA-approved bar is either made by one of the "big three" – Johnson Matthey, Engelhard, or Royal Canadian Mint (RCM) – or an ISO 9001 certified manufacturer such as Republic Metals or Ohio Precious Metals (OPM)/NTR.
100-ounce silver bars are considered to be the standard vehicle among larger precious metal investors. Typically, they can be purchased at very low premiums above silver spot prices (Spot contract), meaning you get the most silver for your money.
1000 oz COMEX Approved Silver Bars
While we don't recommend this giant 1000 oz bar for most investors, we do have this silver bar available for customers who wish to store it in a COMEX depository but not for standard item shipping. For those customers who want physical delivery of their silver bars, we recommend purchasing some of the 1, 10, and 100-ounce bar assets instead.
What To Look For When Buying Silver Bars:
When it comes to pricing, knowing the value and difference of the brand, versus a generic silver bar, matters. Though the purity of silver makes the bars worth the same amount per ounce, keep in mind certain brands cost more to purchase. The reputation of companies and the availability of their products should be taken into consideration for investment affordability. Also, certain designs are only made by specific manufacturers of silver.
To ensure lasting value, smart buyers often purchase silver bars that come from the most reputable mints and mines. Mint silver provided bars that are fully marked by a recognized manufacturer, weight, and purity will always be easiest to resell and will bring the best price.
Avoid off-weight bars. Many older silver bars were poured, weighed, and then marked with whatever the scale read. Dealers can't buy them and easily resell them, so they will generally be sent for melt stock process and discounted accordingly.
Serial numbers on bars won't add much demand or value when you are ready to sell, so we don't recommend paying an extra premium to get serialized bars.
Modern bars up to 10 ounces in size are sealed in plastic by the manufacturer. It is best not to remove the plastic as it will prevent tarnish and improve marketability later on.
Larger bars should offer you savings. Absent savings, and other factors, we always recommend buying a smaller-sized product. The option to trade in small units is always nice to have.
Money Metals Exchange provides a Certificate of Authenticity (COA) with qualified purchases.
Buy your silver bars with confidence from Money Metals Exchange. Find out what sets Money Metals Exchange apart from the rest of the industry and why we were voted as the Best Overall Precious Metals Dealer by Investopedia.
We specialize in the most cost-effective, most liquid bars, produced by some of the largest and most well-regarded mints and refiners in the U.S. You can lock pricing for US gold mint and silver, then purchase them online on the Money Metals Exchange site anytime. Or give us a call at our phone number: 1-800-800-1865. Our customer service specialists and precious metals experts will be happy to answer your questions (FAQ), help with your account, or take your order by phone.
Be sure to sign up for the Money Metals Newsletter to stay up-to-date with the latest precious metals news content, economic insights, market perspectives, product reviews, and a weekly podcast. You can also follow Money Metals Exchange on most social media platforms including Facebook, LinkedIn, TikTok, Instagram, YouTube, and more.