1 South Dakota Goldback - Pax, 1/1000th Troy Oz 24K Gold-Backed Bill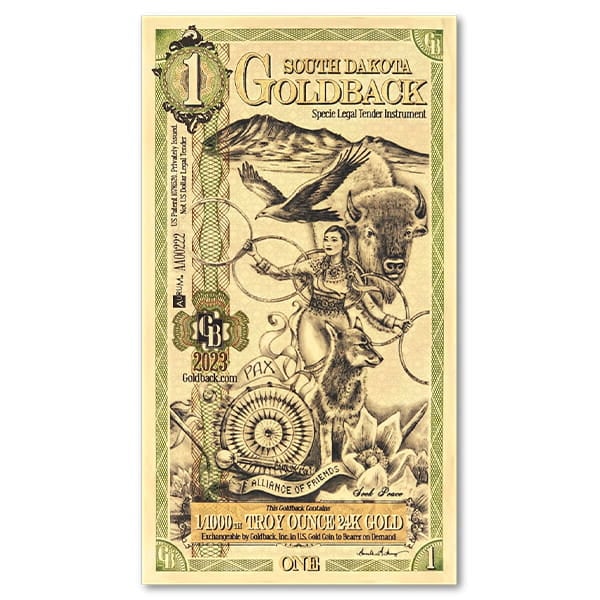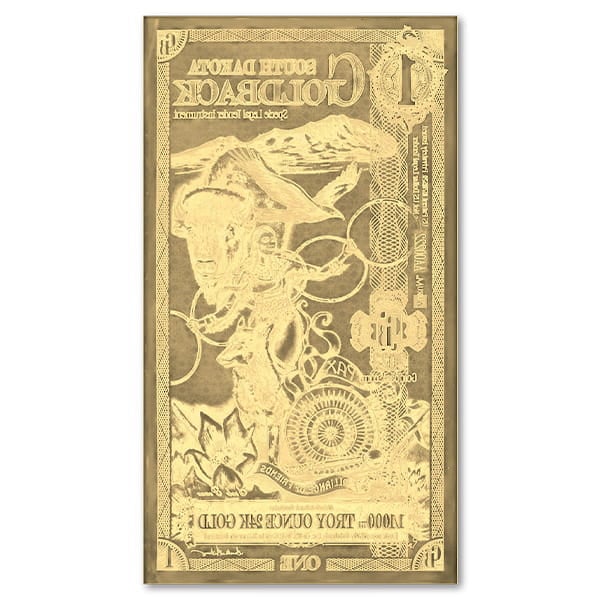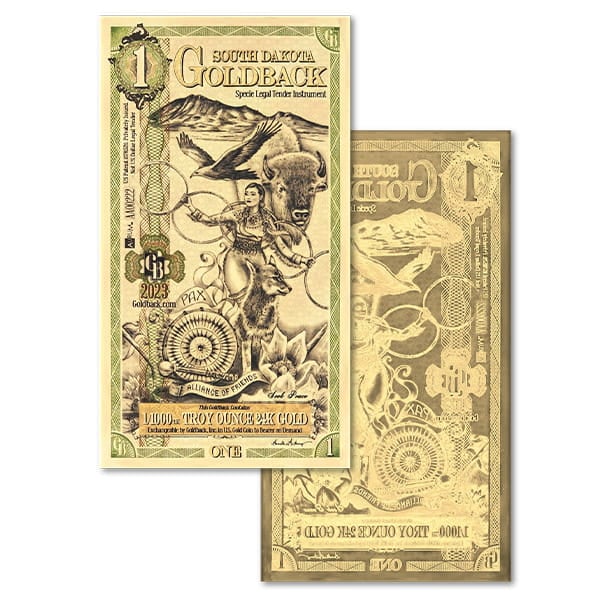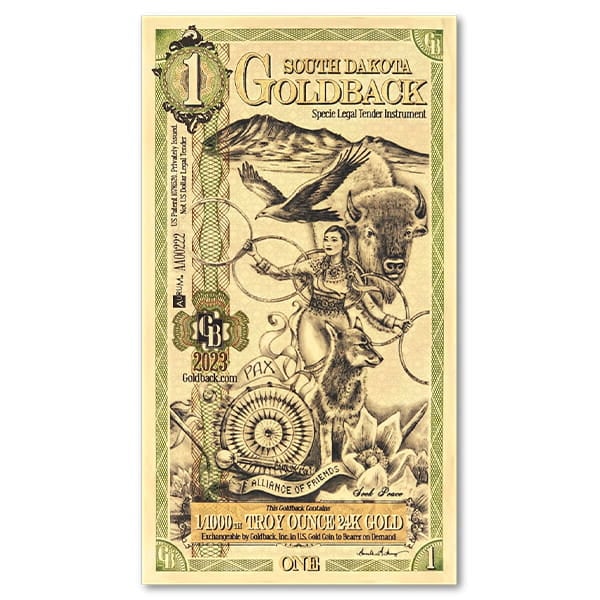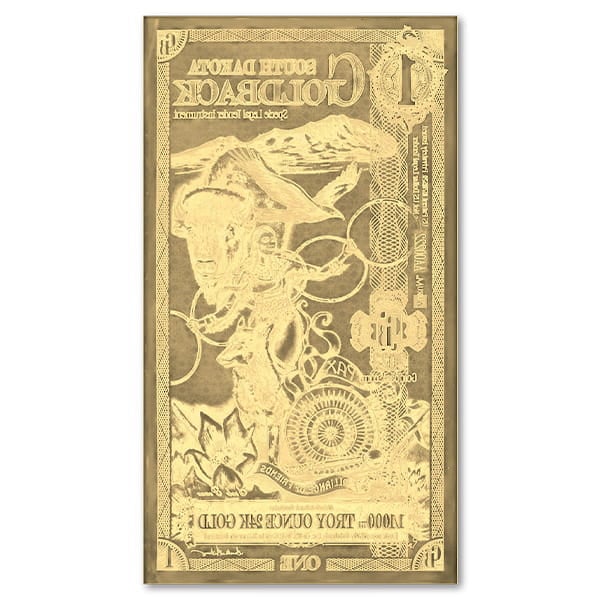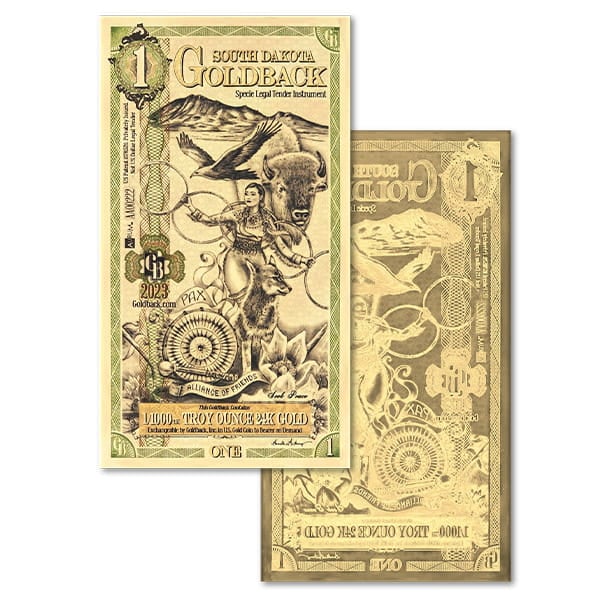 | Quantity | Total Price Each |
| --- | --- |
| 5 - 99 | $5.36 |
| 100 - 3000 | $4.76 |
| 3001+ | Call for discount |



Free Shipping
On All $199+ Orders
Sell to Us Price: $2.96 each
1 South Dakota Goldback - Beautifully Made Currency Containing 1/1000th Oz .9999 Fine Gold
The Goldback is the world's first voluntary currency to be made of a spendable, beautiful, small denomination, physical gold.
When the Utah Legal Tender Act passed in 2011, the state became the first in recent times to recognize certain forms of gold as legal tender. Gold once again established a level of official recognition as money.
Since then the technology for minting physical gold into a spendable form for small transactions has developed. The makers use cutting-edge vacuum deposition technology to layer each bill with .9999 fine gold in exacting quantities. Goldback bills carry a precise amount of pure gold between layers of polyester which makes them resilient and durable.
South Dakota is the 5th state to be commemorated on Goldback bills. According to the Sound Money Defense League, the state ranks second in the nation in the effort to restore honest money.
About the Design
Pax, or Peace, makes her first appearance in the Goldback series on the South Dakota 1 Goldback Denomination. She is depicted in this design as a Lakota Native American woman wearing traditional regalia and hoop dancing as demonstrated in person to the artist during her time researching in the state.
The inspiration the virtue of peace came directly from the speech and demonstration given by the Lakota performer that day. She explained that she had made her own regalia and that it represented her name, tribe, family, heritage and stories as well as her own personal passions. She further explained that the name of her heritage, Lakota, as well as the nearby Nakota and Dakota are the words in similar native languages. The words translate as "The Friendly Ones".
The artist was deeply inspired by this message and a more generally known translation of "Alliance of Friends" was used to represent this sentiment on a banner toward the bottom of the 1 Goldback Denomination.
While demonstrating the hoop dance, this woman described the importance of finding and creating peace with everything around her by treating them as friends and relatives. She stressed that true peace can come from doing so with every person no matter their creed, race, age, or other differences, as well as by including animals, plants, and even the elements in this same fashion. In this piece, the viewer can see many representations of these impressions, from the sacred Bear Butte, or "Mato Paha" formation in the background to the animals that surround the Virtue of Peace.
In addition to the traditional cancega drum depicted with the Sacred Hoop or Medicine wheel, the careful viewer will also see the representation of the seven sacred elements that were explained to the artist: land, air, water, rocks, animals, plants, and fire.
Also, in the bottom right corner one can see the Prairie Crocus, or Pasque flower, appearing as a symbol of the cyclical seasons of life, in theme with the symbolism of the hoops and cancega. It is known for being the first plant to bloom in the spring, and to live out all the cycles of its life in a matter of two weeks, much like our short lives on this earth. Like the flower, the people of today are a product of the generations before us on whose shoulders we stand.
In many ways, peace is a choice that comes from being in harmony with those people and things around us, just as the Lakota woman explained to the artist. Through the words at Pax's feet, the South Dakota 1 Goldback Denomination echoes her words and invites all who see it to "Seek Peace".
Product Specifications
| | |
| --- | --- |
| Weight: | 1/1000th Troy Oz |
| Weight: | 1/1000th Troy Oz |
| Purity: | .9999 Gold Layered On a Bill |
| Purity: | .9999 Gold Layered On a Bill |
| Size: | 11.7cm x 6.5cm - (4.61" x 2.56") |
| Size: | 11.7cm x 6.5cm - (4.61" x 2.56") |
Sell to Us
We are buying this item back daily, and we pay you promptly!
Our current buy pricing is $2.96 each and we will buy up to 1,000 ounces at this price. Simply call us on any weekday to lock pricing at 1-800-800-1865.
Learn more about the process for selling to us here.
Shipping Info
We take great pride in the way your order is packaged and delivered.
You can expect:
Prompt Shipping – We ship orders shortly after your payment has been cleared – generally within 2 business days.
Fully Insured – We fully insure all shipments with Lloyd's of London.
Privacy – Your package will have no external markings that provide any clue as to the contents. Because we insure packages with Lloyd's of London, we do not declare a value or insure with the carrier.
Accountability for Package Contents – Your order will be packed under video surveillance, weighed and double-checked prior to shipping to ensure you receive exactly what you ordered.
Professional Packaging – Your order will be packaged securely and professionally.
Tracking – We will provide you with the carrier's tracking number for your shipment so you can monitor its progress and plan for delivery.
Signature Confirmation – Delivery carriers are instructed to request a signature upon delivery.
Cost to Ship & Insure
(absent periodic special offers for free or discounted shipping)
| Insured Value | Cost |
| --- | --- |
| Up to $198.99 | $7.97 |
| Insured Value | Cost |
| --- | --- |
| $199.00 + | FREE |