Silver Bullet - 2 Troy Oz .999 Fine Silver (.308 Cal)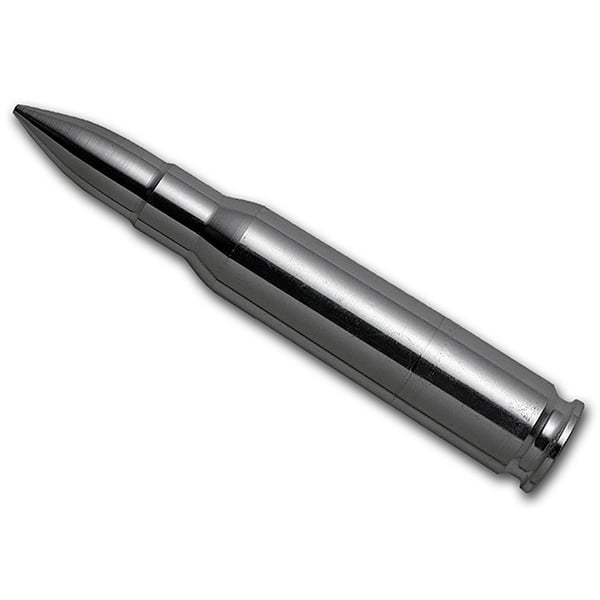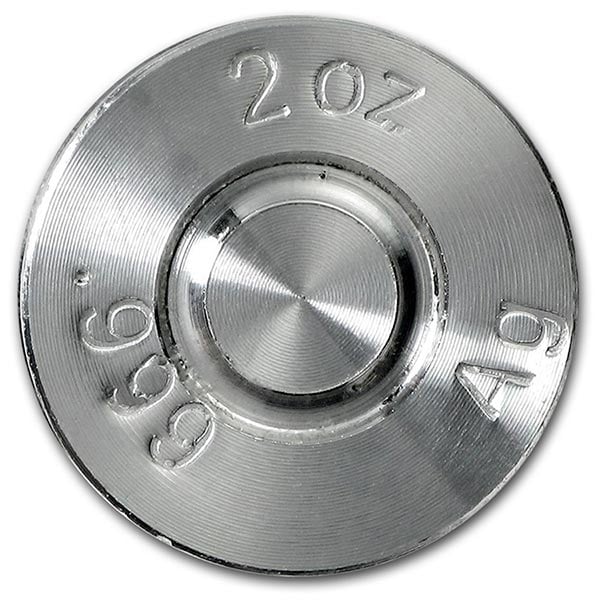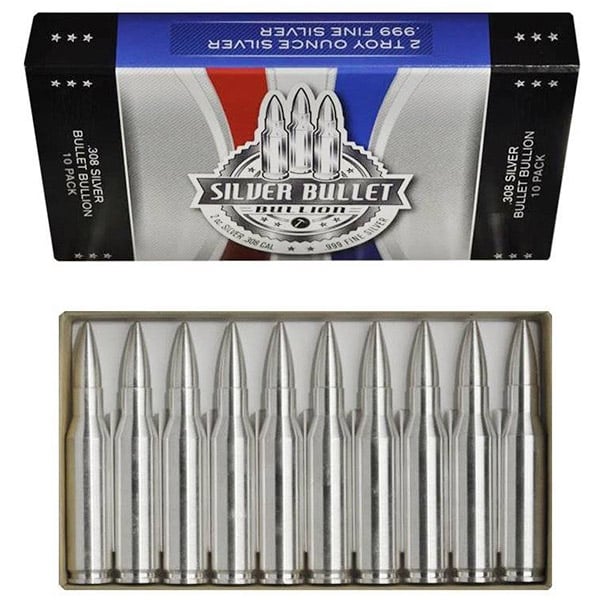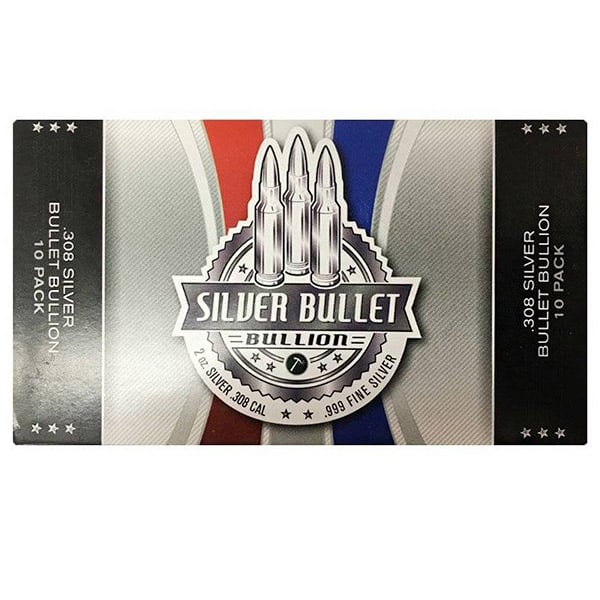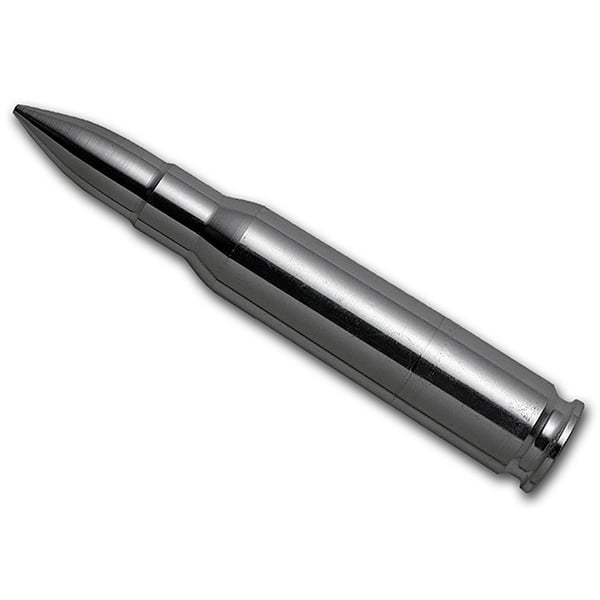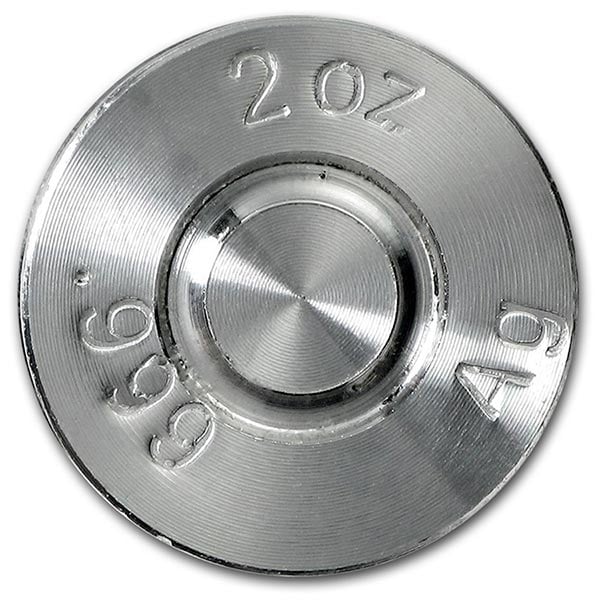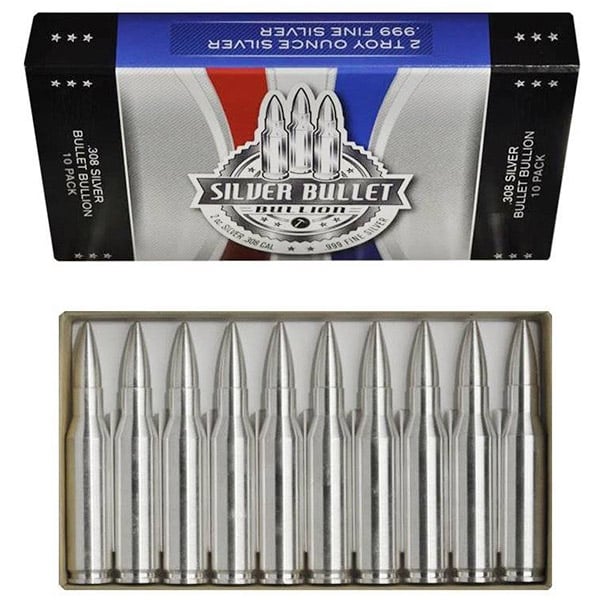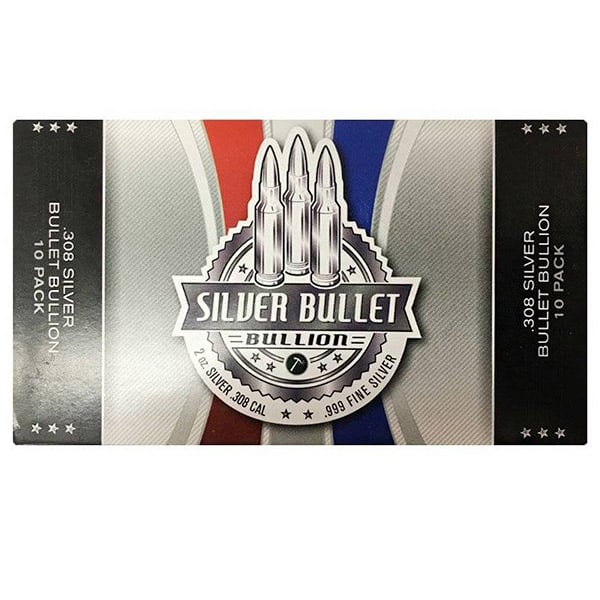 $86.04
(as low as $18.99 over spot)
Get a Free Kennedy 90% Silver Coin w/ Your $500+ Silver Order (excludes Vault Silver & Monthly)
Load up with some silver bullets - also available in 1-oz, 2-oz, 5-oz, 10-oz and 25-oz sizes
Quantity
Premium/Oz
Total Price Each
1 - 19
$20.99
$90.04
20 - 99
$19.99
$88.04
100 - 250
$18.99
$86.04
251+
Call for discount
Full Tube Qty = 10



Free Shipping
On All $199+ Orders
Sell to Us Price: $54.06 each
Pure Silver Replica of a .308 Caliber Rifle Round
People buy silver and gold bullion for two primary reasons. For some, it's all about speculating - hoping for profits as silver profits move higher. For others, it's the fear of a financial meltdown or the fear of paper currencies being rendered worthless. Lots of investors are motivated by some of both.
As demand for silver grows, so does the lineup of bullion products. Our 2-oz silver bullets were designed for investors who are also fans of firearms and the Second Amendment right to bear arms. Silver is constitutional money. The supporters of the Second Amendment are usually advocates for honest money as well. The right to bear arms and sound money are both intended as checks against government power and overreach.
These beautiful silver rounds make a great gift as well as a great conversation piece. And they are an interesting addition to any metal collection. Add the best silver bullet online to your cart today!
Design and Features
The 2 oz. silver bullet is a replica and cannot be fired. It is designed after the .308 caliber Winchester rifle round. The replica is pure .999 silver and made in the United States. At the bottom of each bullet, you will find markings for weight and silver purity.
Although the .308 caliber is often mistaken for the 7.62x51mm NATO round, the silver replica design stays true to the Winchester's rimless and bottlenecked rifle cartridge design. It has a case length of 51.18mm and an overall length of 71.12mm. The bullet diameter is a true 7.8mm (0.308"). It will be a weighty standout amongst a collection of smaller coins and bars.
These bullets come in mint packages of 10, for customers ordering that quantity (or more).
Again, this bullet is solid .999 silver and is not made to be fired. It is a bullion product intended for silver investors with some added significance for firearms enthusiasts and patriots.
For customers ordering at least 10, the 10-pack of 2 oz. silver bullets can be an interesting addition to any collection of firearms and war memorabilia, modern or classic. At the same time, it will be an investment in silver offering the potential of future profits.
Let's face it, stacking coins and bars is great, but a silver bullion portfolio that includes some bullets is going to be even more interesting.
As far as premiums are concerned, the 2 oz. silver bullet is a bit higher priced than silver coins. Each one must be turned in a lathe and they are made here in the USA.
Quality
Pure silver replica bullets reflect the manufacturing process by which they are made. Each is turned in a lathe and the goal is not to achieve a perfect finish. The bullets may arrive with some blemishes, scuffs, and scratches. Minor defects will not have any effect on the value, which is primarily based on the silver content of the bullet.
That said, the 2 oz silver bullets are beautiful and eye-catching. Clients have delivered lots of positive feedback.
Investment Opportunities
The 2 oz silver bullet is well suited for investment with premiums far below that of proof silver coins or numismatic silver. Bullets will mirror the performance of other bullion coins, rounds, and bars. The value will rise with the underlying spot price of silver. We do not recommend investors make silver bullets the core of their precious metals holding. There are slightly less expensive products available. But adding a few bullets to your stack will make your investment more fun.
2 oz silver bullets are packed in mint boxes of ten (when ordered in that quantity), which stack nicely in a safe.
We think there are few better investment opportunities than silver, at least given the times in which we now live. The US dollar was once backed by metal. That ended in 1971 when the dollar became entirely fiat. Since then federal debts have grown exponentially, a trend which has dramatically accelerated over the past two decades.
The Federal Reserve Bank, which is supposed to maintain a stable currency, has instead done everything in its power to drive price inflation. The dollar's purchasing power falls every year. The global financial system is fueled by debt and grows more and more fragile.
Silver prices have been responding to these concerns. As of this writing, the price is roughly quadruple what it was at the beginning of this century.
Can You Fire 2 Oz Silver Bullets?
Our 2-ounce silver bullets are just for looks and are completely non-functional. They are solid silver and do not contain gunpowder. The bullet and casing are one piece and cannot be separated.
They are a replica of the .308 rifle round but are similar only in size and shape. Please do not attempt to fire one. That could result in damage to your rifle.
Sorry, you will not be able to hunt werewolves with them. That said, there may be no better defense against the monstrous effects of inflation on your wealth and savings.
Conclusion
Where exactly does the 2-oz silver bullet stand in the world of silver bullion? It's in a class of its own. It's one of the few pieces which are designed to be equally attractive to investors, firearms enthusiasts, and collectors.
The premiums are modest and the bullets look great - the size and shape of the popular .308 Winchester cartridge, only crafted from solid, lustrous .999 silver. Put some in your collection today and you will be talking about it and showing it off to friends for years to come.
**Important Note**
Expect each silver bullet bullion to ship with minor blemishes, including scratch marks, die polishing, dings, and general wear. These minor aesthetic flaws do not affect the silver content or value – it is simply the result of the manufacturing process. Additionally, the boxes are often not in perfect condition and likely will show some signs of wear. Please be advised -- but again this does not affect any of the value of the product.
Product Specifications
| | |
| --- | --- |
| Quality / Type: | Bullion, Uncirculated |
| Purity: | .999 fine silver |
| Metal Weight: | 2 troy ounce |
Sell to Us
We are buying this item back daily, and we pay you promptly!
Our current buy pricing is $54.06 each and we will buy up to 100 ounces at this price. Simply call us on any weekday to lock pricing at 1-800-800-1865.
Learn more about the process for selling to us here.
Shipping Info
We take great pride in the way your order is packaged and delivered.
You can expect:
Prompt Shipping – We ship orders shortly after your payment has been cleared – generally within 2 business days.
Fully Insured – We fully insure all shipments with Lloyd's of London.
Privacy – Your package will have no external markings that provide any clue as to the contents. Because we insure packages with Lloyd's of London, we do not declare a value or insure with the carrier.
Accountability for Package Contents – Your order will be packed under video surveillance, weighed and double-checked prior to shipping to ensure you receive exactly what you ordered.
Professional Packaging – Your order will be packaged securely and professionally.
Tracking – We will provide you with the carrier's tracking number for your shipment so you can monitor its progress and plan for delivery.
Signature Confirmation – Delivery carriers are instructed to request a signature upon delivery.
Cost to Ship & Insure
(absent periodic special offers for free or discounted shipping)
| Insured Value | Cost |
| --- | --- |
| Up to $198.99 | $7.97 |
| Insured Value | Cost |
| --- | --- |
| $199.00 + | FREE |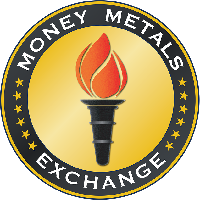 Sign in to Your Account
Please Sign In or Register to leave a review
Nick V.

February 1st, 2023

Ordered two of them for a gift for my dad. After reading descriptions I kinda expected blemishes or something.. but to my surprise they were pretty much flawless! Great craftsmanship and great all around.

Afton D.

January 29th, 2023

. 308 cal. Didnt disappoint .coming in at a nice 2oz . Great size, very impressive

Vernon G.

January 5th, 2023

This is not my first order. I came back due to the diligence, and, great service provided by this company. These .308 bullets are a huge splash in my collection of metals. Thank guys!!!

Michael C.

August 20th, 2021

.308 caliber silver bullet

The bullet was out of stock and I asked for an email when it was in stock. They sent me an email saying it was in stock and within a week I had the bullets delivered. Very pleased with this company and the product

Joseph B.

January 2nd, 2021

Just got mine and I love it! Great packaging, fast and excellent service as always. The bullet looks awesome no blemishes or dings except for one tiny little ding that you can barely see. Thanks again MMX. :)