5 South Dakota Goldback - Industria, 1/200th Troy Oz 24K Gold-Backed Bill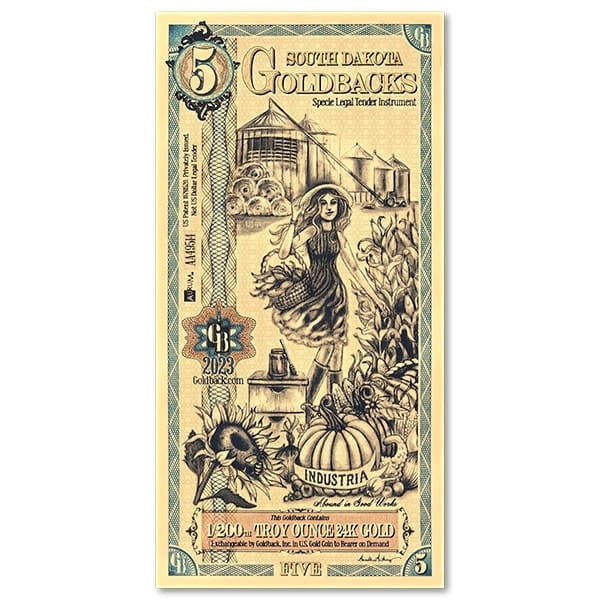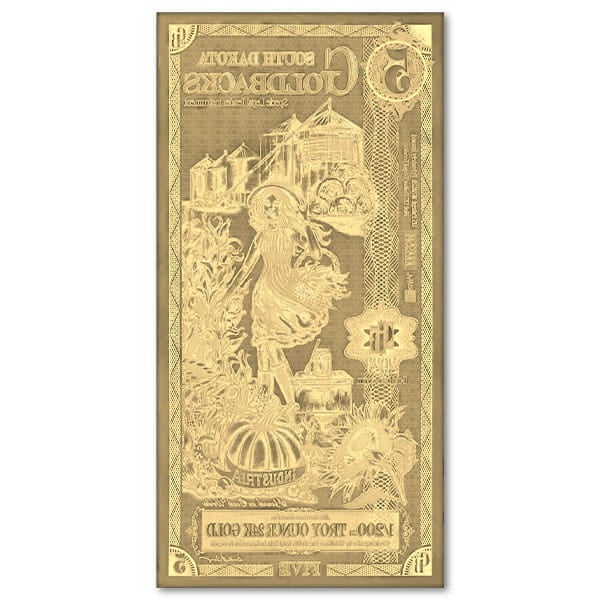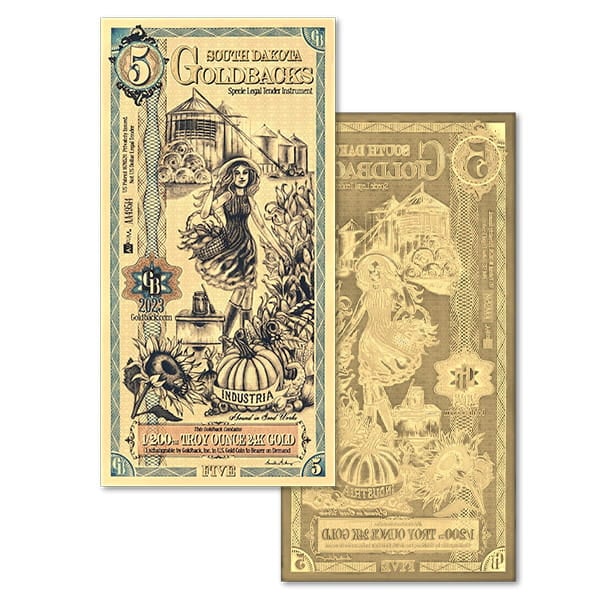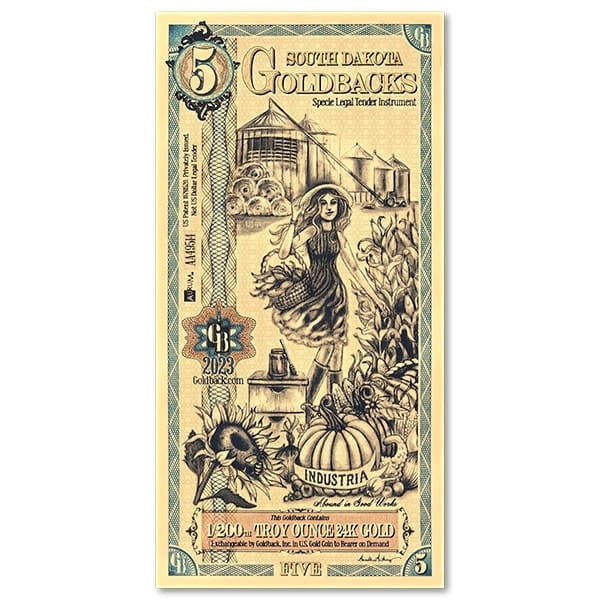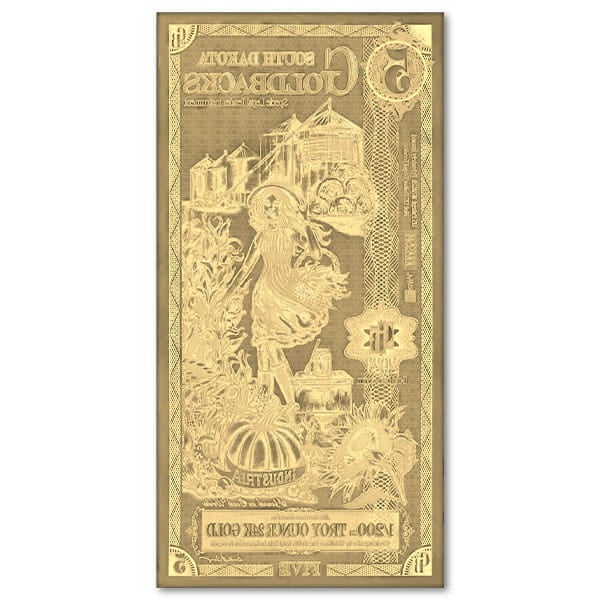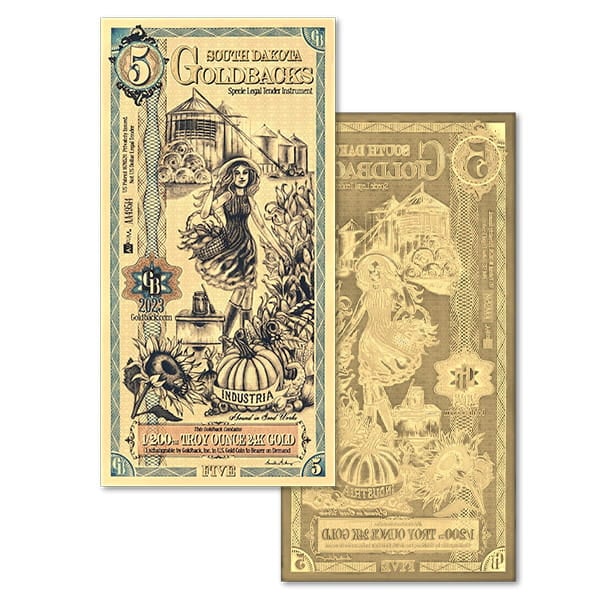 $19.30
(as low as $2,000.00 over spot)
| Quantity | Total Price Each |
| --- | --- |
| 1 - 9 | $21.30 |
| 10 - 600 | $19.30 |
| 601+ | Call for discount |



Free Shipping
On All $199+ Orders
Sell to Us Price: $14.80 each
5 South Dakota Goldback - Beautifully Made Currency Containing 1/200th Oz .9999 Fine Gold
The Goldback is the world's first voluntary currency to be made of a spendable, beautiful, small denomination, physical gold.
When the Utah Legal Tender Act passed in 2011, the state became the first in recent times to recognize certain forms of gold as legal tender. Gold once again established a level of official recognition as money.
Since then the technology for minting physical gold into a spendable form for small transactions has developed. The makers use cutting-edge vacuum deposition technology to layer each bill with .9999 fine gold in exacting quantities. Goldback bills carry a precise amount of pure gold between layers of polyester which makes them resilient and durable.
South Dakota is the 5th state to be commemorated on Goldback bills. According to the Sound Money Defense League, the state ranks second in the nation in the effort to restore honest money.
About the Design
The Virtue featured this bill is Industria, meaning Industry. She makes her first appearance on a Goldback Design as a woman walking through the fields of a farm, surrounded by items such as corn, honey, hay, wheat, sunflowers, pumpkins, and many others. Behind her are silos full of grain, one of which is being filled by an auger and has old glory painted on it.
With one hand on her hat and her arm looped through a basket full of corn, her sundress billows in the warm late summer breeze. The careful observer will also note the smile on Industria's face as she caresses the leaves of the corn stalks next to her. As she walks toward a cornucopia full of harvest, she clearly is finding joy in the labor of her hands. Industria motivates others through the inscription on the bill, "Abound in Good Works".
This denomination was inspired by the artist's travels through the plains of South Dakota along Interstate 90, from Rapid City, heading west. This area has a rich history of early settlers and homesteaders who struggled to grow crops and. Despite many of their neighbors giving up in those days, those who worked hard and exemplified the qualities of industry in the area were eventually able to reap abundant harvests. As a result, South Dakota is now one of the top producers in the United States for corn, soybeans, and wheat, annually selling over $10 billion worth of agricultural products.
There is deep symbolism and history behind both the sunflower and the honey depicted in this Goldback denomination. Sunflowers are currently used for oil, birdseed, and human consumption, and have a history of being used medicinally as well. In this rendition, they indicate that hard work brings credibility. They encourage us to stand tall, to look toward and pay obeisance to the source of our blessings, just as the sunflowers look toward the sun each day. They are a representation of an increase in abundance and seed with which to plant subsequent harvests. Their presence in this denomination encourages the viewer to look towards light and truth and teach our posterity to do the same.
Along a similar vein, honey is the result of many generations of industry. It is a long standing symbol for both working together and hard work paying off. In many ways, honey represents the results of living the American dream. In addition to the honey bee being South Dakota's state insect, honey bees are long-time symbols of the work that brings us to each next harvest. Their work and pollination allows for plants to produce fruit and, without them, the world would starve. This denomination invites everyone to follow the example of the honey bees and to use the spirit of industry to bring about the next harvest, but to also enjoy the benefit of the current one as well.
Product Specifications
| | |
| --- | --- |
| Weight: | 1/200th Troy Oz |
| Weight: | 1/200th Troy Oz |
| Purity: | .9999 Gold Layered On a Bill |
| Purity: | .9999 Gold Layered On a Bill |
| Size: | 13.0cm x 6.5cm (5.12" x 2.56") |
| Size: | 13.0cm x 6.5cm (5.12" x 2.56") |
Sell to Us
We are buying this item back daily, and we pay you promptly!
Our current buy pricing is $14.80 each and we will buy up to 200 ounces at this price. Simply call us on any weekday to lock pricing at 1-800-800-1865.
Learn more about the process for selling to us here.
Shipping Info
We take great pride in the way your order is packaged and delivered.
You can expect:
Prompt Shipping – We ship orders shortly after your payment has been cleared – generally within 2 business days.
Fully Insured – We fully insure all shipments with Lloyd's of London.
Privacy – Your package will have no external markings that provide any clue as to the contents. Because we insure packages with Lloyd's of London, we do not declare a value or insure with the carrier.
Accountability for Package Contents – Your order will be packed under video surveillance, weighed and double-checked prior to shipping to ensure you receive exactly what you ordered.
Professional Packaging – Your order will be packaged securely and professionally.
Tracking – We will provide you with the carrier's tracking number for your shipment so you can monitor its progress and plan for delivery.
Signature Confirmation – Delivery carriers are instructed to request a signature upon delivery.
Cost to Ship & Insure
(absent periodic special offers for free or discounted shipping)
| Insured Value | Cost |
| --- | --- |
| Up to $198.99 | $7.97 |
| Insured Value | Cost |
| --- | --- |
| $199.00 + | FREE |