St. Gaudens Silver Round - 1 Troy Ounce, .999 Pure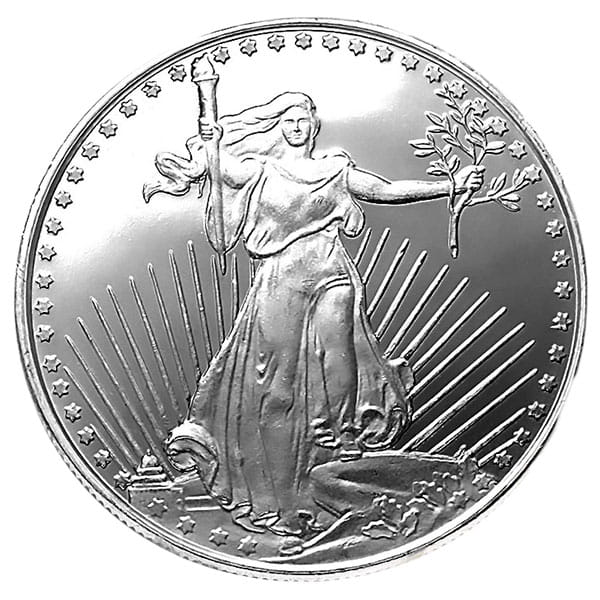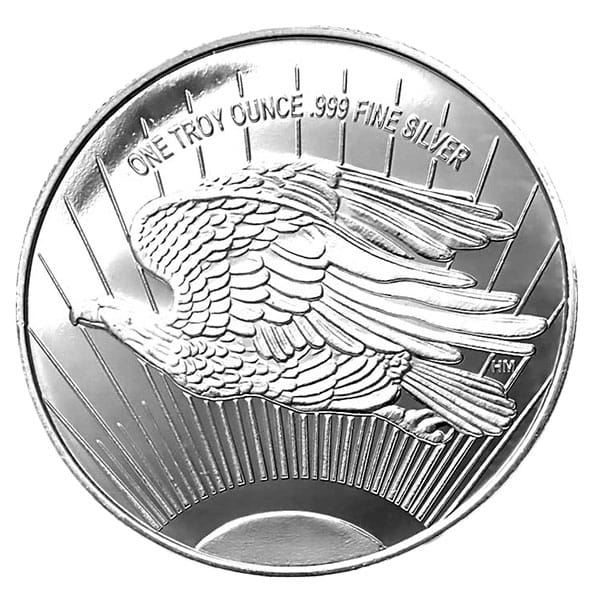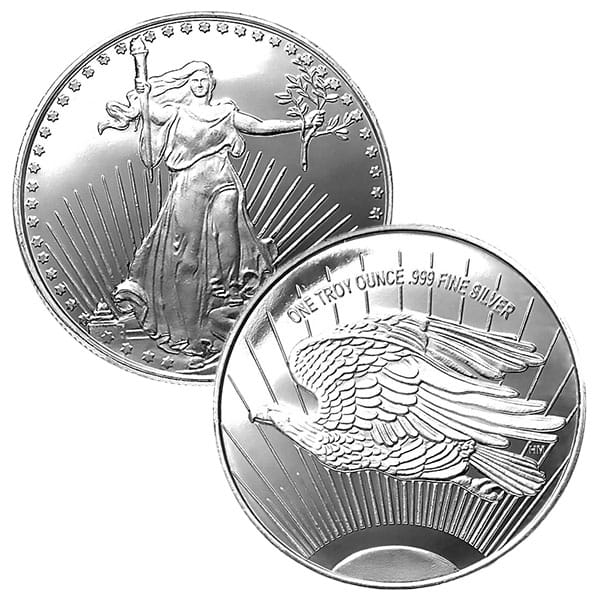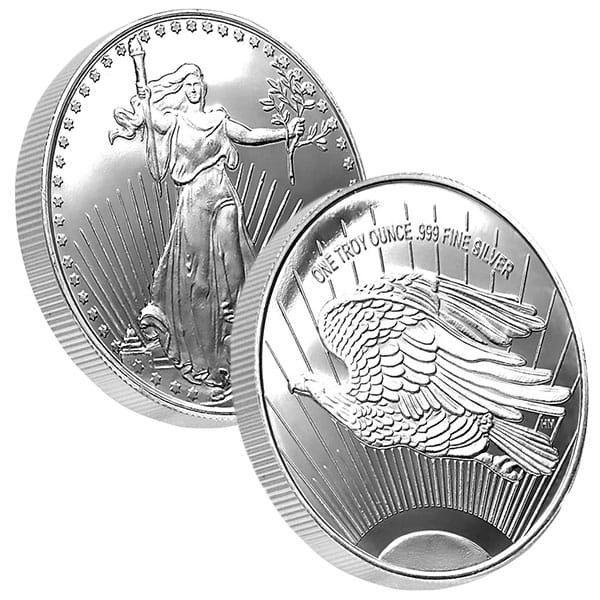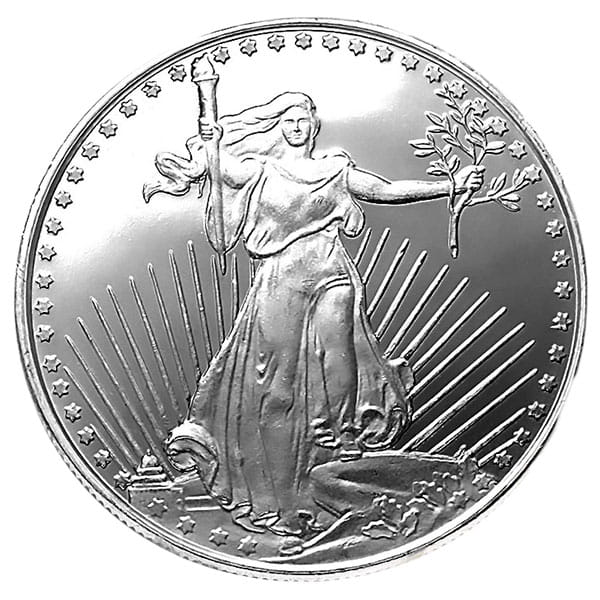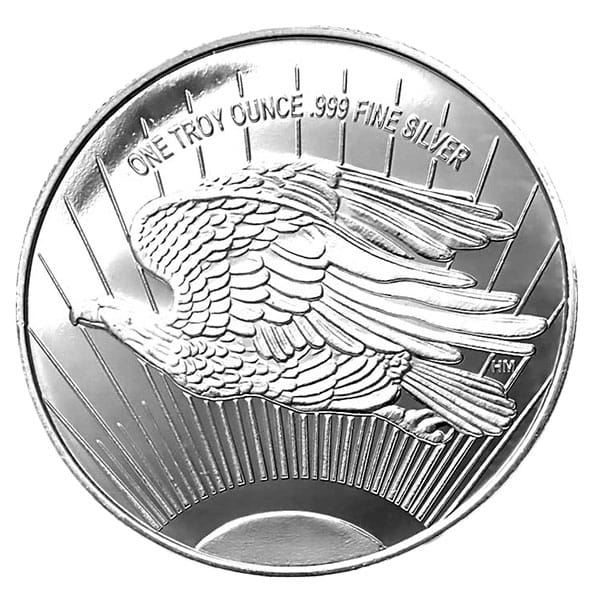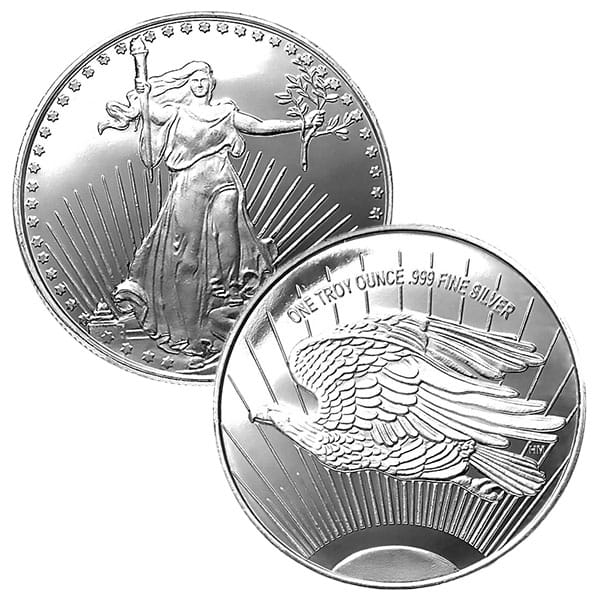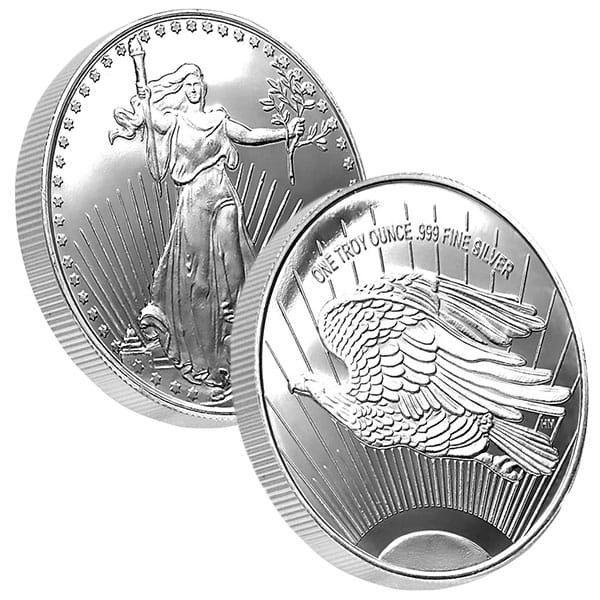 $26.06
(as low as $3.02 over spot)
Quantity
Premium/Oz
Total Price Each
1 - 39
$4.02
$27.06
40 - 499
$3.52
$26.56
500 - 2000
$3.02
$26.06
2001+
Call for discount
Full Tube Qty = 20



Free Shipping
On All $199+ Orders
Sell to Us Price: $22.81 each
Buy 1 Oz Saint Gaudens Silver Rounds from Money Metals Exchange
Augustus Saint Gaudens, a renowned sculptor working around the turn of the last century, is perhaps best know for his design on the beautiful $20 gold coin minted by the US mint from 1907 to 1933. Today, private mints produce replica silver rounds and bars featuring this original $20 gold coin.
Better yet, 1 Oz St. Gaudens silver rounds are affordable and abundantly available and offer low premiums. Investors can get an iconic and popular design, without paying a hefty price.
Saint Gaudens Coins vs. Rounds
Coins and rounds can look similar enough that people sometimes mistake one for the other. However, there are some major differences. The most obvious difference between the official Saint Gaudens coin and the rounds is the metal itself. The coins were minted from 90% gold, while the rounds are .999 fine silver. There are also differences in the design on the reverse side.
Coins are exclusively made by a government mint. In the United States, only the US Mint is permitted to strike coins. Coins can have a face value, meaning they are legal tender. They often feature the mark of the production US Mint. And they almost always carry the date of issue.
Rounds are struck at a private mints. The may have the similar obverse and reverse design as a coin, but they will not have a face value. Rounds are not legal tender backed by the United States government.
In general, coins tend to have a higher premium than rounds. They are also far more popular with collectors while rounds appeal more to investors looking to get as much precious metal for their flat currency as possible.
History
The story of the St Gaudens silver rounds begins more than 100 years ago. President Teddy Roosevelt was not happy with the design on the American coinage, and sought to come up with more beautiful artwork. He asked Augustus Saint Gaudens to desing the highest value coin in the series - the $20 "double eagle".
Saint Gaudens previously had a difficult experience working with the US Mint's chief engraver, Charles Barber, but Roosevelt was able to persuade him. It was to be one of the last of Saint Gauden's projects and took significantly longer than expected. The artist was in declining health and the high relief features of the design made it a particular challenge. Saint Gaudens died in 1907, before his design was finalized for production.
1 Oz Saint Gaudens Silver Round Design
Today's current production St. Gaudens silver rounds are an homage to the classic design of the classic double eagle gold coin. Though struck in numerous private mints, the exact design tends to be somewhate standardized with only minor variations among coins of different manufacturers.
The most common is the one troy ounce silver round with 99.9% purity.
On the obverse of Saint Gaudens rounds is the iconic Lady Liberty striding forward with an olive branch in her left hand and the torch of liberty in her right.
The reverse features a bald eagle in flight with a sunburst background. The inscription reads, "One Troy Ounce .999 Fine Silver"
Specifications
The one troy ounce coins weigh 31.1035 grams. The rounds measure 39 millimeters in diameter and 2.8 millimeters in thickness. The edges of the round are usually reeded, as opposed to the plain original. All manufacturers make the St. Gaudens silver rounds with 99.9% purity and reeded edges.
Who Makes Them
Various private mints across the United States make Saint Gaudens silver rounds. The one ounce round as it is the most requested and sought-after variety.
1 Oz St. Gaudens Silver Round Value
Silver rounds are designed to be sold at a price which is not much higher than the spot price of silver. They are not collectibles, like some silver coins. Rather, they are made in mass quantities and bought and sold as more of a commodity. They attract investors who wish to park their money in precious metals and then be able to liquidate quickly and easily at the market price.
Accordingly, St. Gaudens silver rounds have rather uniform prices across the board regardless of the mint that produces them.
Should I Invest in 1 Oz St. Gaudens Silver Rounds?
Silver rounds are far more affordable than silver coins. They are a good starting point for beginner investors. Use them to diversify your portfolio, preserve your wealth, or profit when silver prices go up.
On the other hand, rounds don't hold much numismatic value. If you're looking to build a private collection, coins are the way to go.
Prospects
Saint Gaudens silver rounds are affordable and in plentiful supply. They also have low premiums so are perfect for precious metal investors.
Finally, investing in precious metals is a sound decision. Flat currencies are subject to inflation and the stability and credibility of the governments behind them, which is why people have used precious metals to preserve their wealth for centuries.
Product Specifications
| | |
| --- | --- |
| Quality / Type: | Bullion, Uncirculated |
| Purity: | 99.9% silver |
| Metal Weight: | 1 troy ounce (31.103 grams) |
| Diameter: | 1.535 inches (39 mm) |
| Edge: | Reeded |
| Obverse: | Lady Liberty with Olive Branch and Torch |
| Reverse: | Laurel Wreath |
Sell to Us
We are buying this item back daily, and we pay you promptly!
Our current buy pricing is $22.81 each and we will buy up to 5,000 ounces at this price. Simply call us on any weekday to lock pricing at 1-800-800-1865.
Learn more about the process for selling to us here.
Shipping Info
We take great pride in the way your order is packaged and delivered.
You can expect:
Prompt Shipping – We ship orders shortly after your payment has been cleared – generally within 2 business days.
Fully Insured – We fully insure all shipments with Lloyd's of London.
Privacy – Your package will have no external markings that provide any clue as to the contents. Because we insure packages with Lloyd's of London, we do not declare a value or insure with the carrier.
Accountability for Package Contents – Your order will be packed under video surveillance, weighed and double-checked prior to shipping to ensure you receive exactly what you ordered.
Professional Packaging – Your order will be packaged securely and professionally.
Tracking – We will provide you with the carrier's tracking number for your shipment so you can monitor its progress and plan for delivery.
Signature Confirmation – Delivery carriers are instructed to request a signature upon delivery.
Cost to Ship & Insure
(absent periodic special offers for free or discounted shipping)
| Insured Value | Cost |
| --- | --- |
| Up to $198.99 | $7.97 |
| Insured Value | Cost |
| --- | --- |
| $199.00 + | FREE |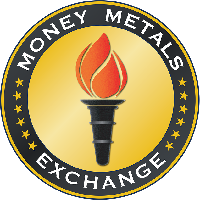 Sign in to Your Account
Please Sign In or Register to leave a review
Carrie M.

June 10th, 2023

I love the St. Gaudens Silver Round. It adds beauty to my silver collection. Money Metals has done a wonderful job and I would highly recommend them for your precious metals purchases.

Gregory B.

March 7th, 2023

This is my 4th order from MMX, and I am very pleased with the metal, and delivery. Don't hesitate to order from these folks, I will certainly purchase from them again.

Kenneth N.

November 12th, 2022

Beautiful St Gaudens Rounds

Great product for us smaller budgets! Awesome quality products. Quick shipping! No need to go anywhere else for your precious metals.

Brenda T.

August 5th, 2022

I am not a big investor or collector but I wanted a commodity that has some intrinsic value. I started shopping for silver coins and rounds and found Money Metals to have the best prices. I also liked the "look" of their rounds. We made an initial purchase followed by a smaller purchase. Both orders were delivered quickly and well packaged. I never felt like a small-time buyer. I was kept well informed of the progress of my orders and shipping details. Both my husband and I are very happy with the service and prices we've enjoyed from Money Metals Exchange.

This is one of my favorite silver rounds. High quality strike, terrific finish. A beautiful round in addition to silver content value. Highly recommended!