1/4 oz Donald Trump Gold Rounds, .9999 Pure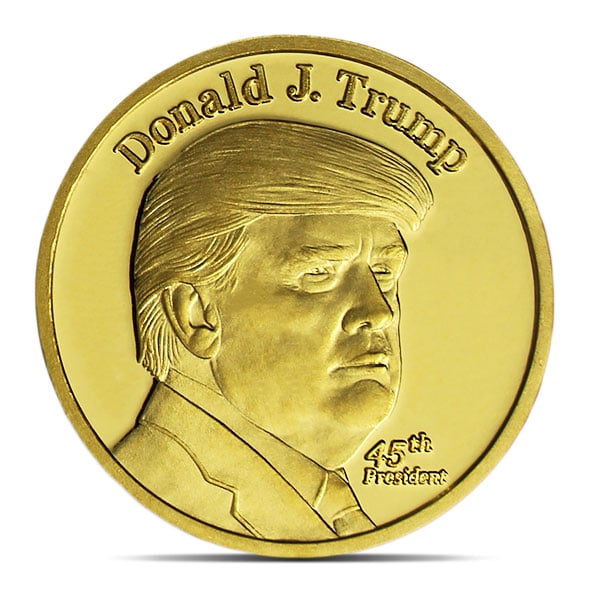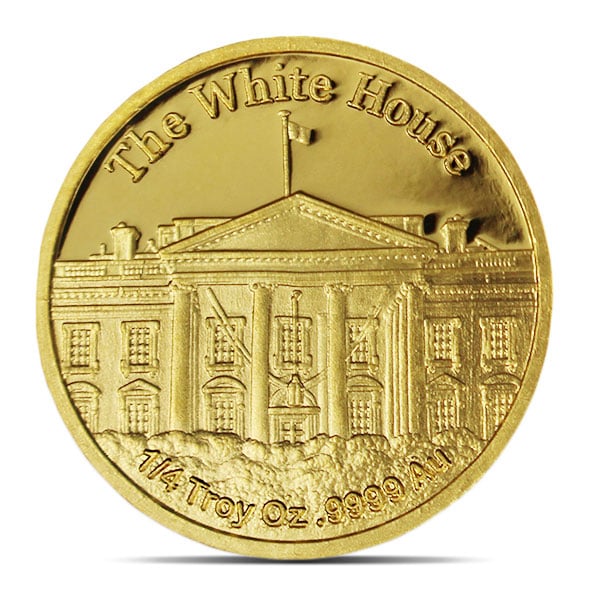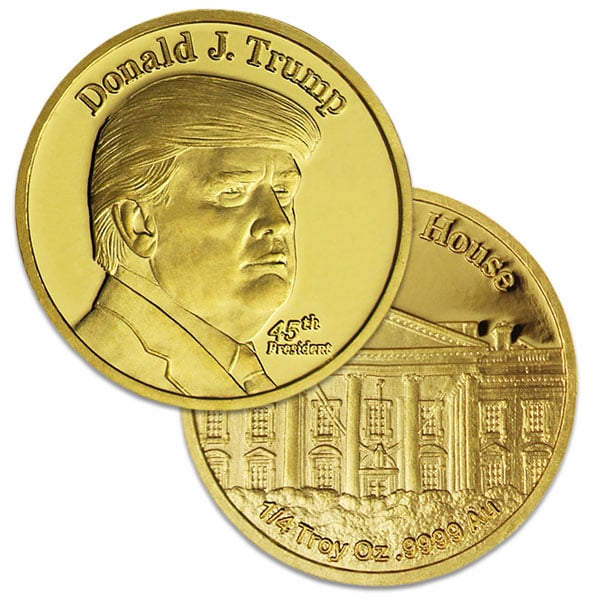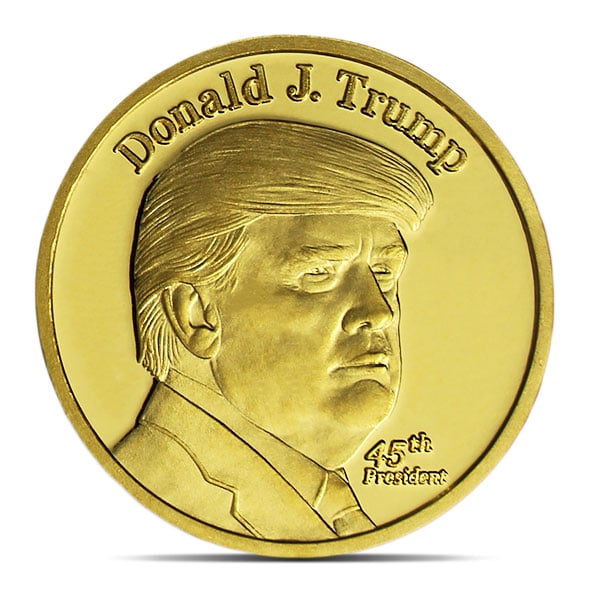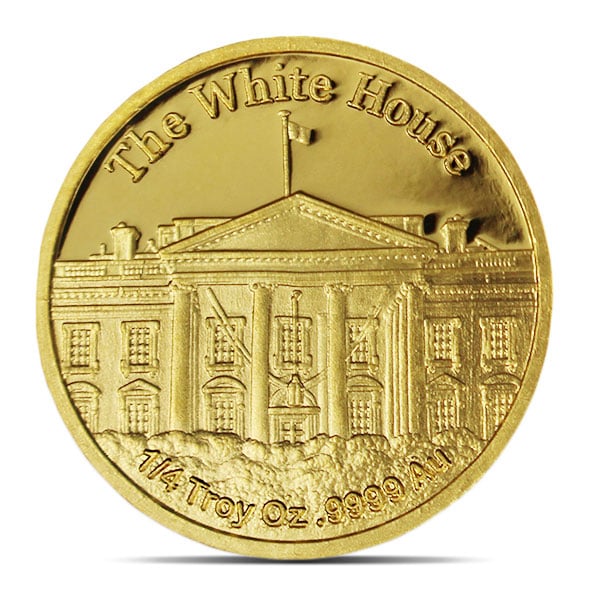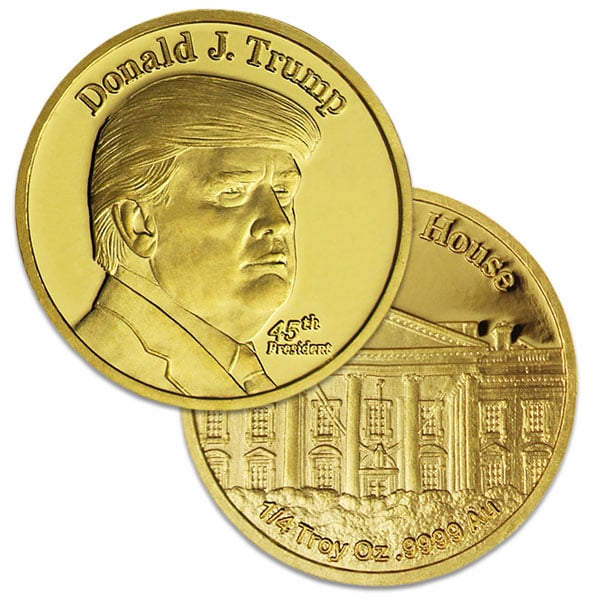 $595.01
(as low as $82.07 over spot)
Quantity
Premium/Unit
Total Price Each
1 - 19
$102.59
$615.53
20 - 79
$92.33
$605.27
80 - 159
$82.07
$595.01
160+
Call for discount
Full Tube Qty = 40



Free Shipping
On All $199+ Orders
Sell to Us Price: $512.94 each
Beautiful President Trump Gold Rounds - 1/4 Ounce
These privately minted 1/4 oz Gold President Trump Rounds are .9999 pure gold, commemorating the 45th President of the United States. Get yours today - exclusively from Money Metals Exchange.
The obverse features the profile of President Donald Trump. The inscriptions read, "Donald J Trump" and "45th President." The White House is pictured on the reverse, along with inscriptions, "The White House," and, "1/4 Troy Oz .9999 Au."
Gold Commemorative Trump Rounds Make a Smart Investment
Gold is a wise investment in this era of uncontrolled federal borrowing and spending. The future of the US dollar is bleak.
Physical gold bullion, rather than collectible coins, is the way to go. Why? Because buying a lower price will be the best way to maximize returns as gold prices rise. But there is a wide variety of gold products to choose from.
There is little reason to fret, however. Investors will find most gold bullion products to be competitively priced, with modest premiums to the gold market price. This is certainly true for President Trump gold rounds. When the pricing is similar, investors are free to choose a design that suits their preferences. For fans of the president and for those who simply want to capture the history being made, these beautiful rounds will make a great addition to their holding.
The price is affordable and the design will add interest to your collection. Invest with confidence.
President Trump 1/4 oz gold rounds are an exciting new product offering from Money Metals Exchange – the low-cost precious metals dealer recently voted Best in the U.S. by an independent rating organization.
Gold Bullion Explained
Gold bullion refers to all investment-grade Gold bars/ingots, rounds, and coins.
Gold bullion coins are usually minted by government-owned mints. Gold rounds, meanwhile, are coined in the same manner, but tend not to be referred to as "coins." Gold rounds are instead struck by private mints and do not have any sort of dollar denomination stamped on them.
However, when it comes to an investment in gold bullion, rounds are often preferred by investors due to the lower premium they carry versus the more costly legal tender coins.
Donald Trump: 45th President
First released in 2019, the President Trump Gold Rounds honor the achievements of the 45th President of the United States. While this President's history is still being written, for the legions of Donald Trump supporters these rounds couldn't have been released soon enough.
The profile of President Trump is featured on the obverse of the round. The obverse also includes the inscription 'Donald J Trump' along the top, as well the words '45th President' right underneath his chin.
The reverse features the famous columns of the White House along with the weight and purity (1/4 Troy Oz .9999 Au) at the bottom.
These rounds come fresh from the mint, so it's easy to get your hands on pristine quality bullion rounds while paying homage to the 45th President.
Fine Gold Rounds
Gold is honest money. It is the anti-dollar, poised to rise as Congress and central bankers lead the US dollar down the path of destruction. Given the exponential rise of government debt, the extraordinary monetary policy measures, and the complete lack of fiscal discipline in Washington, DC, gold looks undervalued.
It is a great time to avoid more investments in paper and choose beautiful, physical, gold instead.
Regardless of your ideological persuasion or opinions of our 45th President, everyone can agree that history is being made. And there is no better way to commemorate these fascinating times than with a President Trump gold round.
Donald Trump Round as a Gift
President Trump gold rounds serve as the perfect gift for anyone who loves our 45th President. At 1/4 oz of gold content, the price is affordable. Our rounds are well crafted and stunning to look at - minted right here in the USA. If you want to give a gift that will be remembered by fans of the President, one of these lovely pure gold rounds will do the trick.
There's no denying President Trump will be one of the more controversial, and captivating, political figures in American presidential history. Our commemorative gold rounds may well be in high demand for a long time to come.
Get Your Donald Trump Gold Rounds Today!
President Trump gold rounds are easy to trade. Each is clearly marked with weight and purity. Trump is now, and will always be an interesting figure and there is lots of demand for memorabilia. That means dealers, including Money Metals Exchange, will be buying and selling Trump gold and silver rounds whenever you want to trade.
Gold bullion rounds are a great way to invest in the ultimate store of value - gold. Trade some of your paper money for the time-tested value of physical precious metals and put a piece of history into your metals portfolio!
Product Specifications
| | |
| --- | --- |
| Quality / Type: | Bullion, Uncirculated |
| Purity: | .9999 pure gold |
| Metal Weight: | 1/4 troy oz |
| Diameter: | 20mm (.787") |
| Edge: | Reeded |
| Obverse: | President Trump |
| Reverse: | The White House |
Sell to Us
We are buying this item back daily, and we pay you promptly!
Our current buy pricing is $512.94 each and we will buy up to 50 ounces at this price. Simply call us on any weekday to lock pricing at 1-800-800-1865.
Learn more about the process for selling to us here.
Shipping Info
We take great pride in the way your order is packaged and delivered.
You can expect:
Prompt Shipping – We ship orders shortly after your payment has been cleared – generally within 2 business days.
Fully Insured – We fully insure all shipments with Lloyd's of London.
Privacy – Your package will have no external markings that provide any clue as to the contents. Because we insure packages with Lloyd's of London, we do not declare a value or insure with the carrier.
Accountability for Package Contents – Your order will be packed under video surveillance, weighed and double-checked prior to shipping to ensure you receive exactly what you ordered.
Professional Packaging – Your order will be packaged securely and professionally.
Tracking – We will provide you with the carrier's tracking number for your shipment so you can monitor its progress and plan for delivery.
Signature Confirmation – Delivery carriers are instructed to request a signature upon delivery.
Cost to Ship & Insure
(absent periodic special offers for free or discounted shipping)
| Insured Value | Cost |
| --- | --- |
| Up to $198.99 | $7.97 |
| Insured Value | Cost |
| --- | --- |
| $199.00 + | FREE |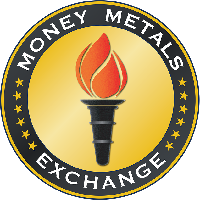 Sign in to Your Account
Please Sign In or Register to leave a review
Jason w.

October 21st, 2023

Best President ever! I absolutely love my Trump coin! LETS GO BRANDON!

Adrian W.

October 21st, 2023

Fantastic deal and an amazing coin.

I was just thinking the other day about how we usually never get a true 1/4 or 1/2 OZ of Gold with a coin. Most certainly not with a full Oz, but I am very impressed and blessed by the fact that not only does MoneyMetals state that you get a full 1/4 Troy OZ of gold, when I weighed my coin, it was.2753 Ozt. This is probably the best price and the nicest coin I have seen in forever. I believe that they will become more valuable no matter what happens in the future.

I bought this and it was excellent in quality the only reason I didn't give it a 5 star is because spending this much money I think they should sell it with a clear plastic capsule instead of a flap

I feel like as much as it cost us should be sold in a clear capsule instead of the gold flap. I am very pleased with the Trump round as it will be a great collectors item for the greatest president ever elected. I wished I could get the 2oz silver round for my collection also. I have other coins and rounds I would like to put in clear plastic capsules for protection. Where are these sold on your on line site?

Theodore R.

April 25th, 2022

TRUMP Making Collecting GREAT

Superb value. Fantastic strike. Cant wait to see what the future holds regarding pricing in a few years!

Cindy S.

April 19th, 2022

I believe these Trump gold and silver rounds with the face of our beloved '45' will become much more valuable as a collectable than anything else available today. Don't waste your money purchasing anything with that wicked queen on it - unless to melt her down! Trump will go down in history as our greatest President and so will these beautiful rounds. My money is with Trump via Many Metals silver & gold! The price is right - don't hesitate to invest now!