Silver versus Zimbabwe Dollar Display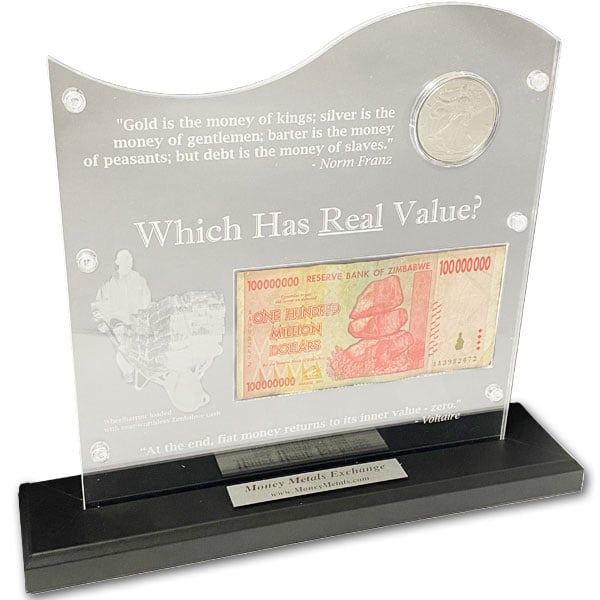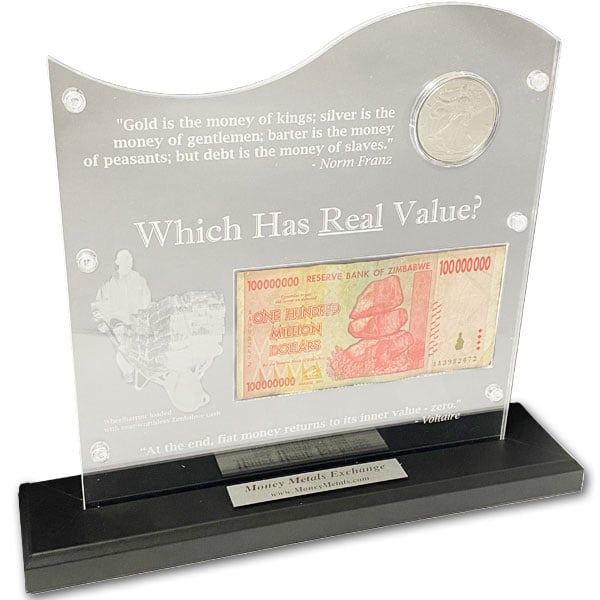 | Quantity | Price Each | Total Price Each |
| --- | --- | --- |
| 1 - 100 | $109.95 | $109.95 |



Free Shipping
On All $199+ Orders
Zimbabwe Dollar for Sale
The Zimbabwean dollar hyperinflation of 2008 - 2009 is just the most recent example of an irresponsible government destroying its currency. In truth, no fiat currency has ever survived long term. This beautiful frame highlights the risks associated with saving paper money as well as the essential nature of precious metal as a store of value. It can never become worthless. Therefore the hyperinflation that led to the collapse of Zimbabwe's currency is something we should never forget.
Each frame contains a genuine silver American Eagle containing 1 troy ounce of .999 fine silver bullion, as well as an authentic 100 Million Zimbabwe dollar banknote. Each note actually circulated before becoming completely worthless as a medium of exchange and gathered to be sold as a novelty. The lustrous pure silver bullion coin is contrasted against the ridiculous Zimbabwe bill and the essential question is posed - Which Has Real Value?
The frame is beautifully etched with an image of an impoverished Zimbabwean pushing a wheelbarrow loaded with near-worthless cash, as well as timely and relevant quotes:
"Gold is the money of kings; silver is the money of gentlemen; barter is the money of peasants; but debt is the money of slaves." ~Norm Franz
"At the end, fiat money returns to its inner value - zero." ~Voltaire
There is simply no better way to highlight the reasons to own tangible gold, silver bullion coins, and bullion bars rather than relying on paper money because a currency crisis can happen in any country where the currency is not tied to precious metals. A Zimbabwe frame is a fantastic gift for anyone who appreciates sound money. Give one for any occasion and spread the message!
**Item shipped unassembled; assembly is easy and requires no tools.**
We are currently unable to purchase this item online. Please call us at 1-800-800-1865 during normal business hours. A Specialist will assist you if we are currently able to purchase the item.
Shipping Info
We take great pride in the way your order is packaged and delivered.
You can expect:
Prompt Shipping – We ship orders shortly after your payment has been cleared – generally within 2 business days.
Fully Insured – We fully insure all shipments with Lloyd's of London.
Privacy – Your package will have no external markings that provide any clue as to the contents. Because we insure packages with Lloyd's of London, we do not declare a value or insure with the carrier.
Accountability for Package Contents – Your order will be packed under video surveillance, weighed and double-checked prior to shipping to ensure you receive exactly what you ordered.
Professional Packaging – Your order will be packaged securely and professionally.
Tracking – We will provide you with the carrier's tracking number for your shipment so you can monitor its progress and plan for delivery.
Signature Confirmation – Delivery carriers are instructed to request a signature upon delivery.
Cost to Ship & Insure
(absent periodic special offers for free or discounted shipping)
| Insured Value | Cost |
| --- | --- |
| Up to $198.99 | $7.97 |
| Insured Value | Cost |
| --- | --- |
| $199.00 + | FREE |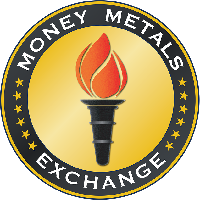 Sign in to Your Account
Please Sign In or Register to leave a review
Lacey L.

October 13th, 2022

Hands down my favorite GIFT I Have ever given!!!!!

A UNIQUE PIECE OF HISTORY!!!

This display is awesome and is a great conversation starter! The fact that this is a real 10 trillion dollar bill makes it even more unique. If anybody is hesitant on buying this item I would highly recommend you jump on it as soon as possible because the price is just going to keep increasing! I bought mine at $97 but I wish I had bought it when it was $80. It is now almost $105 and I don't see the price going down anytime soon. Get these while you can!

Danny M.

March 19th, 2018

I love looking at my display it's awesome!

Future currency for the USA

I only have concern that the political royalty in DC will be using the $10,000,000,000,000.00 note as a model for pending change in our currency. Washington, DC - "Anything is Possible/Probable"

The etching on the plexiglass, where the Zimbabwe dollar is mounted, is difficult to read. I also didn't realize that the whole display required some minor assembly. I had assumed that this product was one whole piece. The base is one part, the plexiglass slides into the base, and the encased silver dollar pops into the hole of the plexiglass. Perhaps one of the reasons it was done this way is in case the owner wants to crack open the silver dollar and redeem it?