Don't Tread On Me / Tea Party 1 Oz Silver Round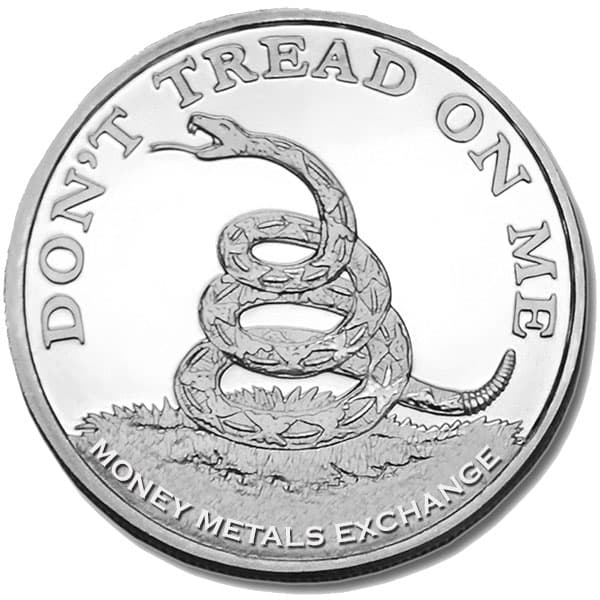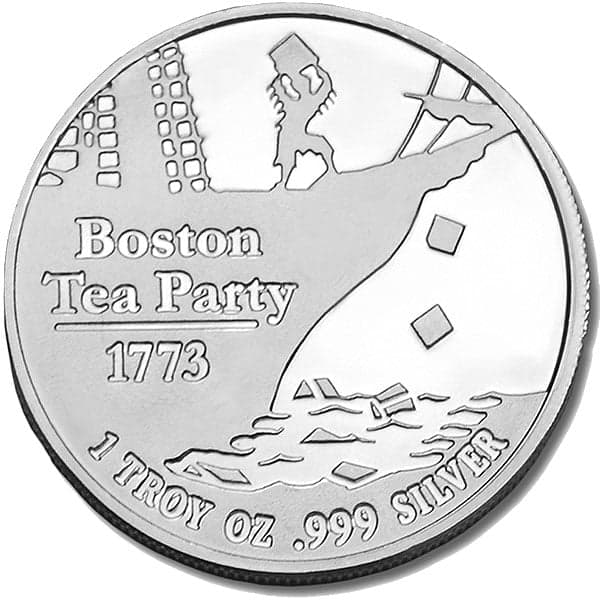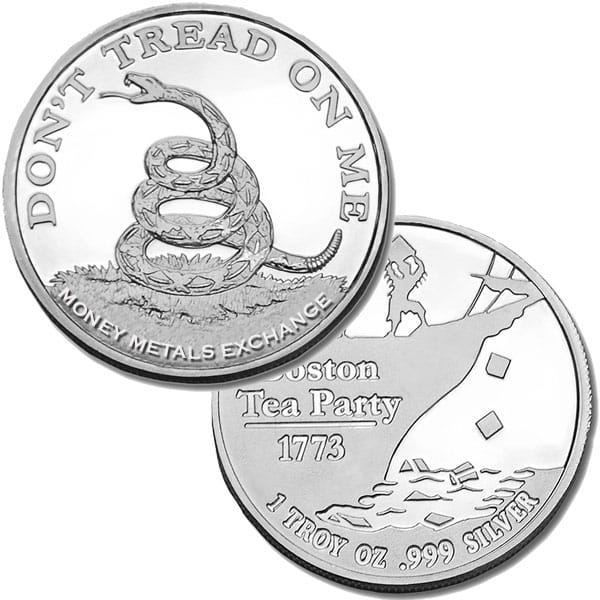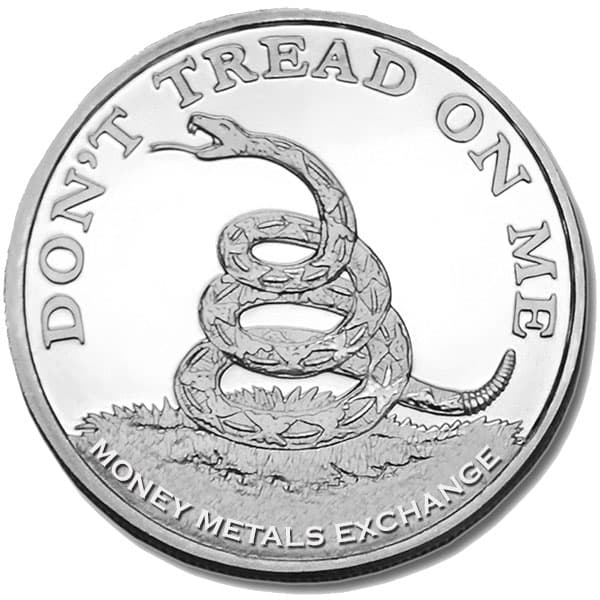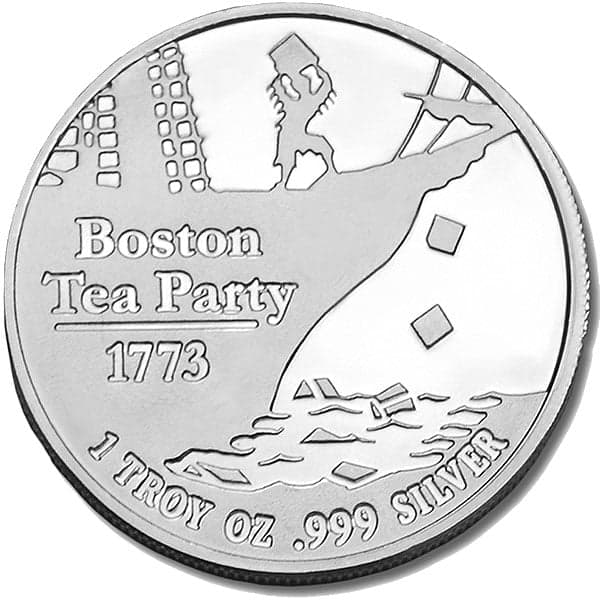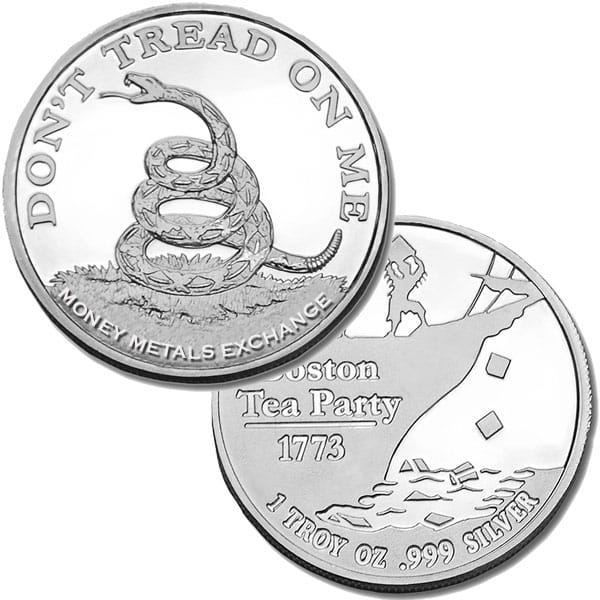 $26.26
(as low as $2.99 over spot)
Quantity
Premium/Oz
Total Price Each
1 - 39
$3.99
$27.26
40 - 499
$3.49
$26.76
500 - 2000
$2.99
$26.26
2001+
Please Call For Our Best Pricing! 1-800-800-1865
Full Tube Qty = 20



Free Shipping
On All $199+ Orders
Sell to Us Price: $23.04 each
1 Oz Silver Rounds with Patriotic "Don't Tread on Me / Tea Party" Design
Money Metals Exchange is pleased to offer its popular 1 Oz Dont Tread on Me / Tea Party rounds, minted of .999 fine silver and inspired by the Boston Tea Party of 1773 (Don't Tread On Me silver coin). While silver bullion rounds are not legal tender, you get more silver ounces for the price than most other options. And Money Metals has the best sale prices on silver rounds found just about anywhere.
ABOUT THE DESIGN: PRODUCT DETAILS
Money Metals Exchange commissioned these beautiful 1 oz silver "Don't Tread On Me" Coins (or "rounds") not only to provide a tool for citizens to protect against the collapse of the dollar's purchasing power, but to help reinvigorate the very symbols of Liberty upon which this nation was founded. These symbols are not to be denigrated and demonized as the highest levels of our political class are now trying to do. Instead they must be renewed, revered, and passed on to new generations who want the Founding Father's principles reasserted in modern-day America.
"Don't Tread on Me" Rattlesnake (obverse)
In 1754, Benjamin Franklin first popularized the rattlesnake as a symbol of national unity during the French and Indian War. By 1774, it had become the formal symbol of the Freedom Revolution when Paul Revere added it to the masthead of his newspaper, The Massachusetts Spy, and showed the snake fighting a British imperial Dragon. In 1775, Continental Colonel Christopher Gadsden incorporated a coiled rattlesnake with thirteen rattles (symbolizing the colonies) above the motto "Don't Tread on Me" on an early American flag.
Historians believe Franklin anonymously published the following of several arguments why the rattlesnake should be chosen as the symbol for America (rather than the eagle, which he amusingly opined was "a bird of bad moral character"). "She never begins an attack, nor, when once engaged, ever surrenders: She is therefore an emblem of magnanimity and true courage... she never wounds 'till she has generously given notice, even to her enemy, and cautioned him against the danger of treading on her."
Boston Tea Party (reverse)
In 1773, hardliners in the British government imposed a symbolic but much-hated "stamp tax" on the restive American colonies. And while the Stamp Tax was small in comparison to today's massive load of taxes imposed from Washington, it quickly became the rallying point that animated and inspired the Sons of Liberty. On December 17, 1773, after 7,000 angry colonists milled around the Boston wharf where British merchant ships were to unload imported tea, a smaller group of 200 chose to act. The Sons of Liberty, some dressed as Indians, forced their way onto three British ships and unceremoniously tossed 342 crates of tea into Boston Harbor.
This small act of clever defiance -- coupled with the rattlesnake -- became twin icons of Americans' yearning for Freedom in the face of distant, corrupt, and non-responsive government.
Benjamin Franklin's humorous but powerfully symbolic approach to tweaking officialdom is as infuriating to those who wish to control others now as it was then. The spectacle of modern-day defenders of Freedom proudly emulating and popularizing the Boston Tea Party and related symbols is deeply embarrassing to Washington, DC's ruling class. Grab your Dont tread on me coin today from Money Metals Exchange!
Why Invest in Our Don't Tread on Me / Tea Party Silver Rounds?
The silver Don't Tread on me / Tea Party coins are a must have for any collector's portfolio. They are stylish, symbolic, and immersed in American history. The rounds tell a story, not just about how America came to be the great independent nation that it now is, but what sort of characteristics Americans have. (Boston Tea Party Symbol)
Silver rounds also provide an ideal investment opportunity for people hedging against inflation. In today's uncertain economy, the strength of the dollar cannot be easily identified, nor can its future. As such, many investors look to alternative sources of wealth, and silver is an ideal form due to its worth and value as a precious metal. With a purity of .999, the coin's re-sale value will remain as there is likely to be a constant demand for silver. Silver's use in jewelry and, as has been reported, medicine, makes it a metal which will always be in high demand.
Rounds make a good alternative to both gold and silver bars and coins, as they are unique in size and design, attractively rounding off a collection. Although they cannot be used as legal tender, their value remains and is dictated by the spot price of silver. Just look at a what a bar of silver is worth, or how much you will get when you sell silver coins back to the dealer and then you will understand the value of silver rounds.
Why Money Metals Exchange (+ How to Buy)?
Money Metals Exchange can offer you a fantastic price on these commemorative rounds, and do so whilst guaranteeing a high-quality service. If you are unsure about anything, simply pick up the phone and call us at 1-800-800-1865.
Alternatively, our online help function, connects you with a member of our team of experts instantly. We are happy to answer any questions or queries you may have either before, or after purchase, and we enjoy not only selling products to you at great prices, but educating you along the process. We place our customers at the heart of everything we do, to ensure that you are getting the right product for your circumstances. If you want further re-assurance, why not read some of our customer reviews, on the right hand side of the page?
Simply order online using a range of cards, and we will have your product shipped out to you as soon as we can. If you spend over $1000, shipping is free. So, what are you waiting for?
Selling to Money Metals
If you decide that now is the right time to cash in on your silver, Money Metals Exchange would be happy to offer you a price, regardless of whether we purchased the silver from you initially (this is another area where we differ from our competitors). Simply contact us, and we will be happy to lock down a price for you.
Product Specifications
| | |
| --- | --- |
| Quality / Type: | Bullion, Uncirculated |
| Purity: | 99.9% silver |
| Silver Weight: | 1 troy ounce (31.103 grams) |
| Diameter: | 1.535 inches (39 mm) |
| Edge: | Reeded |
| Obverse Design: | "Don't Tread on Me" Rattlesnake |
| Reverse Design: | Boston Tea Party |
Sell to Us
We are buying this item back daily, and we pay you promptly!
Our current buy pricing is $23.04 each and we will buy up to 10,000 ounces at this price. Simply call us on any weekday to lock pricing at 1-800-800-1865.
Learn more about the process for selling to us here.
Shipping Info
We take great pride in the way your order is packaged and delivered.
You can expect:
Prompt Shipping – We ship orders shortly after your payment has been cleared – generally within 2 business days.
Fully Insured – We fully insure all shipments with Lloyd's of London.
Privacy – Your package will have no external markings that provide any clue as to the contents. Because we insure packages with Lloyd's of London, we do not declare a value or insure with the carrier.
Accountability for Package Contents – Your order will be packed under video surveillance, weighed and double-checked prior to shipping to ensure you receive exactly what you ordered.
Professional Packaging – Your order will be packaged securely and professionally.
Tracking – We will provide you with the carrier's tracking number for your shipment so you can monitor its progress and plan for delivery.
Signature Confirmation – Delivery carriers are instructed to request a signature upon delivery.
Cost to Ship & Insure
(absent periodic special offers for free or discounted shipping)
| Insured Value | Cost |
| --- | --- |
| Up to $198.99 | $7.97 |
| Insured Value | Cost |
| --- | --- |
| $199.00 + | FREE |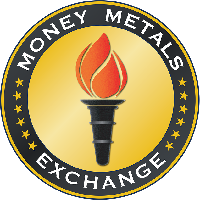 Sign in to Your Account
Please Sign In or Register to leave a review
Definitely fits with this customer service. I have purchased a lot of silver from various places with mixed results. But Money metals has got to be one of the best. % above spot was very fair. The quality was amazing. And I tracked my shipment all the way to my door. The required signature garenteed proper acceptance. Stress free. I will be a regular Customer.

Boston tea party/Don't Tread On Me

This is my favorite of the American silver rounds. I love the artwork, especially of the Boston tea party and what that represents.

Michael W.

July 24th, 2023

Ordered 4 of these along with some gold on Saturday Received them on Monday. How do they do that?

Max B.

October 29th, 2022

This is a great round all-around. From the origin of the phrase and symbology to the story of Money Metals' motives for making it to the handsome artwork and quality striking, a superior round for a very reasonable price. All patriots should own at least one. Bravo, Money Metals!

Kathleen N.

October 5th, 2022

Love this round and what it says!!! This is a great round for now. Love being able to purchase and collect rounds at these prices. Thank you MME for having such a great selection of rounds and coins. I love the coins too!!!!