We're pleased today to grant you access to the Summer 2023 issue of Money Metals Insider – a FREE benefit for you, our valued reader.
This special newsletter is packed with actionable information about the markets, plus details on some special offerings from the top-rated precious metals dealer in the United States.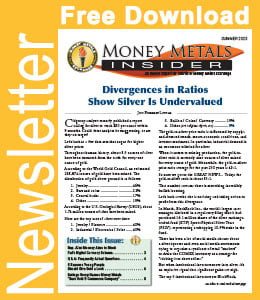 Leading off the issue, we discuss the large negative divergence in the silver price as compared to the gold price and what that may mean for silver's relative performance from here.
Plus, we report on a new effort by Rep. Alex Mooney (R-WV), a sound money champion, to stop the Federal Reserve from pursuing a totalitarian, privacy-crushing Central Bank Digital Currency scheme. Precious metals investors will want to hear more about what's happening with this!
Meanwhile, we outline the top five reasons why young people would be smart to put aside their gadgets for a moment and get involved in the gold market. And don't miss our highly popular Q&A feature!
Here's more about what's inside your free Money Metals Insider newsletter:
So download the PDF of this fantastic free newsletter right now – and pass it around to your friends! It's another free benefit for those who have signed up for the Money Metals email list.