Exploring the Rich History and Value of Canadian Silver Coins: A Guide for Collectors and Investors
Canadian silver coins are produced by the Royal Canadian Mint, Canada's official mint. The vast majority of Canadian silver bullion coins are made from 99.99% pure silver and are legal tender in Canada. Bullion coins are made of mostly precious metals such as silver, gold, platinum, palladium, or rhodium.
Canada became a country on April 17, 1982. Canada is a member of the British Commonwealth of Nations. It is still technically, in a way, a kingdom with the Canadian monarchy being that of the United Kingdom, and the continued printing of British royalty on Canadian coins supports this.
When many people think of Canada, they tend to think of the beauty, the great outdoors, and sports like fishing, hunting, ice hockey, curling, snow skiing, snowboarding, camping, or canoeing. Those are wonderful things! Of course, Canada should also be known for its top-tier minting and refining.
A Brief History of Canadian Coins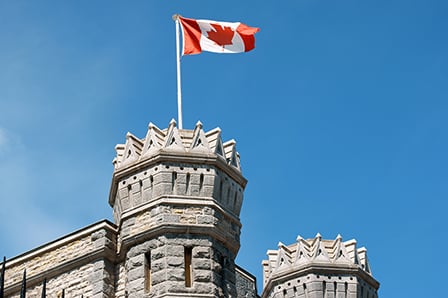 The Royal Canadian Mint has produced over 1 billion silver coins since its inception on January 2, 1908. When the Canadian Mint began it was actually an official branch of the British Royal Mint. Of course, the British have maintained some control over most of Canada, which helps explain why some Canadian coins have the image of the former queen of England, Queen Elizabeth II, and others of the British monarchy.

Official Canadian coinage began in 1858. Previously to that, most coins in circulation in Canada were French and British. The Canadian Mint finally became more independent from England in 1931. The second Royal Canadian Mint opened in Winnipeg, Canada, in 1976. As a Canadian Crown Corporation, the Royal Canadian Mint is completely owned by the Government of Canada, its sole shareholder.

Headquartered in Ottawa, Canada, the main location of the Canadian Mint has designed and minted precious metals coins such as silver, gold, platinum, and palladium; semi-precious metals such as pure copper or nickel; and base metals coins such as zinc, nickel, and copper mixes. The Royal Canadian Mint also produces various medals, medallions, tokens, bars, gifts, and jewelry. They act as a refinery and provide assay services, as well.

The Canadian Mint produces standard circulating coins such as nickels, dimes, quarters, half dollars, dollars, and two dollars. On February 4, 2013, Canada stopped production of all pennies, and many banks have stopped carrying the Canadian penny altogether. Canadian businesses have since changed their prices to reflect the five-cent increments instead of one-cent increments. The main circulating currency of Canada today equals five cents, ten cents (dime), twenty-five cents (quarter), fifty cents (half dollar), one hundred cents (loon, aka loonie), and two hundred cents (toon, aka toonie).
Foreign Circulation Coinage
The Royal Canadian Mint produces coinage for many foreign countries. These world coins include blanks, circulation coins, proof coins, numismatic coins, and other type coins. The Foreign Circulation division was re-launched in 1970 by the Master of the Mint, Ward Hunter. The first contract was won by Singapore in 1970, to produce rimmed blanks in a copper-nickel alloy. The next contract was with the Central Bank of Brazil.
Other countries that asked the Royal Canadian Mint to produce various types of items and coins include, but are not limited to, Jamaica, the Bahamas, Iran, Yemen, Australia, the Cayman Islands, Cuba, Norway, Colombia, Iceland, Indonesia, Hong Kong, Barbados, Uganda, Papua New Guinea, Dominican Republic, and Venezuela. Surprisingly, the Canadian Mint does not offer minting to the US, Austrian, Mexican, or Chinese governments. Currency has been produced for several countries, including cents for the Australian government, pesos for Colombia, and the Kroner for Norway and Iceland. Customers who needed money minted over the decades have included treasuries, governments, and central banks.
What are some Canadian silver coins?
The most popular Canadian silver coins are the Silver Maple Leaf, Silver Canadian Wildlife Series, Silver Birds of Prey Series, Silver Canadian Wildlife Series, and Silver Canadian Predator Series.


The Silver Canadian Wildlife Series is a series of coins featuring iconic Canadian wildlife, such options as the polar bear, grizzly bear, wood bison, bald eagle, moose, and beaver. The Silver Canadian Predator Series includes such animals as the wolf, pronghorn antelope, great horned owl, grizzly bear, and a wolf. Many of these can be purchased from sellers each individually or in a set with certificates of authenticity or product warranties.
The Royal Canadian Maple Leaf
The first Royal Canadian Maple Leaf began in 1979 with 24k gold purity and a face value of $50 (CAD) as a competitive response to the South African gold Krugerrand. The gold Maple Leafs are still made today, not as a circulating currency but instead as an investment or collection piece. Although the coin can still technically be used as legal tender in Canada, it is not likely anyone would. When these bullion coins first began, they were the first .999 fineness gold coin in the world, now the gold Maple Leaf is .9999 pure.
In 2007, the Mint produced 99.999 percent pure Gold Maple Leaf Bullion coins, which were the first in the world. These limited edition, one-troy-ounce, gold bullion coins were offered in limited edition form and mintage in 2007, 2008, and 2009.
In 1988, the Royal Canadian Mint began producing silver Maple Leafs with a $5 (CAD) face value as competition with the U.S. Mint coin the American Silver Eagle. Although these silver coins are also Canadian legal tender just like the gold versions, it is highly unlikely anyone of sound mind would cash in this coin or buy something at the store with it - the precious metal content is worth significantly more than the face value.
The Silver Maple Leaf is the official bullion coin of Canada and is one of the most popular silver coins in the world, with over 200 million coins sold since 1988. Today, this Canadian silver coin has a face value of five Canadian dollars, a millesimal fineness of 99.99% pure silver, and a resale value of over 90% of its original purchase price. The Silver Maple Leaf is available in 1 oz, 1/2 oz, 1/4 oz, 1/10 oz, and 1/20 oz Troy ounce sizes, and it has a diameter of 38mm and a thickness of 3.29mm.
Interestingly, the Canadian Silver Maple Leaf is currently the only silver bullion coin in the world to feature a micro-engraved maple leaf security feature. Another additional feature was added to the silver Royal Canadian Maple Leafs known as Mintshield, this protective feature is designed to reduce "milk spot" discolorations on these silver coins.
In 1988, the silver Canadian Maple Leaf had the depiction of Queen Elizabeth II with her name engraved above, a mint mark, and the words "5 Dollars" and "1988" on the obverse (heads), while the reverse (tails) had the image of the Candian Maple Leaf and the words "Canada," "9999," "Fine Silver," "1 oz," and "Argent Pur." Argent pur is French and it means "pure silver" in English.
The designs of the silver Royal Canadian Maple Leafs have been made by Arnold Machin (1988-1989), Dora de Padery-Hunt (1990-2003), and Susanna Blunt (2004-present).
Where can I buy Canadian silver coins?
Silver Canadian coins can be bought from the Money Metals Exchange website or by calling the telephone number 1-800-800-1865. Our friendly customer service specialists and precious metals experts are available to answer your questions (FAQ), help with shipping, assist with your online shopping cart, help with your account, place an order, process orders, or guide you through our categories and products. We are here to help make your precious metals investment a pleasurable experience.
Money Metals Exchange has been in business since 2010, maintaining an A+ rating from the Better Business Bureau (BBB), and has received thousands of 5-star reviews from our satisfied customers around the United States of America. Money Metals Exchange offers high-quality precious metals products and trustworthy assets with low-cost premiums, as well as safe, secure, and insured shipping.
We also ship orders out quickly to ensure you get your metals without long delays. There is peace of mind that comes with purchases made from a reputable dealer like Money Metals Exchange.
Be sure to sign up for the Money Metals Exchange newsletter to stay on top of market information, stock details, and other precious metals news.
Where can I sell Canadian silver coins?
Silver Canadian coins can be sold directly to Money Metals Exchange by going to our site or calling our customer service specialists at 1-800-800-1865. You may find that Money Metals Exchange is one of the more competitive precious metals dealers on the market today since we tend to pay top dollar for Canadian silver coins.