Silver prices have drifted under $23 per ounce in recent days, and gold is now trading under $1,940.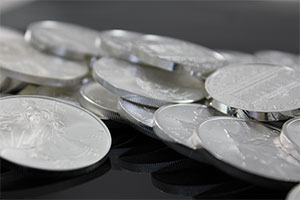 Silver coin, bar, and round premiums continue to fall on overall softening in retail demand. Volume is substantially lower than the March to May period, allowing all mints to clear out production backlogs many weeks ago.
The notoriously mismanaged U.S. Mint has suddenly doubled Silver Eagle production because silver blanks are now readily available from the government's sole-sourced supplier.
Poor planning practices at the U.S. Mint, including an apparent refusal to stockpile extra silver blanks during periods of market slack (such as now), have caused a steady erosion in the market share of this once extremely popular U.S. silver coin.
Investors have grown weary of dramatic whipsaws in Silver Eagle premiums and have increasingly turned to the products of other sovereign mints and privately minted rounds and bars, which offer greater value and less volatility.
A new black swan event in the banking sector, Fed news out of this month's Jackson Hole summit, and the upcoming BRICs meeting in South Africa could provide catalysts for new moves in gold and silver prices.

About the Author:
Stefan Gleason is President of Money Metals Exchange, the company recently named "Best Overall Online Precious Metals Dealer" by Investopedia. A graduate of the University of Florida, Gleason is a seasoned business leader, investor, political strategist, and grassroots activist. Gleason has frequently appeared on national television networks such as CNN, FoxNews, and CNBC and in hundreds of publications such as the Wall Street Journal, TheStreet, and Seeking Alpha.