1 Gram Gold Bar (In Assay) - Random Design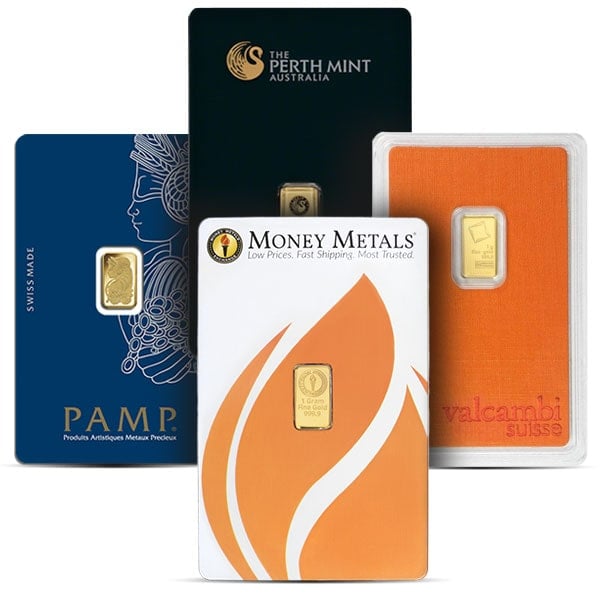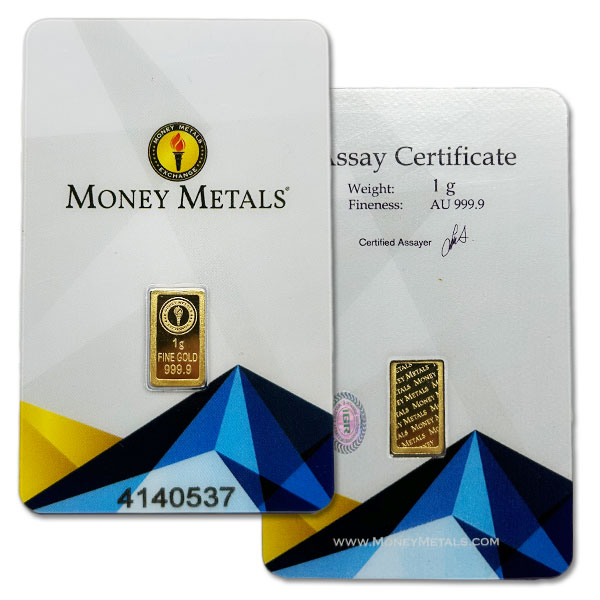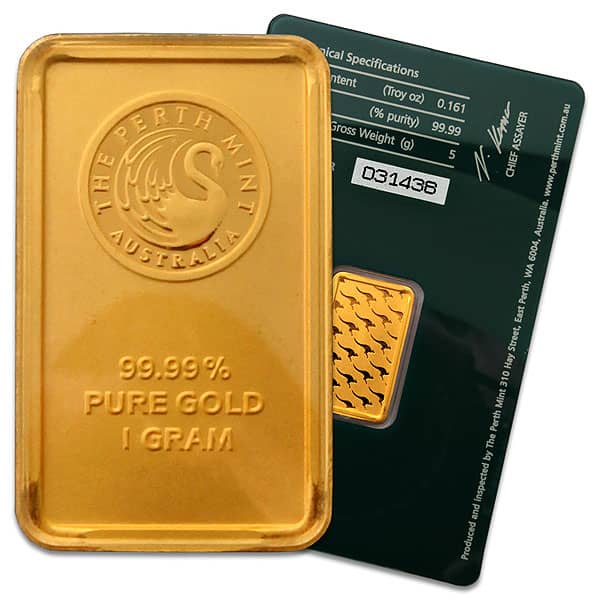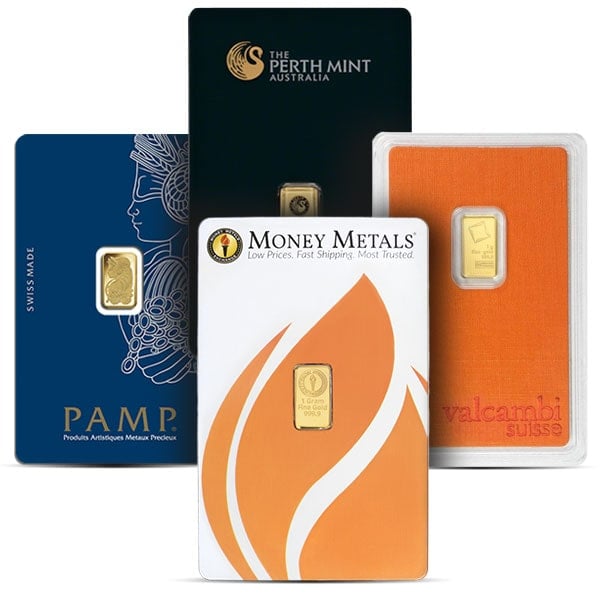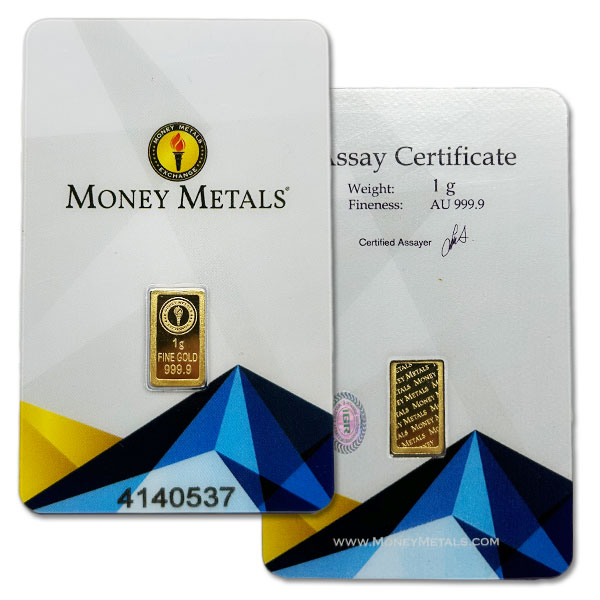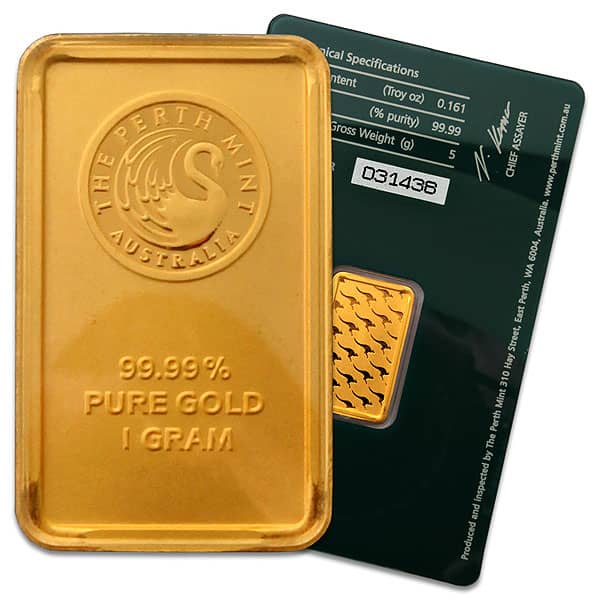 $83.54
(as low as $23.00 over spot)
There is currently an online order maximum of 500.
Quantity
Premium/Unit
Total Price Each
1 - 99
$25.43
$85.97
100 - 500
$23.00
$83.54
501+
Call for discount



Free Shipping
On All $199+ Orders
Sell to Us Price: $67.29 each
Buy 1 Gram of Gold at Low Premiums - Random Design
Fractional gold bars offer a strong investment advantage when you buy gold bullion because they are a low-premium way to own the metal. Available weights are 1-gram gold bullion bars, 5-gram, 10-gram, 20-gram, 1 oz Gold bars, 10 oz gold bars, or 1-kilo gold bars (32.15 ounces). For pricing and availability on bar sizes not listed on the website please call. Gold bullion bars offer lower premiums than the more popular sovereign 1 oz gold coins, but most bars are highly recognizable and still a liquid investment in gold bullion. The purity level of gold bullion bars will be .9999 pure in almost all cases. Money Metals Exchange makes buying 1 Gram of gold simple and secure! How much is 1 gram of gold? Just check out our Live Price Checker!
Gold has been extraordinarily valuable since the beginning of recorded time, and very possibly before. Gold has been intertwined with the history of nations, leaders, class and power. It has even figured prominently in religious history.
There is plenty of symbolism associated with gold, but the value of the metal goes well beyond the symbolic. Gold offers utility as a store of value. People ranging from impoverished Indian farmers to wealthy central bankers hold the physical metal as a form of savings. Jewelers make beautiful creations with the metal. And it has a range of applications in industry and manufacturing – electronics being one of the more significant.
Gold offers utility as a store of value.
Another interesting use for gold is as a hedge. Its value often increases during periods of turmoil, just as the value of riskier assets is in decline. That is why every prudent investor should reserve space in their portfolio for minted gold bullion.
Our 1-gram gold bars represent a great way to not only own gold, but to own it in a small and easy to trade size. Owning "fractional sized" metal means increasing to the number of potential buyers who will be available when it is time to sell your metal.
The pure gold one gram bar is eligible for ownership inside a precious metals IRA.
Gold Bar (1 Gram) Specifications:
Money Metals Exchange offers 1 gram gold bullion bars from the following brand name refiners:
Pamp Suisse
Perth Mint
Republic Metals
Sunshine Minting
These manufacturers are universally recognized for quality.
The gold bars are stamped with the refiner's mark, weight and purity. Each comes in an sealed assay pack, certifying the bar has been untampered and meets specifications.
Many of the gold bars carry a unique serial number engraved on them. Some buyers prefer serialized bars, but it is important to note the serial number alone is not enough to be sure a bar is genuine. For that reason, bars with serial numbers do not carry a significant price premium. It is most important to source metal from dealers with rigorous quality control and products from manufacturers who also employ good controls.
You can buy with confidence at Money Metals Exchange.
1 Gram Gold Bar Size & Product Details
Purity: .9999 fine gold minimum (24 karat)
Gold Weight: 1 gram, or 0.0322 troy ounces
Approx. width of the package: 2-1/8 inches
Approx. length of the package: 3-3/8 inches
Approx. thickness of the package: 3/16 of an inch
Assay pack with enhanced security traits
1 Gram Gold Bar Value
One of the most significant benefits of 1-gram gold bars is that they are affordable for nearly everyone. Few gold products are available at less than $100. As the price of gold rises and interest in the metal grows, that could prove to be a significant advantage.
Affordable 1-gram gold bars are a great way to start for investors who may be unfamiliar with how to buy or sell physical bullion. They can "get their feet wet" purchasing gold, without putting a lot at stake.
The investor, can then decide whether to round out their holding with additional products. A good range of sizes and denominations can make sense. It is nice to have a gold coin or bar in your stash with a value that is close to what is needed for any transaction.
The majority of value in any gold bar is its intrinsic or "melt" value. This is determined by multiplying the gold weight of the bar by its market price. The other component in the price of a bar is the "premium." This includes the additional cost associated with manufacturing the bar and the profit margin of the dealer.
Gold IRA with 1 Gram Bullion Bars
World markets and economies are perpetually changing. Geopolitical tensions and crises are a recurring theme, and one that investors should prepare for. One of the most important lessons of the 2008 financial crisis is that Wall Street is peddling diversity, but a banker's idea of a "well diversified" portfolio contains nothing but securities. These stocks, bonds and mutual funds all carry counter-party risk and can collapse in value – especially during times of crisis.
Genuine diversification means owning some tangible assets, and not just securities. Yet most investors are not properly protected, especially in their retirement accounts.
It is time to consider holding 1-gram gold bars and other physical bullion products inside a Gold IRA. Precious metals have a track record of preserving wealth through inflation and crisis which extends back thousands of years. Banks and brokerages come and go. Companies and sometimes even governments go bankrupt and collapse. Valuable gold and silver endure.
A Precious Metal IRA is self-directed, meaning the IRA holder calls the shots. They can hold a wide range of assets in addition to the usual menu of Wall Street approved stocks, bonds and mutual funds. It is possible to own bullion, real estate and shares of privately held companies for example.
If you own gold inside a Precious Metals IRA and decide to sell it, the profits from the sales are tax-deferred. The tax advantages and rules are just like those governing conventional IRAs.
Fair Prices and Fast Delivery
Money Metals Exchange is proud to publish pricing for the 1 gram gold bars live, making it easy for buyer to shop and compare. This includes both the price we ask to sell and the price we pay to buy – the "bid" and "ask" prices. Our clients never need to buy an item without knowing what that item is worth to sell. In other words, they can be sure they are getting a fair deal.
We'll ship your order for 1 gram gold bars (and any other products) as soon as your payment has cleared. Our customer service and speedy delivery has made Money Metals the "Bullion Dealer of the Year."
Conclusion: Should I Buy 1 Gram Gold Bars
Gold has always been a tremendous store of value and insurance against uncertain times. As the gold price rises over time, smaller units such as 1-gram bars will have larger appeal. They are an affordable way for just about anyone to own gold.
The bars are eligible for holding in your precious metals IRA. It is important to have genuine diversification when it comes to retirement savings. That means holding some tangible, not paper or digital, assets. Bullion is the easiest and most liquid asset class available for that purpose. Look into silver ounces for sale as well, if you're new to investing and not ready to pay the cost of gold. Buy gold bars today!
Money Metals Exchange offers great low pricing and top notch service. Order your 1 gram gold bars with confidence today!
Product Specifications
| | |
| --- | --- |
| Purity: | 99.99% gold minimum (24 karat) |
| Gold Weight: | 1 gram (.0322 troy ounces) |
| Width (Package): | 2-1/8" |
| Length (Package): | 3-3/8" |
| Thickness (Package): | 3/16" |
Sell to Us
We are buying this item back daily, and we pay you promptly!
Our current buy pricing is $67.29 each and we will buy up to 50 ounces at this price. Simply call us on any weekday to lock pricing at 1-800-800-1865.
Learn more about the process for selling to us here.
Shipping Info
We take great pride in the way your order is packaged and delivered.
You can expect:
Prompt Shipping – We ship orders shortly after your payment has been cleared – generally within 2 business days.
Fully Insured – We fully insure all shipments with Lloyd's of London.
Privacy – Your package will have no external markings that provide any clue as to the contents. Because we insure packages with Lloyd's of London, we do not declare a value or insure with the carrier.
Accountability for Package Contents – Your order will be packed under video surveillance, weighed and double-checked prior to shipping to ensure you receive exactly what you ordered.
Professional Packaging – Your order will be packaged securely and professionally.
Tracking – We will provide you with the carrier's tracking number for your shipment so you can monitor its progress and plan for delivery.
Signature Confirmation – Delivery carriers are instructed to request a signature upon delivery.
Cost to Ship & Insure
(absent periodic special offers for free or discounted shipping)
| Insured Value | Cost |
| --- | --- |
| Up to $198.99 | $7.97 |
| Insured Value | Cost |
| --- | --- |
| $199.00 + | FREE |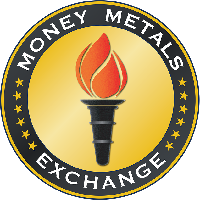 Sign in to Your Account
Please Sign In or Register to leave a review
Douglas S.

August 30th, 2023

MONEY METALS GOLD RETAIL @WHOLESALE PRICES!

I BUY ALL MY GOLD HERE, WHY? BECAUSE NOBODY CAN BEAT THEIR PRICES ESPECIALLY THE 1/2 GRAMS.I'M A YOU TUBER AND IT GIVES MY CUSTOMER AN EXTRA INCENTATIVE TO PATICIPATE IN MY GAMES AS IN "FIND ME GOLD"

Michael K.

June 9th, 2023

I love the design and condition of the piece. It's awesome being able to purchase just a gram of gold. I always thought you had to spend big bucks for it. Will be buying again for sure!

Beautiful quality gold in a small denomination. Very happy with it and that it was shipped discretely. Money Metals has my confidence. I will definitely be a return customer.

Anthony M.

March 20th, 2023

Metal looks great and got it earlier than expected will definitely order more

Donald B.

December 1st, 2022

I have found my favorite precious metals company

I love the 1 gram gold bar. I know I can't but I want to take it out of the case just to play with it. lol I will continue to purchase all of my gold through money metals exchange from now on.