Circulated Cull Silver Eagles (Tarnished or Spotted)
This item is currently out of stock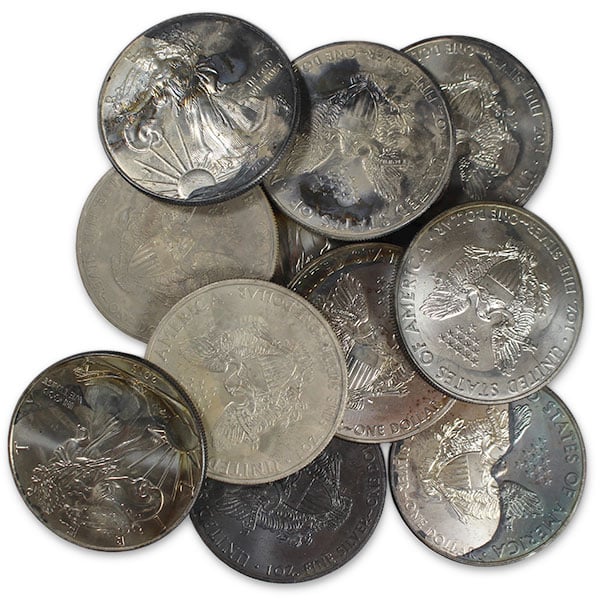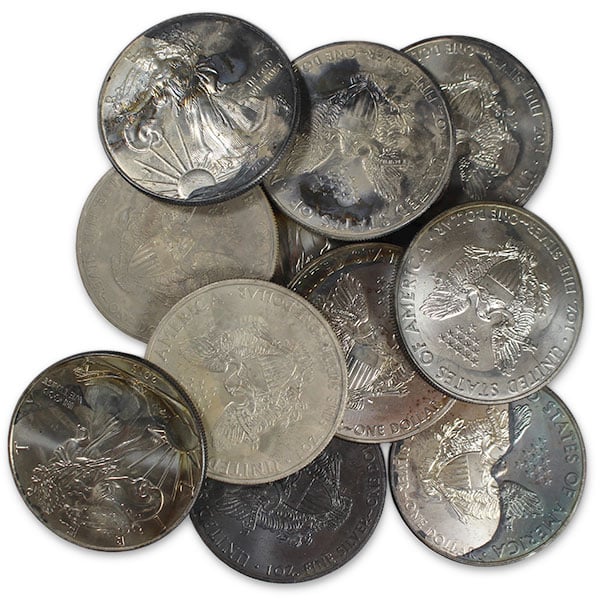 $29.38
(as low as $5.99 over spot)
Alert me when this item is in stock
Enter your email address to receive an alert when this product is available...
Quantity
Premium/Unit
Total Price Each
1 - 59
$6.99
$29.38
60 - 499
$6.49
$28.88
500 - 1000
$5.99
$28.38
1001+
Call for discount
Full Tube Qty = 20



Free Shipping
On All $199+ Orders
Sell to Us Price: $23.39 each
Buy Cull Silver Eagles
The American Silver Eagle is one of the nation's most beloved bullion coins. Its production began back in 1986 and it has remained in continuous production. Among the most sought-after silver coins, the Silver Eagle has maintained a high level of popularity for over three decades.
In addition to its domestic popularity, the Silver Eagle has recently become quite popular in other parts of the world, most notably Asia. Hong Kong, the People's Republic of China, and Singapore have become significant markets for the coin.
Traditionally, the Silver Eagle has been struck as a bullion coin, though proof and uncirculated variants have existed in various periods. Also, numerous special and commemorative editions have been struck over the years.
Currently, the Silver Eagle, both circulated and uncirculated, enjoys a great reputation and is the undisputed champion of the US silver coin market, followed by Canada's Silver Maple Leaf and the United Kingdom's Britannia Bullion Coin. In addition to its popularity, the Silver Eagle can also be used as IRA investments. Read on to learn more about the pros and cons of investing in circulated Silver Eagles.
History
The story of the American Silver Eagle began in the late 1970s when plans were created to sell the surplus silver from the Defense National Stockpile. After several administrations tried unsuccessfully to sell off the extra silver, Senator James McClure introduced Bill S.2598 on May 27, 1982, which would facilitate the selling of silver through the issuance of silver coins. However, the bill never passed into law.
Senator McClure proposed an identical bill (S.269) on January 27, 1983, but it too got buried in committees. However, on June 21, 1985, Senator McClure proposed an amendment to H.R. 47 the Statue of Liberty-Ellis Island Commemorative Coin Act. The amendment was approved the same day it was proposed, thus setting the stage for the initial production of the American Silver Eagle.
Production commenced on October 27, 1986, at the San Francisco Mint. The bullion version of the coin was minted there until 1998 and again from 2011 to this day. The bullion coin has also been struck at the West Point and Philadelphia mints over the years, with the majority of them having been made at West Point as of this writing.
Around 2002, when it became apparent that the Defense National Stockpile's silver reserves would be depleted, Senator Harry Reid introduced bill S.2954, named the Support of American Eagle Silver Bullion Program Act, to allow the Secretary of the Treasury to buy silver on the open market to continue minting the Silver Eagle bullion coins. The bill was passed on June 21 in the Senate and six days later in the House. President George W. Bush signed it into law on July 23, 2002.
Design and Features
On the obverse side, the Silver Eagle features a picture of Walking Liberty, a design by Adolph A. Weinman. The picture was originally used on the Walking Liberty half dollar coin between 1916 and 1947. As a hugely popular motif, the designers of the Silver Eagle decided to incorporate it into the 1986 coin. The motif remained on every subsequent issue of the coin. The inscriptions "Liberty" and "IN GOD WE TRUST" are also found on the obverse side, as is the year of issuance.
On the reverse side, the coin features a portrayal of the United States' heraldic eagle with a shield in front. It holds an olive branch in its left talon and arrows in its right. It also holds a ribbon in its mouth that reads "UNITED STATES OF AMERICA, 1 OZ. FINE SILVER-ONE DOLLAR," and "E PLURIBUS UNUM." Above the eagle's head are 13 5-pointed stars – one for each of the 13 original colonies. John Mercanti designed the reverse side of the coin.
The Silver Eagle is a legal tender coin and has always been made as a 1-troy-ounce coin. Its face value has always been one US dollar and its fineness is .999 (99.9% silver).
Silver Eagle Uncirculated and Proof
Originally, the Silver Eagle proof coins were struck from 1986 to 1992 at the San Francisco mint, together with the bullion version. The proof coins bore an "S" mark. The production of the proof coins was moved to Philadelphia from 1993 to 2000. The coins were stamped with a "P" mark. Those made at West Point from 2001 to 2008 had a "W" designation. Resuming in 2010, the proof coins were struck at West Point, again bearing the "W" mark. In 2016 and 2017, all three mints made the proof coins.
Uncirculated collector coins were introduced in 2006 and struck until 2008. They were reintroduced in 2011 and continued until 2015. The uncirculated collector coins were made at the West Point Mint.
Mintage Figures
Over the years, around 530 million Silver Eagles have been struck. Initially, demand dictated the production numbers, though between 2008 and 2010 the numbers were limited. Again, from 2013 on, Silver Eagles have been made in limited numbers. At the time of this writing, 505 million bullion Silver Eagles were struck. 21 million proof and around 4 million uncirculated Silver Eagle coins exist. These figures make the Silver Eagle one of the most successful silver coins ever.
Should You Invest in Cull Silver Eagles?
Despite the huge numbers available, the Silver Eagle remains the most in-demand silver coin in the United States. It partially owes its unwavering popularity to the fact that it can be used as an investment vehicle in one's IRA account.
The circulated Silver Eagles, while certainly less valuable than their proof and uncirculated siblings, are a sound and pretty safe investment. They are very easy to obtain, affordable, and easy to sell should the need arise. The mintage figures and ongoing production guarantee that there are more than enough Silver Eagles to go around.
Lastly, the price of silver spiked in recent years and has traded sideways at a healthy level, making all silver investments stable with a potential for sizable profits if silver moves in the direction of its recent high.
Conclusion
The Silver Eagle, America's most beloved silver coin, continues to be one of the most sought-after commodities on the silver trade market more than 30 years after its introduction. This makes it the most attractive silver coin for both collectors and investors.
Investing in circulated Silver Eagles coins, while not as lucrative as other options, can certainly bring investors a nice profit. Aside from that, they can be used to hold in an investor's IRA funds. Finally, it is much easier to start with circulated silver coins than platinum or gold.
Product Specifications
| | |
| --- | --- |
| Mint Facility: | U.S. Mint |
| Denomination: | $1.00 USD |
| Date: | 1986 to Present |
| Quality / Type: | Tarnished, Spotted or Scratched |
| Purity: | 99.9% silver |
| Metal Weight: | 1 troy ounce (31.103 grams) |
| Diameter: | 1.598 inches (40.6 mm) |
| Edge: | Reeded |
| Obverse: | Walking Liberty |
| Reverse: | Eagle with Shield |
Sell to Us
We are buying this item back daily, and we pay you promptly!
Our current buy pricing is $23.39 each and we will buy up to 2,000 ounces at this price. Simply call us on any weekday to lock pricing at 1-800-800-1865.
Learn more about the process for selling to us here.
Shipping Info
We take great pride in the way your order is packaged and delivered.
You can expect:
Prompt Shipping – We ship orders shortly after your payment has been cleared – generally within 2 business days.
Fully Insured – We fully insure all shipments with Lloyd's of London.
Privacy – Your package will have no external markings that provide any clue as to the contents. Because we insure packages with Lloyd's of London, we do not declare a value or insure with the carrier.
Accountability for Package Contents – Your order will be packed under video surveillance, weighed and double-checked prior to shipping to ensure you receive exactly what you ordered.
Professional Packaging – Your order will be packaged securely and professionally.
Tracking – We will provide you with the carrier's tracking number for your shipment so you can monitor its progress and plan for delivery.
Signature Confirmation – Delivery carriers are instructed to request a signature upon delivery.
Cost to Ship & Insure
(absent periodic special offers for free or discounted shipping)
| Insured Value | Cost |
| --- | --- |
| Up to $198.99 | $7.97 |
| Insured Value | Cost |
| --- | --- |
| $199.00 + | FREE |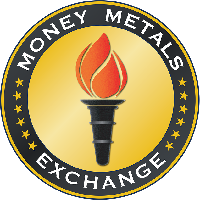 Sign in to Your Account
Please Sign In or Register to leave a review
Mauricio S.

April 15th, 2023

Was collecting for the silver but got funner work the coin collecting instead... just wished the premium was not so high.. and I get it but man they're steep!!

Excellent value for trusted Silver

I am very Happy with my Silver Eagle purchase. Half tarnished, quarter cloudy, quarter lightly circulated. I have made Four purchases from Money Metals and have been very pleased with the quality, price, and timeliness of them all.

Harry R.

November 12th, 2022

Gold and Silver Is Discovering it's True Value!

I don't buy circulated silver, Retired on a budget I get what I can , when I can. Silver is so much more than people know, Silver I think is heading just like gold and Plutonium, etc. Into a scarceness that will force Nations to actually explore asteroids for what they have in them? Probably everything we have here! I hope to make a silver eagles soon. Good Luck Friends. M.M. Great Place too shop! .

My interest in the potential utility of Constitutional silver introduced me to the American Silver Eagle. I have purchased new rolls and decided to take a chance with what Money Metals called "circulated culls". Of the ten I received, (3-2008, 2-2017, 3-2018 and 2-2019), Only the 2008's appeared less than brand new. If these remaining seven coins were circulated they were each carried individually in a velvet bag. I can not find a mark on them. REMARKABLE QUALITY !!!! I will be buying more from this honest broker.

Thomas D.

April 7th, 2021

I have received two groups of "tarnished" circulated Silver Eagles and so far, for my money they are awesome. For the silver content they are hard to beat. In addition I found very little to no real tarnishing. They seem to be, so far, (hope I'm not jinxing myself) just circulated. Highly recommend these coins.