Silver prices aren't just rising, they're erupting!
Silver has been ascending at a far steeper rate than the climactic move of 2010-2011 which briefly brought prices back up to all-time nominal highs.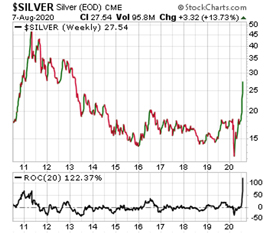 Adding a 20-week rate of change (ROC) indicator to the silver futures chart below shows prices gaining 122.4% over that period – far exceeding the rate of ascent of the last big silver spike.
After years of being suppressed below $20/oz, then being forced down to an absurd new low during the lockdown, extreme pressures built. Finally, silver erupted like a geyser.
Old Faithful at Yellowstone National Park erupts according to a predictable cycle. As intense heat builds from deep within the earth below, water is forced up in small bursts at first – warning signs that something bigger is about to occur. Intense pressure inside the geyser causes steam to seek a more dramatic release valve in the form of an eruption.
As the boiling hot water that is ejected cools off, the eruption recedes, and the cycle repeats.
Silver cycles are longer and harder to predict, but they work similarly. At some point, prices will have to recede for buying pressure to build back up for another surge higher.
A sharp reversal in the silver market is not only likely but healthy in the long run. Those who are holding silver for the long run need not be concerned.
In the big picture, the white metal remains relatively cheap even after its recent price eruption.
To match its 1980 high in real terms, silver would have to top $160/oz. That figure is based on the government's own faulty CPI data and doesn't account for additional currency depreciation sure to come in the months and years ahead.
Another way to gauge just how cheap silver is versus other asset classes available for investors is to compare it to the Nasdaq 100 ETF (QQQ).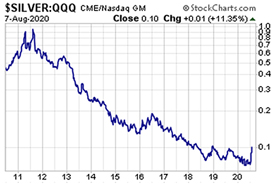 When silver peaked in 2011, it had reached nearly a 1:1 ratio with QQQ. Today, an ounce of silver trades at about one-tenth the price of a QQQ share.
Which offers better value at these levels – silver bullion or trillion-dollar QQQ components Apple, Amazon, Microsoft, and Google?
That's a question investors will have to answer for themselves. But the fact remains that silver – which helps make smartphones and a host of other technologies possible – could go up 9x versus tech stocks without entering uncharted territory.
Investors who are eying a multi-year silver bull run ahead should view any decent pullback from here as a buying opportunity.

About the Author:
Stefan Gleason is CEO of Money Metals Exchange, the company recently named "Best Overall Online Precious Metals Dealer" by Investopedia. A graduate of the University of Florida, Gleason is a seasoned business leader, investor, political strategist, and grassroots activist. Gleason has frequently appeared on national television networks such as CNN, FoxNews, and CNBC and in hundreds of publications such as the Wall Street Journal, TheStreet, and Seeking Alpha.