Investors trying to ride the bull market in precious metals got a powerful reminder when both the gold and Silver spot price declined sharply at the end of September: Gold, and especially silver, can be VOLATILE!
Rapid price movements are par for the course in metals markets, and astute investors remain focused on the drivers behind the long-term trend, not the short-term price action. As a dealer in physical gold and silver bullion, we want to share some observations from the September price correction. Buyers of physical bullion should be comforted by what we have to report!
First, all the net selling appeared to take place in the futures markets where hedge funds and other "hot money" traders were dumping paper gold and silver – not in the physical markets. (Good riddance, I say, as ownership of contracts appears to have moved to stronger hands in the process.)
Price of silver in 2011
Year
Average
Closing Price
Year Open
Year High
Year Low
Year Close
Annual
% Change
2011
$35.12
$30.67
$48.70
$26.16
$28.18
-8.00%
2010
$20.19
$17.17
$30.70
$15.14
$30.63
80.28%
2009
$14.67
$11.08
$19.18
$10.51
$16.99
57.46%
2008
$14.99
$14.93
$20.92
$8.88
$10.79
-26.90%
2007
$13.38
$13.01
$15.82
$11.67
$14.76
14.42%
2006
$11.55
$9.04
$14.94
$8.83
$12.90
46.09%
2005
$7.31
$6.39
$9.23
$6.39
$8.83
29.47%
Investors Jump on the Opportunity to Add to Their Holdings
In the market for physical bullion, people were buying in massive quantities. Money Metals Exchange and other dealers across the country were literally overwhelmed with customers placing orders to buy when the opportunity to do so at discounted prices suddenly presented itself.
The heavy buying was reinforced by a lack of selling. Like many other dealers, we had very few customers calling us to sell. As our precious metals specialists answered client calls, the first words heard were more often "I'd like to place an order" than "What's happening?" or "I need to sell."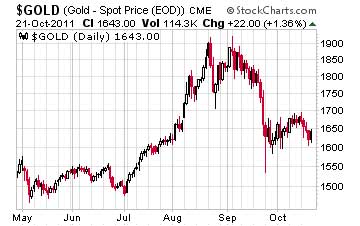 Our customers clearly feel this bull market has a long way to go, and they view these corrections as blessings in disguise. We certainly agree.
So how does one explain the big-time selling in the futures markets, but not in the physical markets? The answer is leverage. It doesn't take a lot of movement in the relatively small gold and silver markets to build powerful momentum, either up or down. Each dollar used to make a bet in the futures market is leveraged roughly 10 to 1.
The price smash started when Federal Reserve Chairman Ben Bernanke, known for his devotion to money printing as the remedy for all economic ailments, disappointed investors. He didn't announce a major new initiative to flood asset markets with more cash. Disappointed "long" traders began selling their contracts. As prices fell, the margin calls began – forcing weak hands to sell. Then major U.S. and Asian exchanges increased margin requirements. The result of these rapid-fire events was a near-term rout in the paper prices for gold and silver.
Why didn't investors in physical bullion react by selling also? Our take is that an important catalyst was missing; namely a sense that the fundamental
Bullish Fundamentals Remain Intact
If anything, our customers and investors across the country felt the case for owning gold and silver was stronger than ever – based on recent developments. In July, Ben Bernanke had re-affirmed the Fed's commitment to its inflationary Zero Interest Rate Policy for at least two years. Shortly after this pronouncement, Standard and Poor's downgraded the rating on U.S. government debt in reaction to Congress' gross mishandling of the debt-ceiling issue.
In August, the Swiss had thrown their franc under the bus. They promised to print it in "unlimited" quantities, if necessary, to maintain a peg between the franc and the euro. Thus, the Swiss franc, one of the best and most trusted currency safe havens, was demoted and sent to assume its place in the long line of crumbling fiat currencies.
And elsewhere in Europe, leaders remained committed to resolving their debt crisis with even more borrowing. In short, there were and are lots of compelling reasons to buy metals and precious few reasons to sell.
The kind of huge disconnect we witnessed between the paper futures markets in gold and silver (where there was massive selling) and the physical bullion market (where there was unprecedented buying) can only exist for a relatively short time. Investors can expect prices to rise sharply as the physical market asserts a more leading role in driving prices.
Recent events are somewhat reminiscent of the dramatic 2008 correction in gold and silver (and, also, of Silver prices in 2015): Spot prices fell sharply, but big demand in the physical market drove premiums through the roof as available dealer stocks came under pressure. Lead times for delivery of almost all silver bullion forms extended by weeks if not months
During last month's correction, overwhelming demand led to available supplies tightening almost immediately – especially with regard to junk silver coins and 100-ounce American Silver bars. Premiums rose significantly within just a few days – nearly doubling from their pre-correction levels. (However, these problems have since eased.)
One-ounce silver rounds such as our exclusive "Don't Tread on Me" and Walking Liberty rounds give you more silver for your money than government-minted coins. This is especially true when comparing our privately minted bullion products to American Silver Eagles. Premiums on Silver Eagles are now well above 10%.
Gold and Silver price update for October 2011
Gold and silver both experienced strong gains last week – with gold up almost 3% before closing at $1,680.20, while silver was up slightly more than 3% from the prior week's close before settling at $32.21.
For gold, it was the largest weekly percentage gain since before Labor Day and the second best week for silver during that same time period. Since the last correction – which started September 22nd and lasted a mere 2-3 trading days – gold has seen some consolidation and spent most of the last three weeks between $1,620 and $1,680.
Meanwhile silver has spent nearly all of its time during that period ranging between $29 on the low end and the low $32s on the high end. With both metals currently sitting at the top end of those trading ranges, the next couple of weeks will be interesting to follow, as the precious metals look to break out above these recent resistance levels.
Gold and Silver price update for November 2011
Gold did well last week – finishing up $33/oz at $1,788. Prices are holding in the $1,775 range today.
Silver seems to have found a new trading range between $33.00 and $35.50. Silver closed up moderately by $0.52/oz for last week, closing at $34.67. Prices are holding above $34.10 today.

About the Author:
Clint Siegner is a Director at Money Metals Exchange, a precious metals dealer recently named "Best in the USA" by an independent global ratings group. A graduate of Linfield College in Oregon, Siegner puts his experience in business management along with his passion for personal liberty, limited government, and honest money into the development of Money Metals' brand and reach. This includes writing extensively on the bullion markets and their intersection with policy and world affairs.