1 Oz Silver Buffalo Round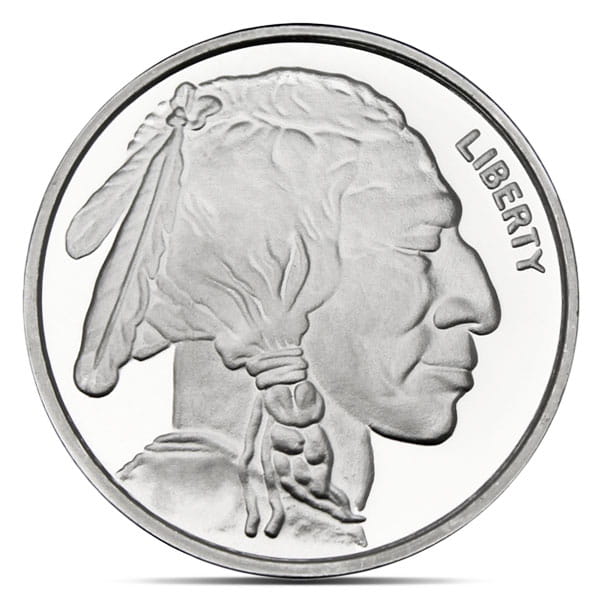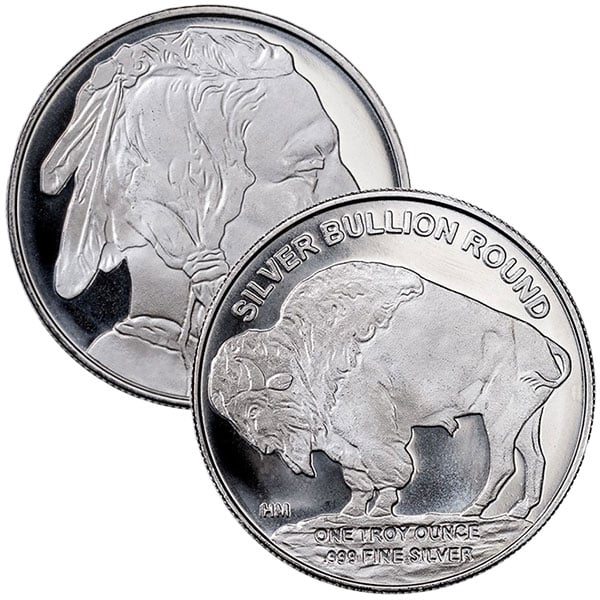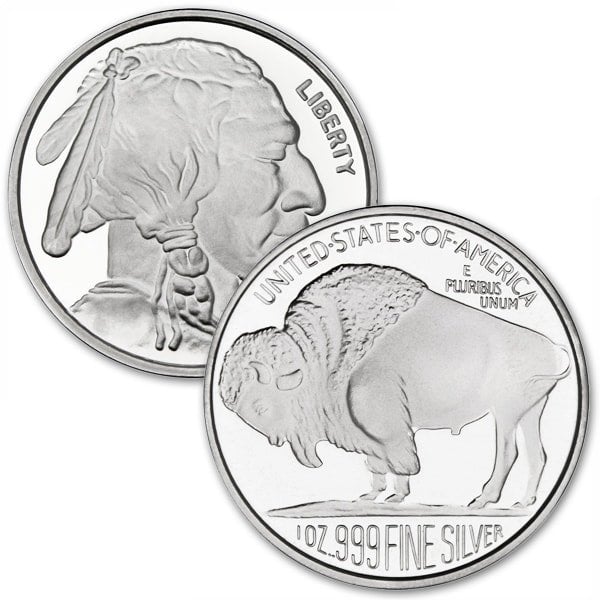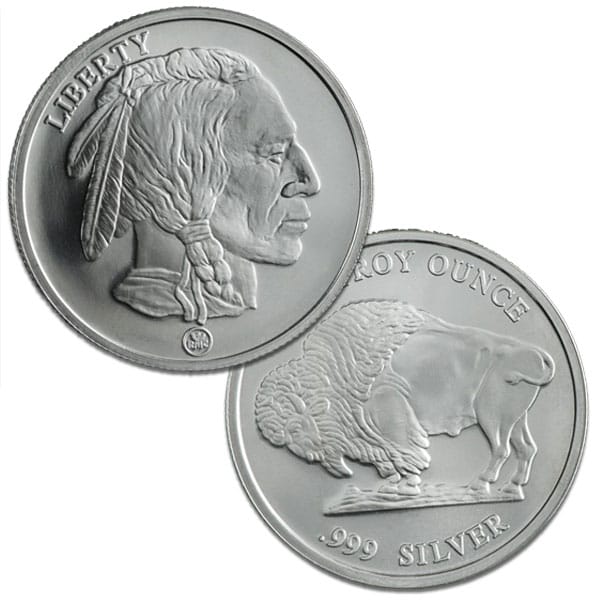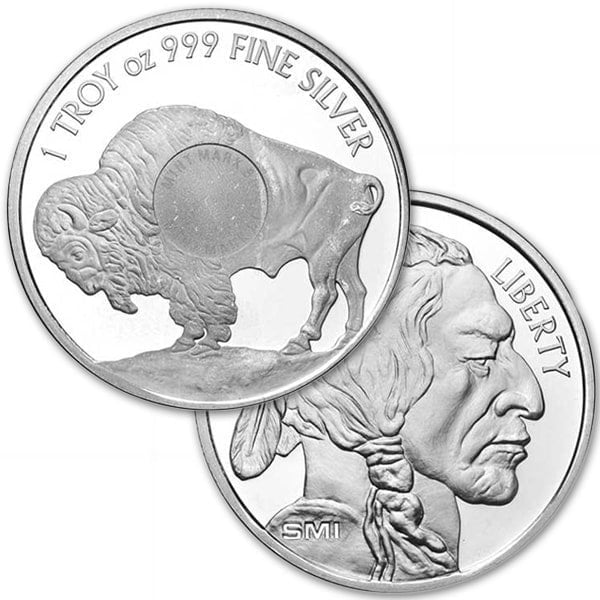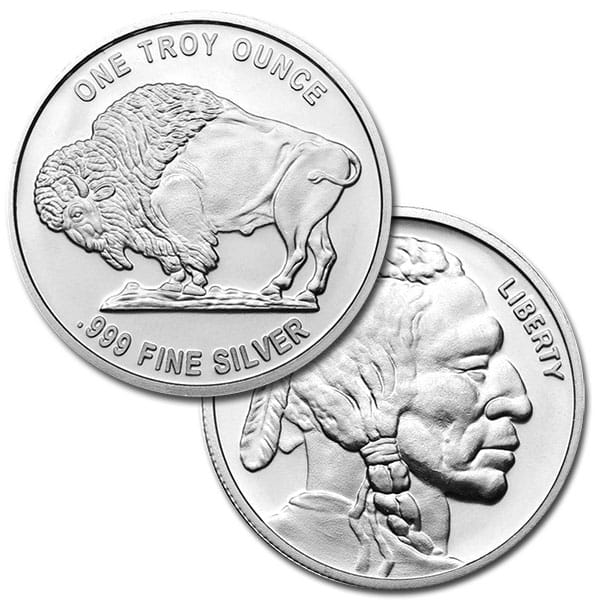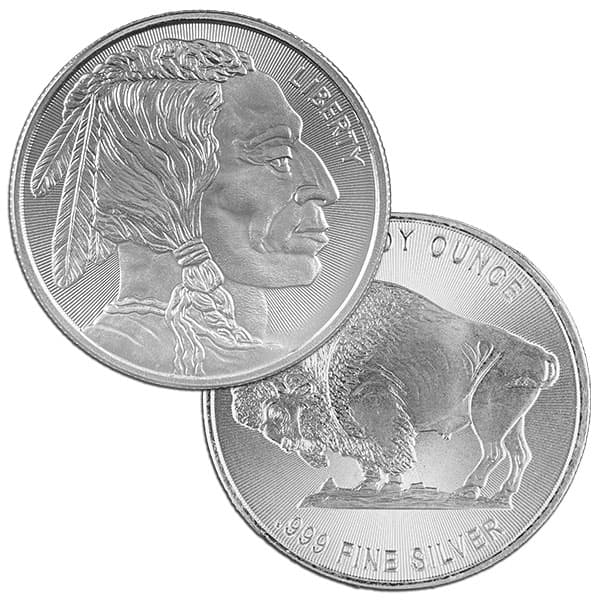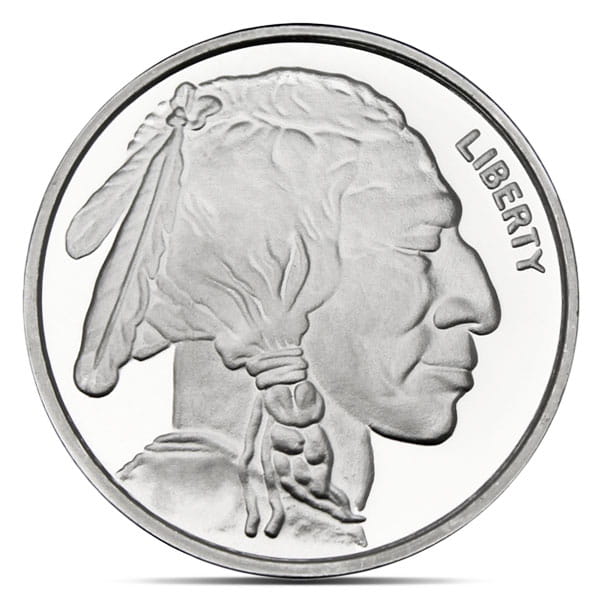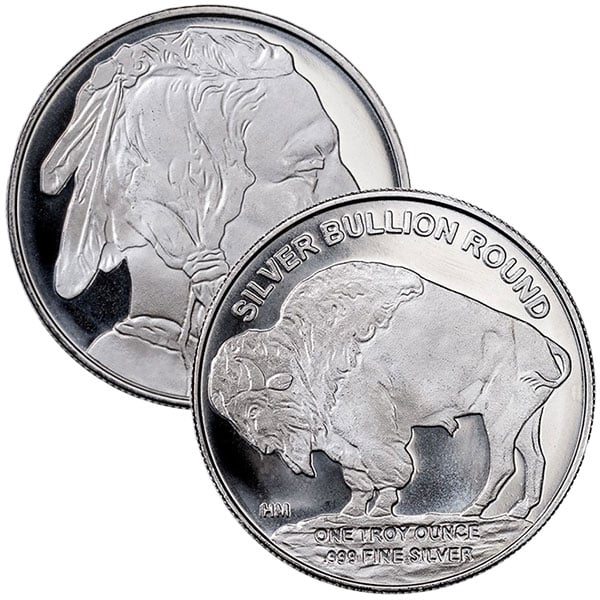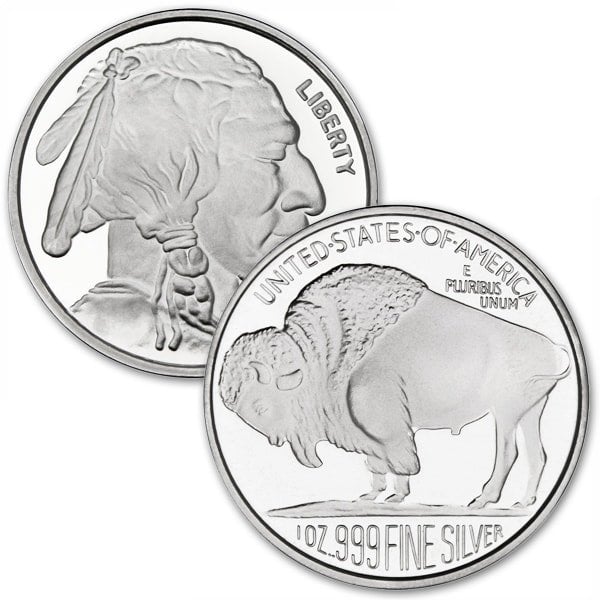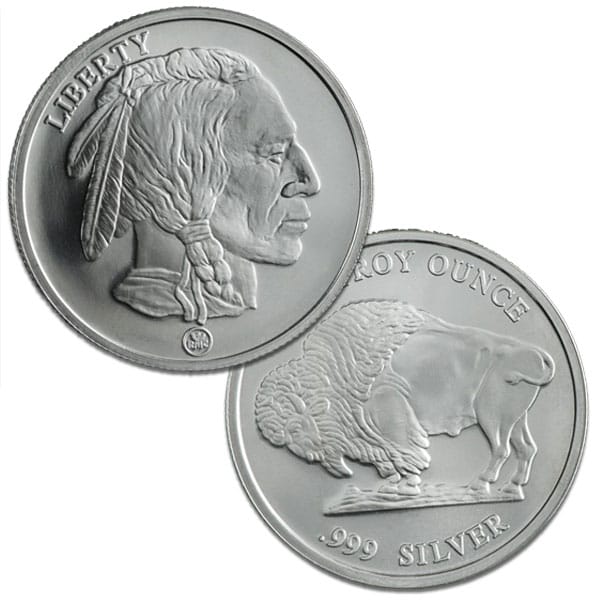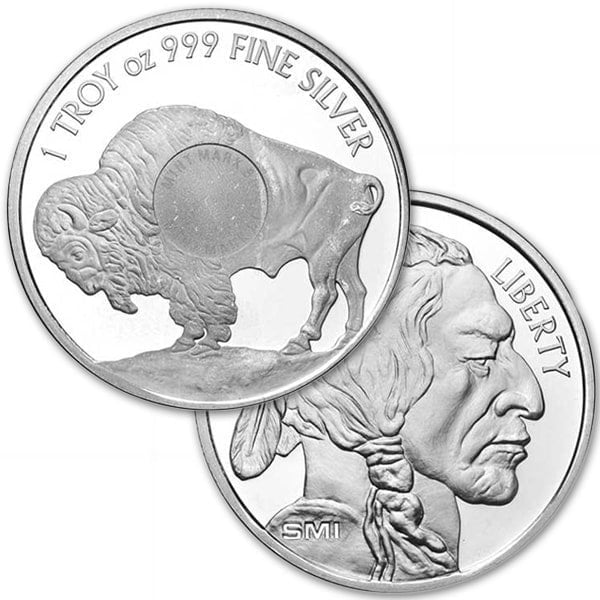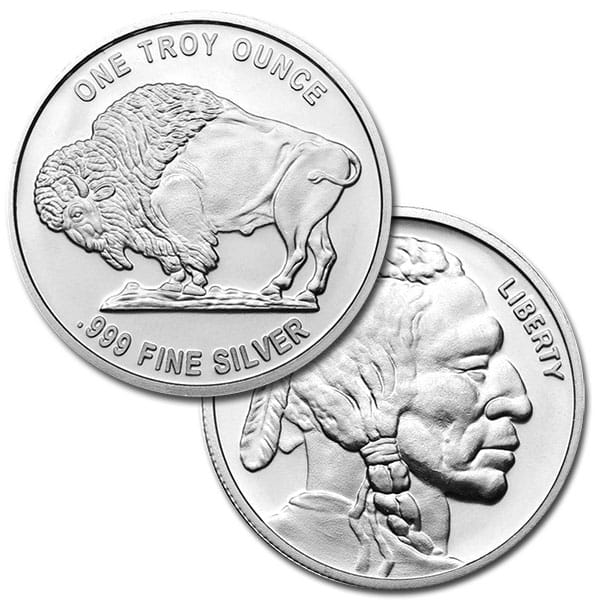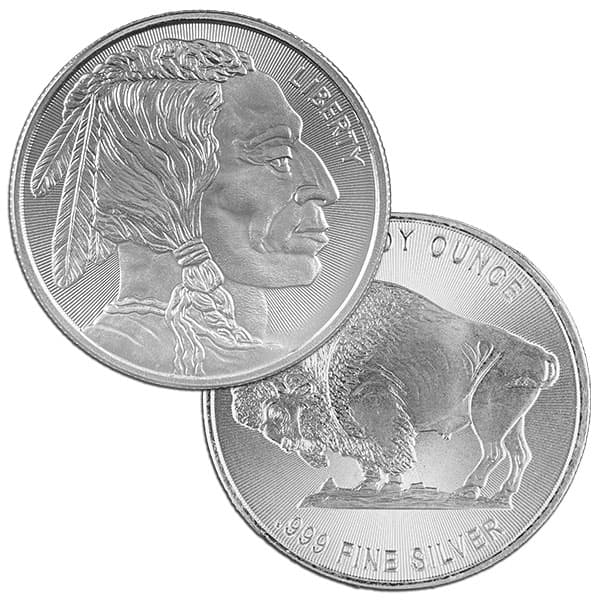 $26.42
(as low as $2.39 over spot)
Get a Free Kennedy 90% Silver Coin w/ Your $500+ Silver Order (excludes Vault Silver & Monthly)
Quantity
Premium/Oz
Total Price Each
1 - 39
$3.39
$27.42
40 - 499
$2.89
$26.92
500 - 2000
$2.39
$26.42
2001+
Please Call For Our Best Pricing! 1-800-800-1865
Full Tube Qty = 20



Free Shipping
On All $199+ Orders
Sell to Us Price: $23.61 each
Buy 1 Oz Buffalo Silver Rounds from Money Metals Exchange
One of the most beautiful coins in US history, the Buffalo nickel remains very popular among numismatists. Nowadays, numerous private mints produce silver rounds and bars bearing a version of the original Buffalo design.
Better yet, 1 Oz Buffalo silver rounds are affordable and abundantly available.
A coin and a round of the same design may look very similar to each other. They may have the same size, diameter, and thickness. Add to that the same weight and percentage of precious metal and you can see the source of confusion. (Buffalo silver coins)
However, that's where the similarities end. On the one hand, coins are generally coined by a government mint. Government-minted coins generally have a face value, meaning they are legal tender. They often feature the mark of the production US Mint.
On the other hand, a round is coined at a private mint. It can have a similar obverse and reverse design as a coin, but it won't have a face value. This means a round isn't legal tender or denominated in a government currency.
In general, coins tend to have a higher premium than rounds. Coins can be more popular with collectors while rounds appeal more to investors looking to get as much precious metal for their flat currency as possible.
History
The story of the Buffalo silver rounds begins more than 100 years ago. Back in 1911 and out of a dissatisfaction with their design, President Theodore Roosevelt prompted the US Mint to replace the coins of the time. The mint selected the acclaimed sculptor James Earle Fraser to design the five-cent coin.
The new nickel was finally introduced in 1913 as a replacement for the Charles E. Barber-designed Liberty Head coin. The coin became known as the Buffalo nickel after the portrait of a buffalo on the reverse. It's also known as the Indian Head nickel for one of the most iconic depictions of Native Americans in US coinage.
The buffalo on the reverse is widely believed to be none other than Black Diamond, the buffalo in the Central Park Menagerie. An employee of the Bronx Zoo claimed that Fraser might have used Bronx, a buffalo kept in the Bronx Zoo. The name of the bison on the coin, however, remains a mystery.
The American Indian portrait on the obverse of the coin is a combination of three different portraits Fraser had done: portraits of Iron Tail, Two Moons, and Big Tree. In subsequent years, a number of Native Americans claimed that they were the model for the famous nickel.
1 Oz Buffalo Silver Round Design
Today's current production Buffalo silver rounds are faithful to the classic design of the Buffalo nickel. Though struck in numerous private mints, the round is quite standardized with only minor variations among coins of different manufacturers.
The most common is the one troy ounce silver round with 99.9% purity. Depending on the manufacturer, you might find ½ ounce, ¼ ounce, and even smaller rounds. All, however, share the same design.
On the obverse of Buffalo rounds is the right profile of the aforementioned Indian head. The portrait is a faithful reproduction of Fraser's original design. Usually, Buffalo rounds feature the inscription "LIBERTY" on the right side and the mint mark near the bottom.
The reverse features the left side of a buffalo on a small mound of dirt. Like the obverse design, the reverse is also a faithful replica of Fraser's work. The buffalo is usually accompanied by the inscriptions, "UNITED STATES OF AMERICA," and "E PLURIBUS UNUM," at the top and "1 OZ. .999 FINE SILVER," at the bottom.
Specifications
The one troy ounce coins weigh 31.103 grams. The rounds measure 39 millimeters in diameter and 2.8 millimeters in thickness. The edges of the round are usually reeded, as opposed to the plain original. All manufacturers make the buffalo silver rounds with 99.9% purity and reeded edges.
The 1/2 oz Silver Buffalo Rounds weigh 15.552 grams. Like the other types, these are uncirculated bullion coins. The round is 1.09 inches in diameter.
The 1/4 oz Silver Buffalo Rounds weigh 7.776 grams. They measure 0.984 inches in diameter. Once again, there are uncirculated bullion coins.
The 1/10 oz Silver Buffalo Rounds contain 3.11 grams of 99.9% pure silver. The rounds measure 0.774 inches in diameter.
Some mints also make bigger Buffalo silver rounds. The most notable are the 2 and 5 ounce rounds. These are bigger, though the silver purity and edges stay at 99.9% and are reeded.
Who Makes Them
Various private mints across the United States make Buffalo silver rounds. They all make the one ounce round as it is the most requested and sought-after variety. Each mint usually has its own lineup of both smaller and bigger variants. Also, any given mint may drop or reintroduce a particular coin based on demand. Typically, the sizes vary from 1/10 troy ounce to 5 ounces.
Some private mints also make Silver Buffalo bars in various sizes. The most prominent are 1, 5, and 10 ounce bars of 99.9% pure silver.
1 Oz Buffalo Silver Round Value
Silver rounds don't usually command a premium much higher than the spot price of silver. Obviously, they're far less collectible than silver coins, so they attract investors who wish to park their money in precious metals.
Accordingly, Buffalo silver rounds have rather uniform prices across the board regardless of the mint of manufacture.
Should I Invest in 1 Oz Buffalo Silver Rounds?
Silver rounds are far more affordable than silver coins. They are a good starting point for beginner investors. Use them to diversify your portfolio, preserve your wealth, or profit when silver prices go up.
On the other hand, rounds don't hold much numismatic value. If you're looking to build a private collection, coins are the way to go.
Prospects
Buffalo silver rounds are affordable and in plentiful supply. They also have low premiums so are perfect for precious metal investors.
Finally, investing in precious metals is a sound decision. Flat currencies are subject to inflation and the stability and credibility of the governments behind them, which is why people have used precious metals to preserve their wealth for centuries.
Product Specifications
| | |
| --- | --- |
| Quality / Type: | Bullion, Uncirculated |
| Purity: | 99.9% silver |
| Metal Weight: | 1 troy ounce (31.103 grams) |
| Diameter: | 1.535 inches (39 mm) |
| Edge: | Reeded |
| Obverse: | American Indian |
| Reverse: | American Buffalo |
Sell to Us
We are buying this item back daily, and we pay you promptly!
Our current buy pricing is $23.61 each and we will buy up to 5,000 ounces at this price. Simply call us on any weekday to lock pricing at 1-800-800-1865.
Learn more about the process for selling to us here.
Shipping Info
We take great pride in the way your order is packaged and delivered.
You can expect:
Prompt Shipping – We ship orders shortly after your payment has been cleared – generally within 2 business days.
Fully Insured – We fully insure all shipments with Lloyd's of London.
Privacy – Your package will have no external markings that provide any clue as to the contents. Because we insure packages with Lloyd's of London, we do not declare a value or insure with the carrier.
Accountability for Package Contents – Your order will be packed under video surveillance, weighed and double-checked prior to shipping to ensure you receive exactly what you ordered.
Professional Packaging – Your order will be packaged securely and professionally.
Tracking – We will provide you with the carrier's tracking number for your shipment so you can monitor its progress and plan for delivery.
Signature Confirmation – Delivery carriers are instructed to request a signature upon delivery.
Cost to Ship & Insure
(absent periodic special offers for free or discounted shipping)
| Insured Value | Cost |
| --- | --- |
| Up to $198.99 | $7.97 |
| Insured Value | Cost |
| --- | --- |
| $199.00 + | FREE |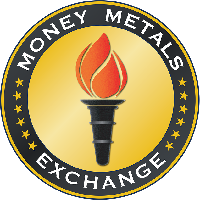 Sign in to Your Account
Please Sign In or Register to leave a review
Alan K.

October 2nd, 2023

This month marks 1 year of buying Buffalo Silver Rounds. Set the quantity you want, the frequency and forget about it. Even though Silver is a volatile market, I see my Monthly Silver outperforming your average savings account long-term.

Daniel S.

March 20th, 2023

Money Metals you guy's and gal's are awesome and all products I've received are great. Every order has been super smooth with no problem's. Received in the quick amount of time stated. So glad I discovered Money Metals! Customer for life!

Roger M.

January 8th, 2023

Ordered 40 of these and they were lost in shipping. It took a couple of months to replace them, but they had to do a thorough investigation and tracking of the order. Apparently, they were lost in shipping, and Customer Care promptly sent out replacements. Love the product.

Jackson

December 5th, 2022

These coins are in great condition and perfect for stacking large quantities of silver.

Russell S.

May 19th, 2022

Great quality Silver Round and excellent craftsmanship Money Metals Beats them all!

I have been buying from Money Metals for over a year now. I purchase these for my collection. Very fast service and excellent craftsmanship in detail. Definitely a customer for life. Highly recommended to friends and family.