Buy Canadian Maple Leaf Gold Coins Online

The Royal Canadian Mint introduced the gold Maple Leaf coin in 1979, seven years before the US Mint began minting US Mint coins, like the American Eagle. Today the gold mint coin is sold worldwide to investors who appreciate the iconic Maple Leaf design, the purity, and the tradeability it offers. You can build your own personal stash of Canadian Gold Maple Leaf coins through Money Metals Exchange. We offer this stunning gold coin in several sizes, including 1 gram, 1/20th oz, 1/10 oz, 1/4 oz, 1/2 oz, and 1 oz -- our most popular. Regardless of what you are planning to spend, we have a great option.
Gold Canadian Maple Leaf Coin Sizes
1 Oz Canadian Gold Maple Leaf Coins
1/2 Oz Canadian Gold Maple Leaf Coins
1/4 Oz Canadian Gold Maple Leaf Coins
1/10 Oz Canadian Gold Maple Leaf Coins
1 Gram Canadian Gold Maple Leaf Coin
How much gold is in a Canadian Maple Leaf?
The Canadian Gold Maple Leaf coins stand out because of their purity. Of the top three most popular gold bullion coins, the Maple Leaf is the only one minted from .9999 fine gold. Both the South African Krugerrand and the American Eagle are 22 karat purity (.9167). This difference in purity is not a large factor when it comes to absolute value because the actual gold weight contained in all three coins is the same. The Eagle and Krugerrand simply have a bit higher gross weight due to the alloy metals used. But some investors do prefer the higher purity and the particular luster that comes with it.
Canadian Gold Maple Leaf vs. Gold Krugerrand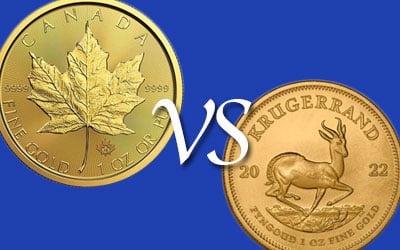 When it comes to modern bullion coins, only the Krugerrand has a longer history. Walter Ott, who was born in Austria, served as Royal Canadian Mint's Chief Engraver and Director of Art and created the coin's design. He wanted a gold coin that would compete with the Krugerrand with its purity being a symbol of Canadian national pride.
Guaranteed by the Government of Canada and traded in world markets since 1979, the Canadian Gold Maple Leaf coin is one of the most popular and easy-to-trade gold bullion coins in the world today. Each of the coin sizes we offer (1 oz, 1/2 oz, 1/4 oz, 1/10 oz, 1/20 oz, and 1 gram) is beautifully struck. Quality is a hallmark of the Royal Canadian Mint.
Canadian Maple Leaf Gold Coin Purity
For the first five years of production, the Canadian Gold Maple Leaf was produced with a purity of .999 fine. Purity was upgraded to .9999 starting in 1984. The "three nines" pure coins are bought and sold today at a slight discount to "four nines" coins. The higher purity is preferred in the market. There are relatively few of the older coins trading on a day-to-day basis. When they become available, they often sell quickly to bargain hunters who are always happy to buy a well-known sovereign coin at a discount.
How Much Does a Gold Maple Leaf Weigh?
| | |
| --- | --- |
| Mint Facility: | Royal Canadian Mint |
| Denomination: | 1 oz. - $50.00 CAD |
| Date: | 1979 to Present |
| Quality / Type: | Bullion, Uncirculated |
| Purity: | 99.99% gold (24 karat) |
| Gold Weight: | 1 oz. - 1 troy ounce (31.103 grams) |
| Diameter: | 1 oz. - 1.181 inches (30.0 mm) |
| Edge: | Reeded |
| Thickness: | 1 oz. - 2.65 mm |
| Obverse Design: | Queen Elizabeth II |
| Reverse Design: | Maple Leaf |
Canadian Maple Leaf Gold Security Feature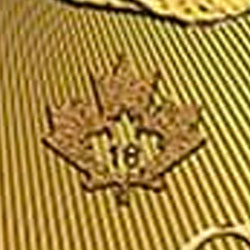 Mint officials introduced an innovative security feature to the coin in 2013. Each Maple Leaf is laser micro-engraved with radial lines and a miniature maple leaf mint mark which contains the coin's year of issue when viewed under magnification.
The Royal Canadian Mint began operations in 1908 located in Ottawa. Officials wanted to produce coinage independent of Brittain's Royal Mint and to promote metals produced by Canadian miners. Today RCM operates a second facility in Winnipeg as well. This facility began minting coins in 1980, just one year after the Maple Leaf was introduced.
Gold Maple Leaf Design
The classic design of the pure Gold Maple Leaf coin is virtually unchanged since its introduction.
Queen Elizabeth II (obverse) - The bust of Queen Elizabeth II appears on the obverse side of the coin, gracefully aging across various vintage coins in a design by Arnold Machin. The newer versions were created by Susanna Blunt. Her initials appear very tiny on the left shoulder. Several other small changes can be found. A similar image of the Queen can also be seen on the popular Australian Kangaroo coin series.
Maple Leaf (reverse) - The reverse depicts a single Canadian Maple Leaf, the national symbol of Canada. The finely detailed design has a proof-like strike down to the veins and texture of the maple leaf itself.
The decision to buy gold has never been easier with the design of these Canadian Gold Maple Leaf coins. But for those who aren't ready to start investing in gold, you have silver bullion options as well as this beautifully designed coin from the Royal Canadian Mint.