Gold 1 Kilo Bar, 32.15 oz, .9999 Pure (Brand our Choice)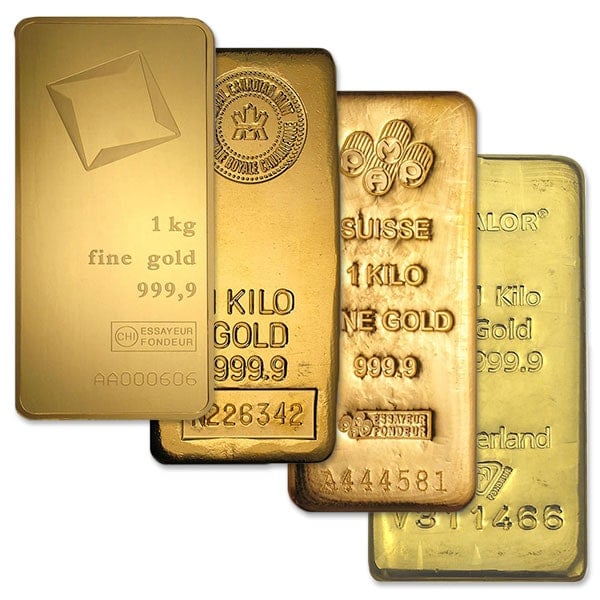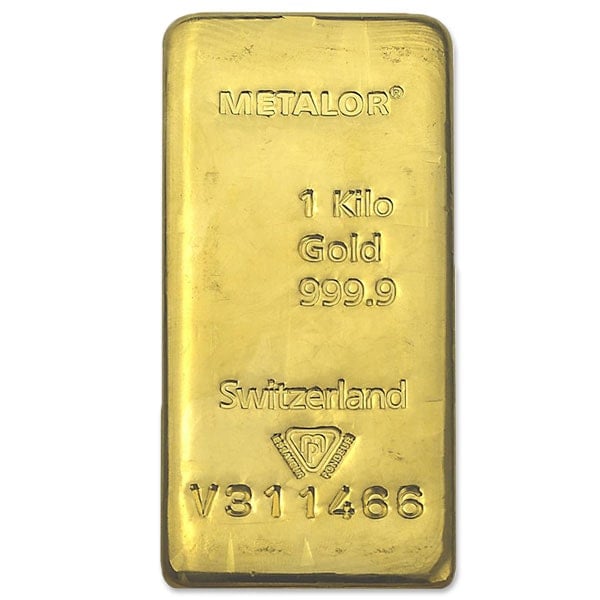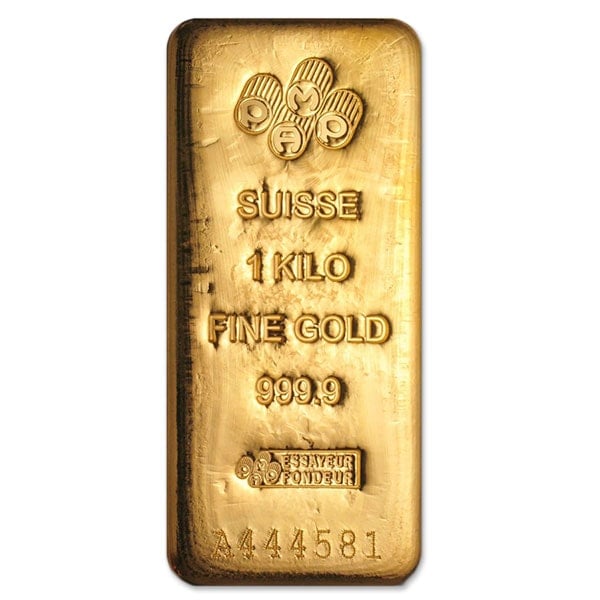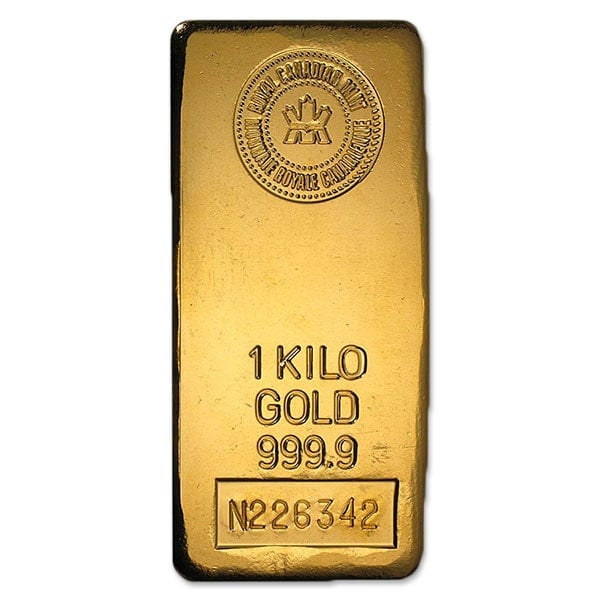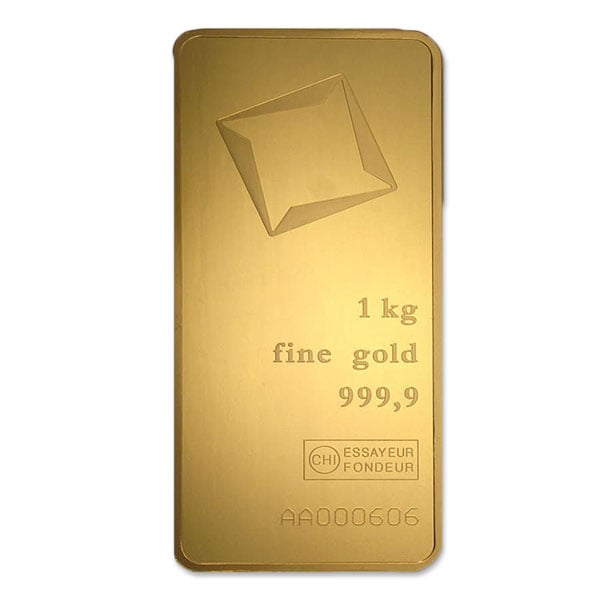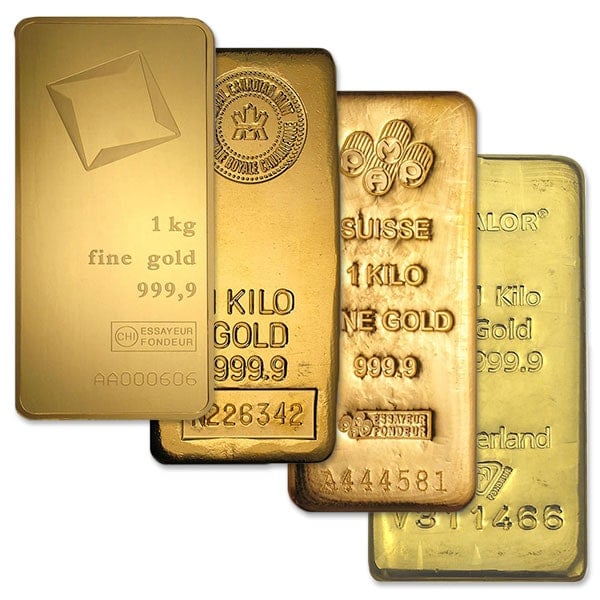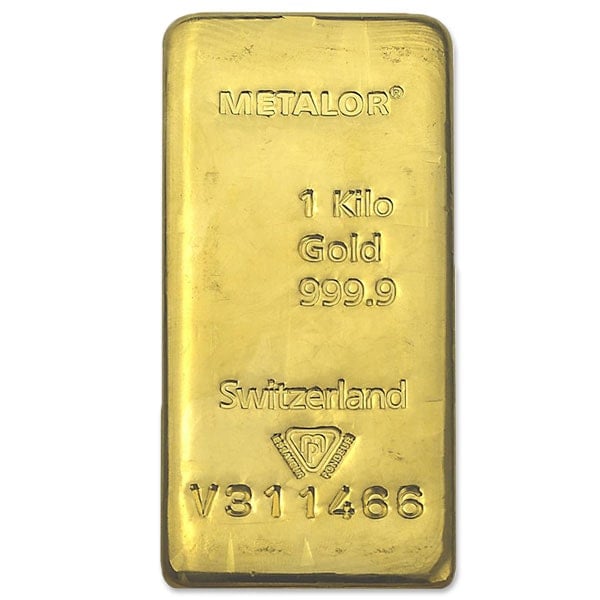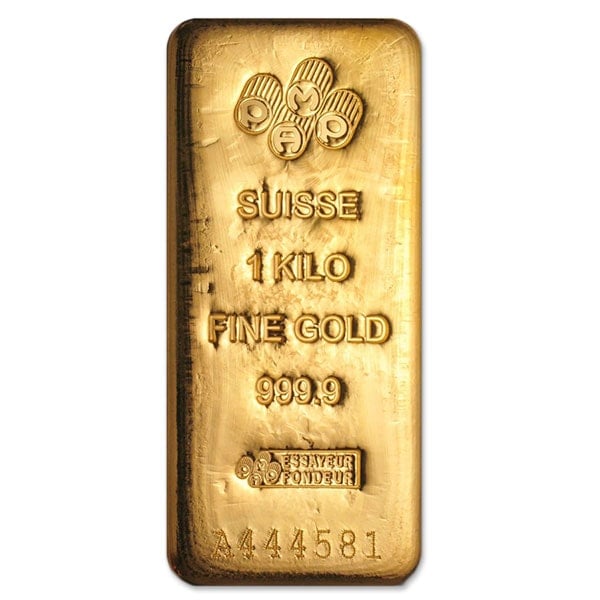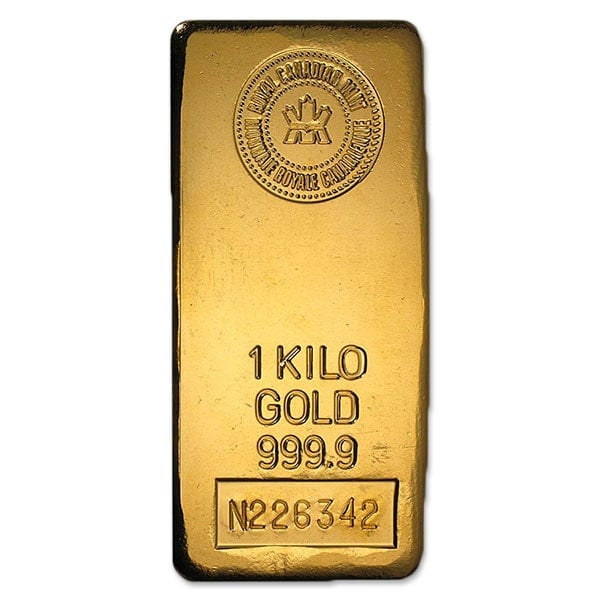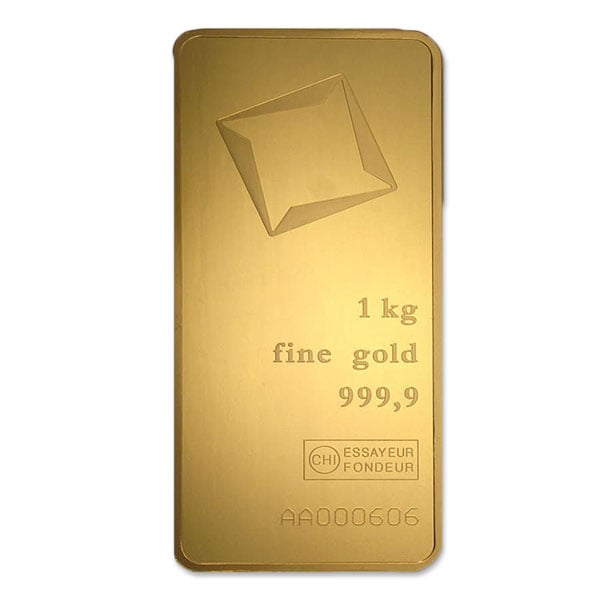 $67,054.13
(as low as $44.00 over spot)
Your Item Total:
67054.13
Quantity
Premium/Oz
Total Price Each
1 - 1
$51.00
$67,279.18
2 - 3
$44.00
$67,054.13
4+
Call for discount



Free Shipping
On All $199+ Orders
Sell to Us Price: $63,670.30 each
Investing with LBMA Approved Kilo (32.151 troy oz) Gold Bars
Owning gold is an important step toward true diversification and protecting your wealth from the ravages of inflation. That is why it is important not to get "hung up" on which item to buy.
There are hundreds of gold bullion products from around the world. Choosing which to purchase can seem daunting, but it needn't be. It is as simple as choosing whether you prefer the lower-cost rounds and bars, or the trust and recognizability of government-issue coins. Then select from among the most popular (and liquid) items in that category. Stay well away from collectibles, unless you really know your stuff. If you do these things, it is very hard to go wrong.
Investors who are focused on buying gold at the lowest cost should take a look at Kilo bars. It is one of the largest sized bars to be widely traded outside of the futures markets, and, because the manufacturing cost is lower on a per-ounce basis the buyer can expect to save.
This article will focus on why the 1-kilo gold bar is a good option for investment, and compare its availability and accessibility to other bars and bullion coins. We will also explain premiums and why prices vary slightly from one gold bullion product to another.
The Kilo (32.151 troy oz) Gold Bar
Money Metals is proud to offer Kilo bars from LBMA-approved refiners around the world. The actual bar(s) shipped will be our choice and will vary based on availability at the time your payment clears.
There are several gold bar manufacturers, and the "brand" is largely irrelevant in terms of value, provided the manufacturer is LBMA approved.
The Swiss refiners, PAMP Suisse, Valcambi, and Credit Suisse, are premier names. Other producers include Asahi (formerly Johnson-Matthey) and Metalor. The Royal Canadian Mint is one of the sovereign (national) mints producing bars this size. Australia's Perth Mint is another sovereign mint and rounds out the list of refiners whose bars are most widely traded.
The design of the Royal Canadian Mint bar is typical in terms of design elements. The front features a relatively simple image, in this case, RCM's logo. Each bar is also stamped the 99.99% purity, the weight at 1 Kilo, and a serial number. The bar is formed by pouring molten metal into a mold and had rounded, rather than minted (straight) edges.
Gold bars, and the Kilo size, in particular, are designed for investors and not for collectors. They are produced in bulk and intended to be sold as close as possible to the gold's melt value. The price of a bar, as of this writing, is approximately $60,000 – not a trifling sum. This product appeals most to people looking to build a significant position in gold.
kilo gold bars are easy to find, though smaller bullion dealers may not have a large inventory on hand. Whether you are looking to buy several or you want a single bar for your stack, Money Metals Exchange will be able to accommodate your needs.
Kilo Gold Bar Premiums
Premiums are a part of bullion trading, but people entering the market for the first time often aren't familiar with what they represent. Allow us to explain.
There are two components to the price of any bullion product. The first is the "spot" price for the underlying metal. This is the price people most often see quoted – in the newspaper or on financial TV. The other component is the "premium." This includes the cost of taking the raw, purified gold and converting it to finished bars or coins. It also includes the bullion dealer's profit. And, if the dealer bought the item from a wholesaler and paid a premium, that will be included.
Fortunately for investors, the bullion market is extraordinarily competitive and premiums are driven down by market forces. Kilo gold bars come with a lower premium than gold bullion coins. The larger unit size helps. The cost per ounce when it comes to manufacturing a Kilo bar is lower than for smaller coins and bars.
This lower cost makes Kilo bars a great investment vehicle. Lower up-front costs can mean better returns on your investment.
Important Note: The resale of kilo bars will require clients to complete an IRS form 1099.
Kilo Gold Bar vs. Gold Bullion Coins
Although Kilo gold bars are attractive due to the lower premiums, they are not as popular or widely traded in the retail bullion market as smaller coins and bars. It is safe to say that the gold bar will cost less per ounce to buy, but it will also bring less when it is time to re-sell. For investors who want the highest bid prices at resale, the gold coins from the US and Canadian mints are hard to beat.
The bars will offer the lowest overall price per ounce of gold. They may also be more efficient to store if space is very limited. There is a "cool" factor. The size of a Kilo bar makes quite an impression relative to the smaller coins and bars.
After setting aside costs, the primary difference between bars and coins is one of ascetics. Some investors will choose coins over Kilo gold bars because coins have widely varied designs and can offer some historical or ideological interest. Other investors will prefer the look of bars. And, perhaps most often, gold fans will accumulate some of both.
Where to Buy Kilo Gold Bars?
Gold bars, including the Kilo size, are available at larger bullion dealers. National dealers, such as Money Metals Exchange, offer live pricing online and will ship your order directly to you.
Pricing will vary from dealer to dealer, so it will be worth your while to shop and compare prices. You will also want to check online reviews and see what customers are saying about a dealer before placing your order.
Buyers may also find bars on auction sites such as eBay. However, the transaction fees firms such as eBay charge to the seller often make the prices higher. And buyers will need to be careful because sellers can be less than reputable.
Conclusion
Kilo bars are a great option for buyers whose main priority is to buy gold at the lowest possible price per ounce. They are easy to sell, when the time comes, provided you are trading with a larger, national dealer.
We don't often recommend gold investors begin their holding with a bar this size. Smaller 1-oz coins and bars are more affordable and more versatile in that they can be resold an ounce at a time. Kilo bars are a mainstay for institutions and high-net-worth individuals investing in physical gold. And they are a great addition to any holding which already includes some smaller units.
Product Specifications
| | |
| --- | --- |
| Mint Facility: | Various |
| Purity: | 99.99% gold minimum (24 karat) |
| Metal Weight: | 1 Kilogram (32.151 troy ozs) |
Sell to Us
We are buying this item back daily, and we pay you promptly!
Our current buy pricing is $63,670.30 each and we will buy up to 2 each at this price. Simply call us on any weekday to lock pricing at 1-800-800-1865.
Learn more about the process for selling to us here.
Shipping Info
We take great pride in the way your order is packaged and delivered.
You can expect:
Prompt Shipping – We ship orders shortly after your payment has been cleared – generally within 2 business days.
Fully Insured – We fully insure all shipments with Lloyd's of London.
Privacy – Your package will have no external markings that provide any clue as to the contents. Because we insure packages with Lloyd's of London, we do not declare a value or insure with the carrier.
Accountability for Package Contents – Your order will be packed under video surveillance, weighed and double-checked prior to shipping to ensure you receive exactly what you ordered.
Professional Packaging – Your order will be packaged securely and professionally.
Tracking – We will provide you with the carrier's tracking number for your shipment so you can monitor its progress and plan for delivery.
Signature Confirmation – Delivery carriers are instructed to request a signature upon delivery.
Cost to Ship & Insure
(absent periodic special offers for free or discounted shipping)
| Insured Value | Cost |
| --- | --- |
| Up to $198.99 | $7.97 |
| Insured Value | Cost |
| --- | --- |
| $199.00 + | FREE |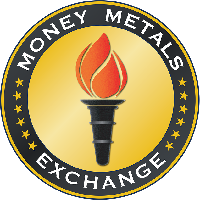 Sign in to Your Account
Please Sign In or Register to leave a review
The one I received was Royal Canadian Mint, with some surface scratches (possibly from being acid tested at one point, if I had to guess) but it wasn't advertised otherwise-- When you purchase a kilo bar, you are purchasing for quantity and investment, not looks or liquidity. Take the time to think about how you will store it, whether you will insure it, and how long you plan to hold it. I am pleased with my purchase. It arrived in a timely fashion with no issues, but MM does insure through Lloyds for the trip.