American Gold Eagle Coins for Sale

Gold has been a treasured and sought-after metal for all of recorded human history. Today people associate gold with jewelry and other more obscure applications, such as dentistry and electronics. However, gold is perhaps best known for its application as money. It is the metal most associated with Wall Street and the financial system, central bank reserves, and valuable coins.
This is true despite the decades-long effort by politicians, bankers, and brokers to dismiss gold as an asset class worth holding. In America, the long war on gold as an investment has taken a toll. Fewer people own physical gold than in decades past. But the tide now appears to be turning.
The US Mint began issuing the gold American Eagle for investors in 1986 and demand for that coin and others surged following the 2008 financial crisis. Investors got a wake-up call. The modern financial system is rife with counter-party risk and conventional securities – stocks, bonds, and mutual funds – can collapse in value. Physical gold eliminates this counter-party risk. Its value cannot be destroyed by irresponsible, or outright crooked, bankers and politicians.
In fact, its value can rise dramatically during times of crisis.
The efforts to undermine gold's reputation as a store of value and a safe-haven asset have failed. Today people still recognize gold is scarce and valuable, just as they have instinctively known for thousands of years.
All You Need to Know about Gold American Eagle Coins
Gold has been precious for all of recorded human history. It has long been used as money, but it offers utility in a number of other ways jewelry, dentistry, or chemistry. Gold plays an important, and, in recent decades, under-appreciated role in society.
Relatively few people in the West now hold gold coins, bars, or rounds or understand gold's role in an investment portfolio. Wall Street bankers and brokers dismiss the metal as a relic and promote all manner of paper and digital assets instead. But, despite this long campaign to undermine confidence and awareness, gold remains a symbol of enduring value. People instinctively understand that it offers unfaltering value, especially during times of economic uncertainty.
The 2008 Financial Crisis may be viewed as a turning point in the Wall Street war on gold. Investors got a look behind the scenes at the rickety modern financial system and pervasive fraud. They were reminded that the value of paper assets can fall to zero.
Increasing numbers of people are investing in American gold coins instead of, or in addition to, conventional instruments such as stocks and bonds. No bullion product has been more popular than the gold American Eagle. In recent years safe-haven buying coupled with the fact that Gold Eagles can be held inside self-directed IRAs (Individual Retirement Accounts) has produced record demand for these official U.S. coins for sale.
The Design of the American Gold Eagle Coin
Striding Lady Liberty (obverse) - The beautiful and classic design of the American Golden Eagle is captured in the graceful Striding Liberty, first created by Augustus Saint Gaudens for the 1907-1933 $20 U.S. Double Gold Eagle gold coin. She is shown striding forward with a torch and olive branch in tow. In the background is the Capitol building and rays of sunlight illuminate the horizon. The ring of 50 stars represents each of the United States of America.
American Bald Eagle (reverse) - The bald eagle is widely known as one of the most symbolic representations of America. The image, by sculptor Miley Busiek, features a male eagle returning to a nest of American eagles signifying the strength and security of American families.
Only gold mined in the United States, by law, is used in the minting of Golden Eagle. Since its introduction in 1986, it has become the world's most widely traded gold bullion coin.
What Are American Gold Eagle Coins?
American Eagle coins are a result of the Coinage Act of 1972. Initially available in denominations of $20, $10, $5, and $2.50, these gold coins are today produced in silver, gold, platinum, and palladium. Production of the coins began in 1986 following the Gold Bullion Coin Act of 1985. The act requires the US Mint to make American Eagle coins from gold mined in the United States. The Federal government guarantees the coin's gold weight and purity.
Gold American Eagles are produced in "crown gold," a 22-karat alloy introduced by King Henry VIII in 1526. This means the coins are 91.67% gold and the balance is silver and copper. However, it is important to note that the weight marked on each coin is the actual gold weight contained, and does not include the weight of the alloy metals. Buyers can be sure the 1 oz gold American Eagle coin does contain a full troy ounce of gold content. American Eagle coins are also offered in 1/10, 1/4, 1/2, and 1 oz silver bullion coins.
Money Metals Exchange is delighted to offer American Gold Eagles at very competitive prices.
Composition of the Gold Eagle Coins
As mentioned, Eagle coins have to be made of gold mined only in the United States. Made of 22-karat gold, the coins must contain a mix of 91.67% gold, 3% silver, and 5.33% copper. The alloy provides for a harder and more durable coin that stands up to scuffing and scratching better than other pure gold coins for sale.
Denominations of the Gold Eagle Coins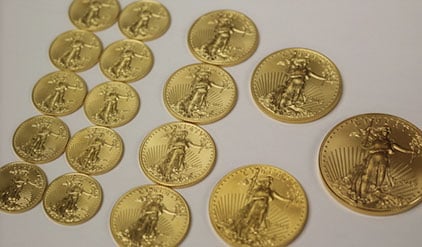 American Gold Eagle coins are available in four different denominations which have corresponding weights:
The most popular size is the one troy ounce.
American Gold Eagle coins are quite different from the normal "clad" or base metal coins that the government mints and issues. Their "face value" may be $5, $10, $25, or $50, but their actual value, based on the gold they contain, is far higher and fluctuates with the Price of gold as it trades in the commodity markets.
Despite being legal tender at their engraved face value, these coins should be treated as units of gold. They certainly are not intended to be spent for face value with a merchant. The official government guarantee and legal tender status do add modest value to these coins because they instill trust and confidence in prospective buyers.
Buy American Gold Eagle Coins
Around the world, American Gold Eagle coins are bought and sold in the bullion markets based on their gold weight. The majority of those produced are "bullion strike" coins minted to keep minting costs relatively low. These coins are "BU" or brilliant uncirculated, but are not collectible because mintages tend to be very large.

A 1-ounce American Gold Eagle has a face value of $50 and is comprised of 1 full troy ounce of fine gold. Minted in response to the Gold Bullion Coin Act of 1985, other coin sizes include 1/10, 1/4, and 1/2 ounces.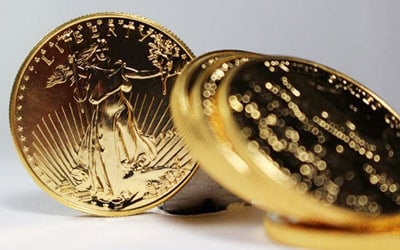 As such, Gold Eagle coins are sold at market price, based on supply and demand, with an additional small fee or premium to cover the distribution and coinage costs. Investors should be very wary of "proof" or graded versions of the coin unless they can acquire them very close to the same price as the bullion coin.
Rare coin dealers love to sell these higher-profit versions. But the buyer is nearly always disappointed. They find out later the coin they paid so much for is not particularly rare and won't return a significant premium when it is time to sell.
Investment in gold is a great way to diversify and hedge against inflation and crisis. American Eagles are a particularly good way to buy gold because of the government backing, tangibility, and liquidity – no coin is bought and sold in larger quantities.
Market Prices of Gold Coins
The value of gold American Eagles coins for sale is tied directly to the gold price. Currently, this price is established on the commodity exchanges such as the COMEX. Contracts representing gold are bought and sold, much like shares of a publicly traded company trading in the stock markets. These contracts are called "futures" because many of them entitle the holder to delivery at some specified future date. The price of a gold contract which entitles the holder to delivery now, rather than in the future, is referred to as the "spot" price.
Newspapers, exchanges, and new channels track and report the spot price, and investors who actively trade metals carefully follow its movements. Money Metals Exchange reports this price live at the top of our web pages.
To determine the total price of an American Gold Eagle coin, take the spot price then add the "premium". This premium will vary from item to item as it is a function of what mints charge to produce the coin as well as the profit margin added by dealers. Like many products, buyers can generally get the lowest premium when buying American Gold Eagles in quantity.
Investing in American Eagle Coins With an IRA
As mentioned above, American Gold Eagle coins can be held in Self-Directed Individual Retirement Accounts (IRAs). These self-directed accounts are a great way for concerned investors to hold assets that are different than conventional securities – stocks, bonds, and mutual funds – which are the stock-in-trade banks and brokerages.
For most investors, who are totally reliant on Wall Street and own nothing but "paper assets" in their retirement accounts, buying physical gold represents true diversification.
Precious Metals IRAs are perfectly legal and growing in popularity. The IRS has very basic requirements. Bullion in an IRA must simply meet minimum standards about purity. In general, investors must choose products that are .999 fine. However, the IRS rules include a narrow exception for gold American Eagles as they are an official bullion coin produced by the United States Mint.
Additionally, the IRS mandates that assets owned in a self-directed IRA be held by a third-party custodian. That means choosing a depository to store any gold or silver bullion coins. Not to worry. Arranging for storage is remarkably simple and often costs less than $100 per year…about the cost of a bank safe deposit box.
American Gold Eagle Coins as Collectors' Items
Apart from being safe and steady investments, American Eagle Gold coins are also often marketed as numismatic or collectible coins in one of the following categories:
Proof Coins: Proof coins are made using a different minting process, often in smaller lots. Mints employ specially polished dies, striking the coin multiple times. The result is a mirror finish on the coin.
Graded Coins: Many American Eagles are sent for evaluation by a coin grading service such as NGC or PCGS which will provide a rating as to condition. The coin is encased in a plastic "slab" and labeled with the grade.
Generally speaking, these collectible American Eagles have not worked well as an investment. In nearly all cases, buyers would have done better buying bullion strike coins instead. The additional premium paid for the collectible version can't be recovered when the time comes to sell.
Gold American Eagle coins are a solid investment. You can find these numismatic coins for sale on our site. They can be purchased at a low cost, and easily sold at full value when the time comes. They are guaranteed by the US government, as well as Money Metals Exchange, for their weight and purity. Eagles come in a variety of sizes so all investors can afford to add one to their holding. And they are widely considered to be among the most beautiful coins minted today. There really is no better way to buy gold.
If you're looking to buy Golden Eagle coins, different Golden Eagle sizes, US Gold coins, American Silver Eagles, or other gold and silver coins please call Money Metals Exchange directly at 1-800-800-1865. You can also inquire about the current Golden Eagle bullion coins price and product availability and/or place an order.