Where Will Gold/Silver Go in 2012?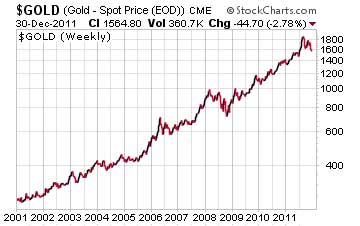 The light holiday trading volume contributed to downward action in both gold and silver prices last week. The bears in the paper markets were in control – driving silver spot prices down to $27.80/oz. But this week, silver has already risen almost two dollars!
Gold closed down $42 at $1,565/oz. through last Friday, but it has already recovered all of those loses rising back above $1,605 this morning. Platinum and palladium prices have been rising as well.
2011 Recap: Gold Up for 11th Straight Year as Silver Pulls Back Slightly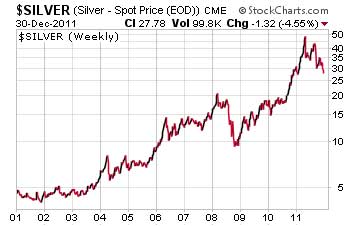 Gold and silver prices diverged in 2011. Gold managed roughly a 10% gain for the year while silver lost 10%.
Despite a terrible performance in December, gold bullion chalked up its 11th consecutive annual gain. It out-gained most asset classes, including equities and real estate.
Silver traded near $44 in mid-September and has been sliding ever since. No question that silver disappointed this year, but investors should recall that the white metal racked up 80% gains in 2010 and 50% gains in 2009. Volatility is simply part of the landscape in precious metals, especially for silver.
MF Global: A Game Changer?
Money Metals Exchange (Money Metals) customers and bullion investors know the price they pay for physical bullion is based off of the "spot market" price – which is actually the most recent trade in the COMEX or GLOBEX futures market for the nearest delivery month. (Each metal has several "delivery months" per year during which futures contracts can be redeemed for physical metal held in exchange warehouses.) A buyer of bullion coins, bars, and rounds pays a final price which is a function of this "spot" price, plus a premium that is tied to the particular retail item they are purchasing.
Money Metals customers also know that we have been expecting the relatively tight relationship between the futures (paper) price of metal and the price for physical metal to break down at some point. The exchanges, including the COMEX, are highly leveraged, and the physical metal that would be required to deliver on even a small fraction of the contracts being traded simply does not exist. On any given day, the futures market may trade more ounces of silver than will be actually mined in an entire year!
Well-placed fears of physical shortages may lead many traders to elect, at some point, to have their contracts converted to actual metal rather than rolling over their contracts or settling up in cash. If speculators tried to take physical delivery en masse, inventories at the exchanges would be insufficient to meet demand. And if those standing for delivery are unable to get their metal due to a default, the CME/COMEX could lose credibility as the primary mechanism for price discovery in precious metals, meaning – prices would increasingly be set in the actual physical market.
Though we are confident that prices for physical metal will ultimately be driven by supply-and-demand fundamentals, we do not purport to know how long paper price domination will persist in the meantime.
We do want to highlight for our customers and readers that the MF Global bankruptcy two months ago is a potential game changer. It has eroded confidence in futures exchanges. There is anecdotal evidence that traders in futures markets are closing their positions and moving funds out of this tainted system. A signal of reduced credibility of the COMEX as the global price-setting mechanism would be declining Open Interest (OI); i.e., the number of open futures contracts reported by the exchanges. If OI falls significantly below 400,000 contracts for gold and/or 100,000 contracts for silver, it may be a sign that trouble is brewing. Like any system built on confidence, failures can occur quickly. Metals investors should also keep an eye on premiums for physical bullion. A dramatic rise might also signal that confidence in the spot futures price is failing. In fact, the MF Global bankruptcy has us thinking about the possibility of a different scenario for the collapse of the COMEX. Critics of the exchanges, including Money Metals, consider "failure to deliver" (too many contracts and too little metal to satisfy them) a strong possibility. There is another possibility: irrelevance. There may simply be an exodus of traders whose confidence in the COMEX is broken. These traders would likely take their business to an exchange where they expect the rules to be equitably enforced and contracts to be honored. The new precious metals exchanges in Asia and in Dubai have already put a significant dent in the COMEX's business. Both are growing rapidly.
Premiums Stable and Buying Remains Firm
We continue to be surprised at how little customer selling we see. Metals prices have fallen dramatically over the past four months, yet customers are holding on to their positions. Some are even aggressively adding ounces on significant dips.
Premiums remain stable, and inventory is available to ship promptly. The one exception is 90% junk silver coins, where some slight delays exist. Buying surges in November and December combined with limited selling in the secondary market (which is, of course, where all the inventory of 90% silver must come from), resulted in depleted inventories.
Precious Metals Outlook for 2012
Precious metals enter the New Year with an exceptionally bullish setup in the futures market, which, for now, is the driver of spot prices.
While small speculators piled on the short side and hammered prices down late in 2011, large commercial net short positioning plunged to the lowest levels since 2001, according to the latest Commitment of Traders (COT) report. This "smart money" indicator suggests the big players in the silver market aren't betting on prices heading lower, at least in the near term.
According to Gene Arensberg's Got Gold Report, the commercial traders' unloading of short positions toward the end of 2011 is "an essential sign that the world has now come to accept these 'higher' prices for silver and now considers the potential bottom for the second most popular precious metal as being a multiple of what it did in the 2008 panic period, just three years prior."
Top silver expert David Morgan, editor of Money, Metals, and Mining, tells us that the COT setup "is about as bullish as it possibly could be at this juncture."
We Buy Back Too!
We want customers to know that Money Metals Exchange is here to buy back gold, silver, platinum, and palladium in the common bullion forms. We certainly don't advocate selling at this time, as we think the bull market in metals has years left to run. However, if you decide to sell for whatever reason, we can lock a price with you right over the phone, deliver a purchase order to confirm the transaction, and send your payment promptly – as soon as we receive the metal. You will find we are as easy to deal with when you sell as we are when you buy!
---