Reassessing the Thinking on Gold and Silver
Even as precious metals prices are rebounding today, I'd like to assess the recent carnage in the markets from a big-picture perspective. Have we seen signs of a major trend change technically? Have the long-term fundamental drivers of the bull market turned negative? These are questions investors should ask themselves periodically, because a major bull market in any asset class will at some point come to an end. Precious metals are no exception.
Opinions and Prognostications Can Fail,but the Charts Don't Lie
Let's take a look at technical indicators. In the February edition, I warned readers that despite rallying early in the year, gold had closed out 2011 by breaking trendline support dating back to 2009 and looked vulnerable to further intermediate-term selling. I stated, "In a worst-case scenario, gold could in the months ahead retest the major trendline dating back to 2001, which would project a price low somewhere around $1,000."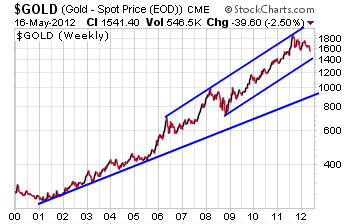 Yet even if that worst-case scenario played out, the major bull market would still be intact! I see no evidence to suggest that 2011's high of around $1,900 was some kind of terminal, secular top. What strikes me as remarkable is how unremarkable that particular upleg looks on the chart. It occurred entirely within a multi-year trend channel.
There has to date been no mania phase in the gold bull market. Not even close.
We'll know we're in some kind of mania phase, like we saw from 1979-1980, when gold goes parabolic on the charts. We'll see something like the gold price tripling in a single year. We'll see gold approaching a 1:1 ratio with the Dow Jones Industrial Average. We'll see panic among holders of dollars and euphoria among gold bugs. We'll see widespread shortages of retail bullion products.
We haven't yet seen any of these technical or fundamental indicators of a final top in gold or silver. Right now, sentiment toward precious metals is in the dumps – as indicated by the dearth of speculative long positions in the futures market, by the collapse in mining stock valuations, by all the negative commentaries showing up on my reading list, and by premiums on all bullion products being very low.
What we have seen is gold pull back 19% from last year's high and silver drop 44%. In 2008, the metals fell 34% and 60%, respectively, from their absolute highs to their absolute lows during the year. They each went on to surpass their 2008 highs by 2010.
Silver's Stupendous Volatility Gives It Potential to Rise Spectacularly
Silver remains comfortably above its 2008 peak and the white metal's fundamentals are still overwhelmingly positive. As long as that's the case, there's no reason to think that the major uptrend of higher highs and higher lows isn't still intact.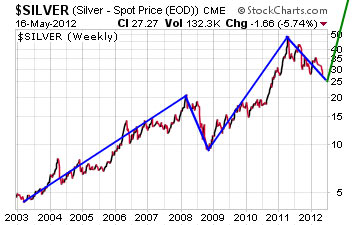 As volatile as silver prices have been so far to both the upside and the downside, I suspect that you ain't seen nothing yet. Back in January 1979, silver sold for as low as $6.60; one year later, it peaked at close to $50 per ounce – a 7.5x super spike!
Perhaps the epic 1979 move in silver prices was artificially exaggerated by the Hunt brothers' efforts to corner the market, but who's to say some billionaire or hedge fund won't try to do the same thing this time around? Or maybe it will be buyers all over the globe that do the cornering this time. Silver is a thinly traded market, and when demand overwhelms supply, prices will shoot skyward.
The silver chart above shows that we've seen two distinct phases: a stealth accumulation phase from 2003-2008, followed by a violent correction; and a steeper public participation phase from late 2008 into mid 2011, followed by a violent correction.
After this current correction runs its course – and I suspect we are nearing a price low that may give way to choppy sideways action into the seasonally weak summer period – an even steeper mania phase could commence. If it commences from a low of around $25 and rockets 7.5x higher, as in 1979-1980, then we'd see silver hit $187.50.
Manias – whether in tulip bulbs or technology stocks or houses – are inherently unstable and therefore unpredictable. Silver may not get as high as $187.50; or it may go even higher over the course of a longer timeframe than a one-year super-spike.
After a super spike like that, we would expect silver prices to plateau at levels many multiples of where they are now, because an overall global remonetizaton of gold and silver is clearly underway.
In any event, I don't plan on relinquishing my silver (or gold) for quite some time – and I'm using this latest softness as another buying opportunity. I'll look to sell only when this bull market shows evidence of full exhaustion on the charts and on the ground.
---