Fed May Fire Up Printing Press as Dollar Strengthens
The metals traded quietly on Monday in Asia and Europe, while markets in the U.S. were closed for Memorial Day. This holiday-shortened week gives the gold and silver markets an opportunity to start trending following choppy price action over the past couple weeks. An uptrend with legs would be indicated by a clear break above $29 in silver and $1,600 in gold.
Encouragingly, gold and silver prices rallied on Thursday and Friday into the close. But the rally was not enough to put the precious metals into positive territory for the week.
Gold lost $19/oz (1.2%) to finish at $1,574, and silver gave up $0.20/oz (0.7%) and finished at $28.55. Platinum and palladium underperformed once again, continuing to suffer from lower expectations for manufacturing demand. Platinum lost $24/oz (1.6%) and closed at $1,435. Palladium slipped $11/oz (1.8%) and closed at $596.
Europe Worries Drive Dollar Strength and Metals Weakness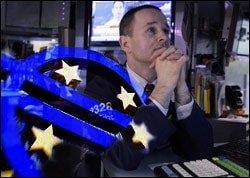 Troubles in Europe continue to drive the price action in precious metals as traders increasingly worry about a financial crisis. They are selling risk assets and fleeing to the U.S. dollar. A rising dollar tends to put downward pressure on gold and silver prices. The big question is: How long will news out of Europe continue driving relative dollar strength?
The dollar index had its first weekly close above 82.5 since 2010. Most metals investors realize that Ben Bernanke and his cohorts at the Federal Reserve want a weaker dollar – even when compared to other paper currencies (which themselves are losing value against tangible assets). This means that rallies in the dollar index increase the odds that the Federal Reserve will loosen the money supply. Our central bankers appear committed to win the world-wide race to devalue currencies, thinking that doing so would be an antidote to America's overwhelming levels of debt.
Chinese Demand for Gold and Silver Up Dramatically
The Chinese released official numbers on gold and silver purchases for 2011 last week, and their appetite for the physical precious metals increased significantly. Gold demand rose a whopping 33% and silver purchases increased by nearly 7% year over year. As previously reported, it appears demand so far in 2012 is also on the rise. Many speculate that aggressive Chinese buying with gold below $1,600/oz and silver below $30/oz is helping to put a floor under prices.
The Chinese government injected some monetary stimulus of its own last week, so we can expect demand for precious metals to continue rising in Asia.
More Bottoming Signals for Gold and Silver
Last week provided more signals that metals prices are bottoming, if the lows for this cycle aren't already in. Share prices in precious metals mining companies, which have suffered horribly in the past year, rallied sharply last week. Price action in the mining shares is often a leading indicator for bullion prices.
Meanwhile, commercial traders on the COMEX are holding the smallest position on the short side of the market since 2006. That means they are betting on higher prices, and these big institutional players are usually right.
Premiums and Buying Trends
Low premiums on silver rounds and bars are helping fuel strong buying by Money Metals Exchange customers. We're seeing even fewer customers than usual selling with prices at current levels.
Premiums on most other bullion products remain low, although we did see a shortage of available 90% junk silver early last week as the spot silver price dipped into the low $27s. Holders of large stashes of 90% silver bags simply didn't want to give them up at bargain basement prices, and this drove the premiums up a bit. However, available supply loosened up as silver prices rose back above $28.
---