Gold & Silver Signal New Upward Trend
This is Contributing Editor Seth Van Brocklin, and I have an important message to deliver to you in this Precious Metals Market Update: The "summer doldrums" for precious metals are over!
Gold, silver, platinum, and palladium all broke above near-term overhead resistance levels last week and surged to multi-month highs. Gold gained $54 (3.3%) for the week to close at $1,671/oz. Silver outshined it, racking up an impressive 9.7% gain (+$2.73/oz) and sits at $30.85 entering the new week.
Platinum and palladium, which got a head start the previous week on the heels of violent labor strife at a major South African mine, added 5.1% and 7.5%, respectively, to close at $1,554 and $657. For platinum it was the second straight week of a $75/oz gain.
For all the talk in the mainstream media of the euro crisis and of "king dollar" being the safe haven from economic turmoil overseas, you'd think the U.S. Dollar Index would be going gangbusters. But year to date, the buck is up a measly 1.8% (after falling 1.2% last week).
For all the volatility and negative sentimentality attached to precious metals in 2012 (beaten-up mining stocks were recently selling as if gold was going back to $500/oz), you'd think gold and silver were mired in bear markets. In fact, gold is up 7.0% for the year. Silver has gained 10.1%.
Silver's Bullish Big-Picture Setup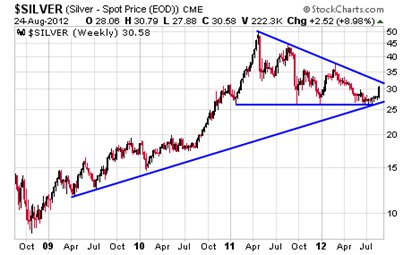 A four-year weekly chart of silver (below) shows that prices are on the verge of breaking out of a massive triangle pattern. Major support and resistance lines are converging. If resistance is broken to the upside, silver will be off to the races. A re-test of the 2011 and 1980 peaks around the $50 level would be the next major price objective. It could be reached by early 2013.
The significance of the $50 level can hardly be overstated. We're talking about a horizontal line of resistance, going all the way back to January 1980, where silver got rejected in April 2011. Prices may again pause at this Mother of All Resistance Lines. But once this multi-decade ceiling is broken, it will act like a springboard!
Fed Chariman Bernanke Reiterates Willingness to Loosen Money Supply Further
In the meantime, we can expect volatility to increase – mostly to the upside, in my estimation – ahead of the election, the upcoming "fiscal cliff," and the loosening of the monetary spigots in Europe and the United States.
Last Thursday, Bill Gross, manager of the world's largest bond fund, said that another round of monetary stimulus from the Federal Reserve is " almost a done deal."
On Friday, a letter by Fed Chairman Ben Bernanke to U.S. House Oversight Chairman Darrell Issa (R-CA) was made public. In the letter, Bernanke stated, "There is scope for further action by the Federal Reserve to ease financial conditions," adding, "additional monetary accommodation requires the use of nontraditional policy tools."
It's a pretty safe bet that a multitude of " nontraditional policy tools" will be thrown at the economy and debt markets in the months and years ahead. The end result will be more inflation and higher precious metals prices.
"Much Bigger Numbers" in the Cards for Gold... and Silver
In a just-released with King World News, billionaire asset manager Eric Sprott had this to say about gold prices:
" I argue that there is 6,500 tons of demand and 4,000 tons of supply (each year), and the extra 2,500 tons is coming out of central banks that are leasing it. Imagine if they just stopped leasing it. Who knows where the price would go? You would get such chaos (disorderly upside trading in gold).
" I can sense it has a lot of upside here. Total chaos can happen when we all realize that on a sovereign basis, the 'Emperor has no clothes.' Who knows how high it's going to go, but we're not talking about just hitting a new high above $1,920. We're looking at much bigger numbers."
And as high as gold prices could go, silver, being the more volatile of the two and being cheap historically relative to gold, could go much higher in percentage terms.
Buying Volume Increases as Many Investors Avoid Getting Left at the Station
The transactional volume at Money Metals Exchange last week was as brisk as a typical week during the first half of 2011, when precious metals were red hot. Customer selling, despite higher prices, remained muted and inconsequential compare to all of the buy orders. Premiums remain fairly constant.
---