Investor Alert: Gold and Silver Crash... What Now?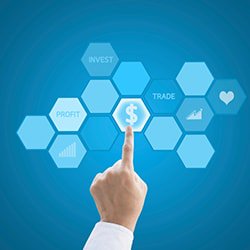 Precious metals enter the week battered by Friday's extremely heavy selling in the futures markets, which extended into overseas trading on Monday morning.
Bears piled on and forced traders leveraged on the long side to throw in the towel. Broken technical support levels open the door to further price weakness in the short term.
The big sell-off in gold and silver on Friday appears to have been driven by a negative feedback loop in the paper markets. Falling prices triggered pre-set stop loss orders resulting in additional selling. There was little in the headlines to explain the big move lower. As is typical in the commodity markets, selling begets more selling and the ultimate result is that the commodity gets vastly oversold.
In this case, however, both gold and silver broke down below major levels of chart support from the past two years. The metals in general and silver in particular are notorious for producing price breakdowns that are severe in magnitude but often brief in duration. A spike bottom could be put in as soon as this week, but we do not expect prices to rise back to levels seen last month for some time.
Silver Premiums Continue Rising and Inventories Get Even Tighter
Premiums for silver American Eagles and pre-1965 90% coins both jumped significantly again last week and appear set to continue rising. We have previously reported the impact that lower spot prices have on the secondary market for 90% coins (a popular form of silver that is no longer minted, of course), along with the huge demand created for alternative products – like the popular Silver Eagles – as a result. All of that increased demand has brought about major backlogs at the mints as they attempt (and fail in the U.S. Mint's case) to keep up.
Meanwhile, investors holding physical bullion are clearly not anxious to sell. They are waiting for higher prices, and last week's waterfall decline did not shake their resolve.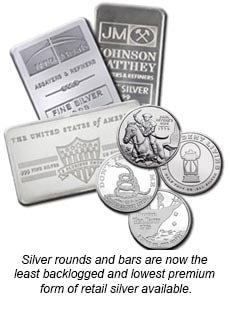 Huge amounts of selling in the futures markets invariably leads to huge buying volume in the retail physical market. Friday's action is an excellent example. Money Metals Exchange customers picked up hundreds of ounces of gold and tens of thousands of ounces in silver. How many customers sold metal? Two – for a grand total of 1 ounce of gold and 400 ounces of silver.
Without much bullion available in the secondary market, pressure continues to rise on the mints and refiners producing new coins, rounds, and silver bars. As mentioned above, U.S. Mint, in particular, is struggling to keep up with demand for Silver Eagles.Money Metals and other dealers are quoting 4-week lead times for delivery. Virtually all other silver products now have delivery delays of 1-2 weeks as well.
The current dynamic is a reminder of what occurred in the bullion markets in 2008. Silver fell to as low as $9/oz, but premiums rose to $4 to $5/oz, and customers often waited months for delivery. We aren't seeing those extremes yet, but the current price action certainly isn't going to help. The retail silver market had already been tight for weeks even before this massive sell-off in the paper market.
Potential Market-Moving News This Week
This week's scheduled reports include housing, CPI, and manufacturing:
Today, April 15th – Empire State Manufacturing Index. The March report was slightly positive, but more recent manufacturing data shows a bit gloomier outlook.
Today, April 15th – Housing Market Index. Expect another positive report on housing, though recent data on mortgage applications show significant cooling from just a month or two ago.
Tuesday, April 16 – Consumer Price Index. Energy and commodity prices have been trending lower, so the CPI report should show price inflation well under control. If you want to find out where the inflation is, take a look at the stock markets.
Wednesday, April 17 – Beige Book. Markets will get a look at one of the key reports Fed officials will be reviewing during the next FOMC meeting in two weeks. Economic macro data has been weaker of late.
---