Gold/Silver Miners Hit Huge Problems: Here's the Concern...
Gold and silver spot prices are finally showing a little strength relative to the equity markets. Some bad economic news last week, including disappointing consumer confidence and weakness in manufacturing, has some investors starting to question the economic recovery. Appetite for "risk assets" is down slightly and precious metals are catching a bid as a safe haven – something bullion investors haven't seen much of lately.
Precious Metals Mining – Currently World's Toughest Business!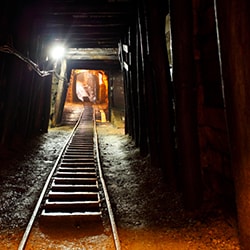 Investors buying physical bullion certainly haven't had much to celebrate over the past two years. But they've retained most of their capital. On the other hand, market conditions have been downright hellish for precious metals miners.
Gold and silver spot market prices currently sit at -- or below -- the cost of production for some major producers. Hecla Mining had an average cost per ounce of silver at $24.62 in 2012, and Couer d'Alene Mines' cost to produce an ounce was $27.72. Agnico Eagle reported an average cost of nearly $1,350 per gold ounce. These costs are somewhat typical for the industry as a whole.
Add in difficulty raising capital, the scarcity of new high-grade deposits, and extreme geopolitical challenges with developing deposits that are found, and you have got a project-killing combination. The carnage could accelerate should spot prices for gold and silver languish at current levels.
Kinross Gold Corporation made news last week when it walked away from a key project in Ecuador. Kinross paid $1.2 billion to acquire the company that owned the rights to Fruta Del Norte in 2008 and gambled disastrously on reaching a deal with the Ecuadorian government to put it into production. Officials there demanded a 70% "windfall profits" tax and wouldn't budge. After years of negotiating, Kinross executives threw in the towel. The ore deposit, widely considered to be one of the richest in the world with 7 million ounces of gold, will have to lie right where it is for now.
Barrick Gold's Pascua Lama project in Chile is on the ropes. The Chilean government ordered Barrick to halt mine construction again on May 24th and there are serious questions whether the company will be able to meet the environmental standards required. The deposit at Pascua Lama is estimated at 17 million ounces of gold and 635 million ounces of silver, but there may be no practical way to prevent the dust and waste water generated by the open pit mine from contaminating nearby glaciers and streams.
Mining industry production woes coupled with recent massive selling in the gold and silver futures markets is creating an explosive dynamic. Lower spot prices have stimulated massive demand for physical bullion. And the paper price of metals is devastating the miners who will be called on to meet it. That makes spot prices unlikely to remain at or below the cost of production for long.
Potential Market-Moving News This Week
Tuesday, June 18th – Consumer Price Index. Price inflation, though substantially underreported, is currently tame. Lower commodity prices and a stronger dollar have put a temporary lid on the CPI.
Wednesday, June 19th – FOMC Meeting. These days absolutely nothing has a larger impact on the gold and silver markets than speculation over Fed policy. On Wednesday we'll find out if Fed Chairman Ben Bernanke continues to hint at "tapering," or whether recent weakness in the global stock markets will have him reconsidering.
Thursday, June 20th – Philadelphia Fed Survey. Recent reports on economic activity have been a little grim. Thursday's report is likely to contain some more bad news.
---