JPMorgan Nearly Cleaned Out as Gold Travels East!
Gold prices enter the new week at their highest levels in a month, breaking above $1,300 in overseas trading before the U.S. markets opened this morning. Silver is also showing some strength, shooting up above the key $20/oz level.
Federal Reserve Chairman Ben Bernanke was out front last week – once again back-pedaling on his earlier statements where he had hinted at reducing stimulus.
Bernanke's reversal has lent strength to the metals, as more market participants wise up to the notion that the Fed is unlikely to withdraw its inflationary stimulus for years, if ever!
Of course, there are many traders out there who have shorted gold and silver on the thinking that the Fed might actually start "tapering" its stimulus measures later this year. They will certainly be watching this week's release of data on jobs, housing, and durable goods. Bad news in jobs and housing is likely to be good news for precious metals spot prices, and vice versa.
What a sad situation for the free market – that the actions of governments and central banks play such a dominant role in the movements of asset prices!
There are developments in the bullion markets, however, that may soon exert their own significant influence on paper market prices...
In recent months, the physical markets for gold and silver have had no apparent impact on the futures price. The lower spot prices have generated unprecedented demand for bullion from small investors all the way up to central banks. This divergence between physical demand and weakness in the paper markets has reached an extreme, and it won't persist much longer.
Gold Inventories at JPMorgan Chase Fall to Extreme Lows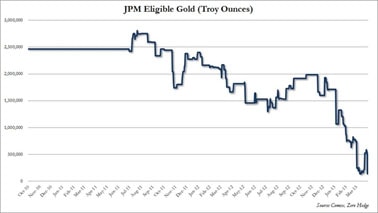 Last week, JPMorgan Chase reported inventories of physical gold categorized as "eligible" for delivery on futures contracts at 46,000 ounces. On Friday alone, the bank revealed withdrawals of just over 90,000 ounces. If you add in "registered" gold inventories (metal that can theoretically be re-classed by owners as eligible for delivery), the total inventory on hand in JPMorgan's New York vault is 436,000 ounces.
Does 436,000 ounces sound like a lot? It isn't. In fact, that's an all-time low. For some historical perspective, JPMorgan reported almost 3 million ounces on hand two years ago.
Here's why this is important: Futures traders betting on lower prices must ultimately stand ready to deliver bars to the long investor on the other side of their trade. As demonstrated by the inventory declines mentioned above, a lot more of these longs are requesting delivery. Another big round of withdrawals could leave the shorts scrambling for physical bullion and bidding up prices.
So Where Is the Physical Gold Going?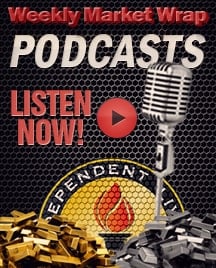 Seasoned metals investors won't be surprised to find that much of the demand for physical bullion is coming from Asia and India. These markets have historically been the largest for bullion. However, investors may be shocked to learn the degree to which demand in those regions now outstrips the supply produced there.
This level of demand from the East cannot continue without pushing up gold and silver prices.
Potential Market-Moving News This Week
Monday, July 22nd – Existing Home Sales. Investors may see higher mortgage rates weighing on June housing sales. Again, bad news in housing may be good news for the precious metals as traders weigh the likelihood of ongoing Fed stimulus.
Thursday, July 25th – Durable Goods. Orders for durables were healthier in May, though the data was skewed by orders for items like commercial aircraft, boats and ships. The June report may be weaker.
Wednesday, July 25th – Jobless Claims. Consensus is for new claims of around 341,000 – similar to recent reports. Despite political posturing about economic recovery, the rate of employment persists at generational lows.
---