Gold and silver spot prices opened modestly higher this morning after the metals attracted some buying interest late last week. Precious metals prices firmed up on Thursday, with silver regaining the $19/oz level, following the European Central Bank (ECB) announcement of negative interest rates.
Meanwhile, palladium tacked on another $6 and appears poised to test its 2011 high of $857/oz, perhaps this week. Last Friday's close puts palladium prices only $11 away.
Central banks, it seems, will stop at nothing to try to stimulate more lending and inflate asset prices. The ECB will now punish European banks that hold cash reserves with a -0.1% rate of interest – what is effectively a fee on deposits.
The U.S. Federal Reserve may adopt a similar strategy at some point, but for now, the salient fact about the Federal Funds Rate is that it is negative in real terms. Short-term interest rates are lagging behind real-world inflation, which has been picking up slightly this year due to rising food, healthcare, and other costs. Until real interest rates turn positive, precious metals remain an attractive alternative to cash.
---
Another State Declares Gold and Silver Coins Legal Tender
The U.S. Constitution (Article I, Section 10) provides for individual states to recognize gold and silver coins as payment for all debts. Last Wednesday, Oklahoma joined Louisiana, Texas, and Utah in exercising their Constitutional right to grant U.S.-minted gold and silver coins legal tender status.
Bartering with silver or gold bullion coins is legal in all states. However, states with legal tender recognition make it much easier for citizens to receive payments or pay bills in gold or silver. Legal tender status means no state or local sales or income taxes apply to transactions involving gold and silver American Eagles (and certain other U.S. coins).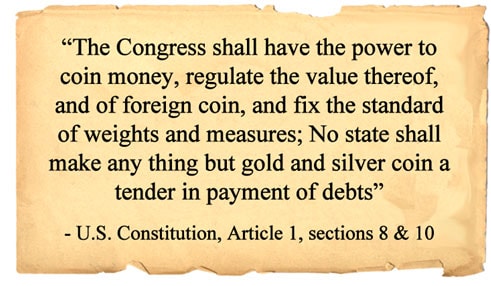 At the federal level, capital gains taxes would still apply to coins whose value has appreciated in dollar terms.
What's needed to allow gold and silver to compete on a level playing field with the U.S. fiat dollar is what Oklahoma has done at the federal level. Until then, we as individuals can help undermine the dollar's undeserved and highly abused monopoly status by pressuring our state legislatures to declare gold and silver legal tender.
More directly, we can take advantage of opportunities to use precious metals as money in barter transactions. It is perfectly legal to do so regardless of where you live or what type of bullion product you use.
---
Silver Market Shows Signs of Seller Exhaustion
Positioning in the silver futures markets has reached an extreme. The past few weeks have seen a surge in speculative short positions to near-record levels. Despite the lopsided preponderance of sell orders, silver prices have declined only modestly and haven't decisively broken major support.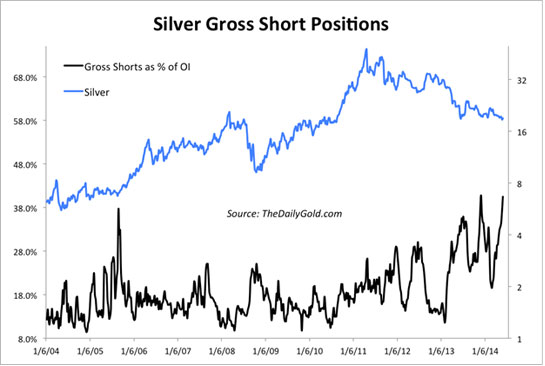 Whenever the reading of gross silver shorts as a percentage of open interest hits overextended levels, silver prices tend to find a bottom. Sometimes prices go on to rally strongly; sometimes they just stop going down. This is the third spike in short positions over the past year, corresponding with what could now be a massive triple bottom – assuming the recent lows continue to hold.

About the Author:
Stefan Gleason is CEO of Money Metals Exchange, the company recently named "Best Overall Online Precious Metals Dealer" by Investopedia. A graduate of the University of Florida, Gleason is a seasoned business leader, investor, political strategist, and grassroots activist. Gleason has frequently appeared on national television networks such as CNN, FoxNews, and CNBC and in hundreds of publications such as the Wall Street Journal, TheStreet, and Seeking Alpha.