The Ins and Outs of Buying Silver Bars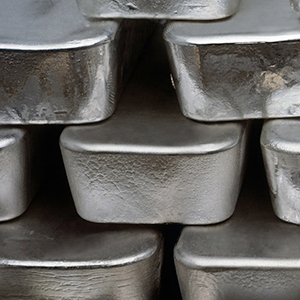 Silver ore isn't pretty to look at. It is the purification and molding into a finished form that makes the metal beautiful. This processing step represents significant cost, and it drives much of the premiums bullion investors pay. And it is why buying silver bars is the best bet for investors simply looking for the most silver for their money.
A silver bar costs less for mints to produce than smaller fabricated rounds and coins. That means they have a lower price and are more popular for investors who want to stack them.
They also shine when it comes to storage. Because they can easily be stacked on top of one another, the space requirement is reduced, especially compared to a product such as bags of 90% junk silver dimes and quarters, which do not stack efficiently.
Because their premiums tend to be lower than you'll find on coins, rounds, and other bullion, such as gold, platinum, and palladium, a silver bar is likely to bring in a bit less than 1 oz and smaller silver coins, like American Silver Eagles, when it is time for investors to resell them. They also won't be as versatile as smaller denomination products should holders need them for barter and trade. We do not recommend investors aquire them exclusively – and ideally not at all until you've built at least some stash of the more "barter-able" and smaller forms of the metal.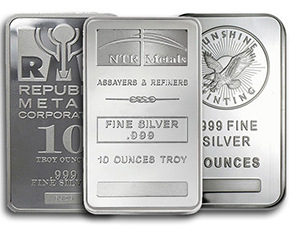 Silver Bar Sizes
Ranging in size from 1 oz all the way up to 1,000 ounces, Money Metals Exchange features silver from the most prominent mints in North America.
We recommend investors purchasing silver bullion choose from among the sizes below and avoid "off-weight" sizes. They are likely to be discounted or harder to sell later on.
1 Ounce Silver Bars
We carry Johnson Matthey's silver. Percival Norton Johnson launched his London gold assay business in 1817. After roughly 200 years, his firm is ensconced as one of the most familiar names in precious metals. "JM" is known for their reputation for quality and trust.
5 Ounce Silver Bars
The storied Sunshine Mint in Idaho's Silver Valley produces the 5 oz silver bullion bar in our lineup. They are beautifully crafted and designed to fill a gap in the bar roster; they have a lower premium than the 1 oz size while still being smaller than the 10 oz alternative.
10 Ounce Silver Bars
The premium savings offered compared to other types of silver begin with the 10 oz silver size. Investors can expect to save $.05 - $.10 per oz versus rounds, and significantly more versus government issue bullion coins such as the American Eagle or Maple Leaf. We carry silver bullion from the most prominent and best regarded mints in the US including Republic Metals Corporation (RMC), Ohio Precious Metals (OPM), NTR Metals and Sunshine Mint.
100 Ounce Silver Bars
The 100 oz silver bar offers the absolute lowest silver premiums in our product lineup. They are the best way to buy silver as close as possible to the spot market price, while preserving portability and ease of resale or liquidity. We offer fine silver bullion from Johnson Matthey, the the Royal Canadian Mint, RMC, and OPM. Every bar is marked with the manufacturer along with its weight and purity and always fully guaranteed.
What to Look for When Buying Silver Bars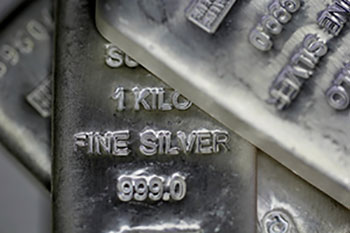 Fully marked with a recognized manufacturer, weight, and purity will always be easiest to resell and will bring the best price for your silver.
Avoid off-weight sizes. Many older silver bars were poured, weighed and then marked with whatever the scale read. Dealers can't purchase them and easily resell them, so they will generally be sent for melt stock and discounted accordingly.
Serial numbers on a silver bar won't add much value when you are ready to sell, so we don't recommend paying extra premium to acquire them serialized. It just isn't going to matter much to dealers when it is time to resell so the extra premium (due to the extra step in the manufacturing process) may be wasted. As long as the bar is in good marketable condition, it carries a stamp with its weight and purity, and it is made by a recognized producer, little else matters.
Modern bullion up to 10 ounces in size are sealed in plastic by the manufacturer. It is best not to remove the plastic as it will prevent tarnish and improve marketability later on.
A larger bar should offer you savings. Absent savings, we always recommend purchasing a smaller sized product. Not only will this help save you money on shipping when buying online, but the option to trade in small units is always nice to have.
The Best Silver Bars to Buy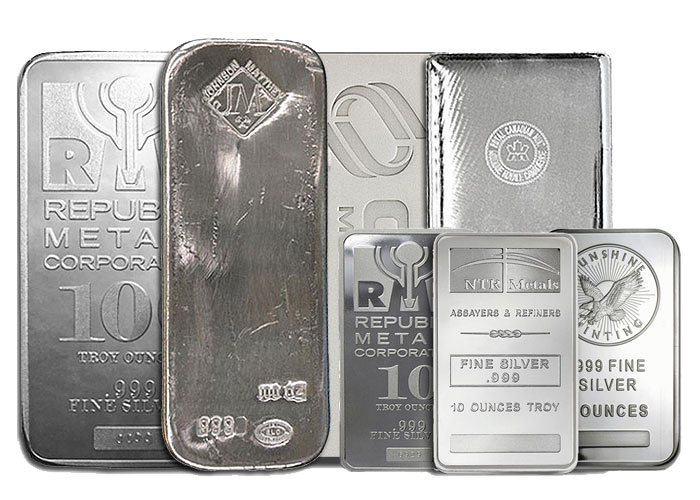 The 10 oz and 100 oz silver bar sizes are the best option for investors looking for .999 pure silver, as those sizes provide the best re-marketability and least hassle.
While we do believe it's important to start off by owning a stash of smaller-form silver (i.e. 1 oz coins and/or 90% junk silver) before opting for an alternative, the 10 oz size silver bar is a good next step and usually will come with a modest premium savings compared even to the affordable 1 oz round.
There are 10 oz sizes for sale from a handful of manufacturers. They will come sealed in plastic, either individually packaged or in sheets of five or ten which can be separated as needed. There is not much advantage in paying a higher premium for a bar produced by any specific "brand name" producer. Investors will be best served by buying the lowest premium bar, provided they were made by any major mint.
When it comes to the 100 oz size, the "mint mark" carries a little more importance. Those purchasing a 100 oz silver bar will likely save 20 to 40 cents (or more) versus the 1 oz size.
In terms of a 1 oz sized bar there is often little, if any savings versus 1 oz rounds, simply because mints produce far more 1 oz products in the round form than the bar form due to the round being the preferred form for silver stackers seeking a privately minted 1 oz product.
Tips for Buying Silver Bars
Many dealers will slightly discount a bar that is not produced by IRA approved manufacturers since many 100 oz sizes are sold to self-directed IRA account holders. An IRA approved bar is one that is either made by one of the "big three" – Johnson Matthey, Engelhard, or Royal Canadian Mint – or an LBMA and/or ISO 9001 certified manufacturer, such as RMC or OPM.
Most investors should steer clear of buying a 1,000 oz exchange sized bar. For one, they are incredibly cumbersome to handle. They are expensive and difficult to ship. And selling this size requires dealers automatically to issue an IRS Form 1099B on the seller (unless the seller exchanges it into another form of silver instead of taking cash).
Perhaps most importantly, sellers of these 70+ pound sizes will typically find dealers significantly discounting the buy-back price. Many small dealers avoid them altogether as they will not be able to readily resell them of that size. And larger dealers with quality control programs will procure these large sizes but send any that are outside the custody of a COMEX storage facility to be melted and assayed. The purchase price will be discounted accordingly.
Many of the large sizes we acquire are from investors who are unhappy with holding them. They want to swap them for smaller, more convenient and more liquid forms of silver.
Buy your silver bars with confidence from Money Metals Exchange. We specialize in the most cost-effective, most liquid bars produced by some of the largest and well regarded mints and refiners in the US. You can lock pricing and purchase online anytime. If you need any assistance or have further questions about purchasing silver bars, please contact us at 800-800-1865 for a free expert consultation.
Other Types of Precious Metals
There is a series of bars made of other precious metals, also for sale at low prices (especially when compared to coins). Palladium and platinum bars are made by Valcambi, Pamp Suisse, and Credit Suisse. Gold bars are manufactured by Sunshine Mint, Republic Metals, Valcambi, Perth Mint, and many other major outlets. The availability of all these is by the gram, by the ounce, and sometimes a whole kilo. You can even purchase them made of copper (though copper is not considered a precious metal).
Order your silver bars with confidence from Money Metals Exchange. We specialize in the most cost-effective, most liquid silver produced by some of the largest and well regarded mints in the US. You can lock pricing and purchase online anytime. They tend to be readily available even during periods of high demand, so your shipment should arrive within two or three days from when we receive cleared funds. We accept multiple types of payment, inlcuding check or money order, credit or debit card, wire payment and even bitcoin. If you need any assistance or have further questions, please contact us at 800-800-1865 for a free expert consultation.
---
We designed the presentation below for more details on investing in silver:
---