A CUSTOMER ASKS:
I've heard a buying frenzy over the past month has caused shortages and shipping delays in both gold and silver. True?
It is true that gold sales have risen sharply, just like silver, in the past month. However, we have seen no signs of tightness in the retail gold market with the minor exception of newly minted one-ounce gold bars.
That could change, but right now there are no problems sourcing ample gold inventory to meet rising investor demand.
As our frequent podcast guest, Steve St. Angelo, pointed out on his fabulous SRSRoccoReport.com website, sales of Gold Eagles by the U.S. Mint have gone through the roof in early July as compared to all prior months this year.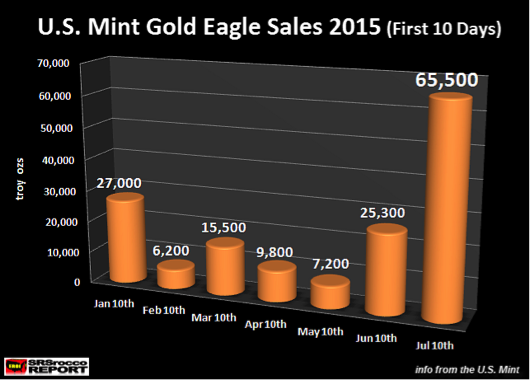 We've sold a lot of Gold Eagles this month for sure. Money Metals Exchange is responsible for almost 10% of the total U.S. Mint sales of one-ounce Gold Eagles so far in July!
But there has been no increase in Gold Eagle coin premiums or delivery delays in the market as of yet. The U.S. Mint appears to have kept up with the Gold Eagle demand spike throughout June and early July.
This is contrary to what we have seen in Silver Eagles where the U.S. Mint stopped taking new orders so it can catch up with backorders. All silver coin premiums have risen significantly in the past two weeks. Premiums on rounds have risen modestly, but silver bar premiums have not risen at all yet.
The Mint had plenty of Gold Eagles left on the shelf from production during a long period of much lower sales volume – February through May. The U.S. Mint was sitting on tens of thousands of unsold 2014 Gold Eagles after the New Year rolled around. They forced wholesalers to buy those leftover 2014s on a one-for-one basis when buying 2015 Gold Eagles. The new 2014s were liquidated by mid-June 2015.

About the Author:
Stefan Gleason is President of Money Metals Exchange, the company recently named "Best Overall Online Precious Metals Dealer" by Investopedia. A graduate of the University of Florida, Gleason is a seasoned business leader, investor, political strategist, and grassroots activist. Gleason has frequently appeared on national television networks such as CNN, FoxNews, and CNBC and in hundreds of publications such as the Wall Street Journal, TheStreet, and Seeking Alpha.