Even though the recent price action in precious metals markets looks ugly, there may be light at the end of the tunnel. Frank Holmes of U.S. Global Investors noted in our latest podcast that the global Purchasing Manager's Index (PMI) is turning up, indicating that demand for raw materials is also about to turn up.
"The PMI is a great tool to try to measure the temperature going forward and it's highly correlated to the commodity demand," Holmes said.
"China turned positive, America's positive, Europe is positive, and when you get global PMI turning positive, the math suggests that in the next three months or six months, you'll see a rise in commodity prices, in particular for copper and gold and oil."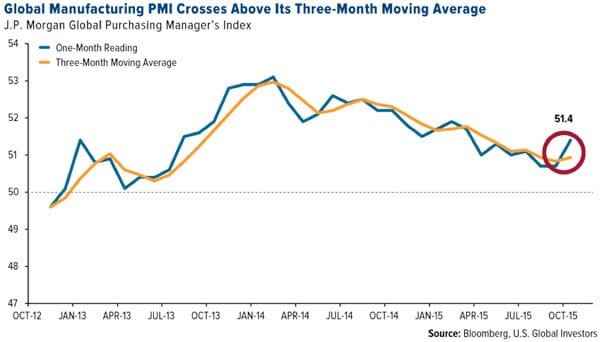 Is a Precious Metals IRA Right For You?
Stockbrokers and investment advisors typically won't mention it (for reasons described by Money Metals columnist Guy Christopher), but it is simple to own something other than the run-of-the-mill paper assets in your retirement account. Word is getting out. Each year more people take the exit and open a self-directed IRA where they can hold tangible assets – most often physical precious metals and real estate.
As these self-directed IRA accounts gain in popularity, the firms providing them are improving the speed and convenience of customers making the switch. It is now possible to establish an account with firms such as Goldstar or New Direction IRA completely online – no need to even print or mail the forms.
Here is how a precious metals IRA works:
Pick a custodian and transfer funds – tax-free. There are a growing number of providers. We recommend using one of the well-established firms that can offer good customer support and nice tools (such as online enrollment). You'll provide instructions for transferring funds from wherever your retirement account is currently held.
Lock pricing on the bullion products you want to hold, then complete a short one-page form with the transaction details.
Choose where to store your metals. IRS rules require the assets in your self-directed IRA be held by a third party. The dealer (Money Metals Exchange) will ship your metal directly to the depository you choose.
The fees for most accounts will be around $200 per year – including the cost of storage. Larger accounts (in excess of $100,000) or accounts with many transactions may cost a bit more. That makes these accounts affordable for just about anyone.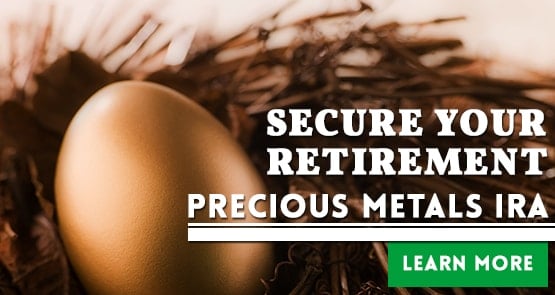 Holding gold, silver, platinum, or palladium bullion in an IRA is a great option for lots of investors who are worried about a significant portion of their wealth being invested in paper, be it stocks, bonds, or cash. However, they will not make sense to everyone.
A precious metals IRA may not be right for you if privacy, portability, and control of your metals are your top priorities. The value of your IRA accounts will be reported to the IRS annually and the metals will reside in a third-party vault. For these reasons and others, it is always a good idea to hold at least a portion of the metals you own directly.
But for anyone with IRAs heavily invested in financial assets, right now looks like a great time to switch at least some of those funds into hard assets. Paper assets currently sit very near multi-year highs. Stocks, bonds, and even the beleaguered dollar have all seen big gains in recent years. Only the most ardent bulls expect that run to continue indefinitely – especially with global economic signals warning of recession.
Meanwhile, gold and silver prices sit near their multi-year lows. Could the gap between paper assets and tangible bullion continue to widen over the coming year? Yes. Would we bet on it? Not likely.
If you have questions about a Precious Metals IRA, we would love to hear from you. Call 1-800-800-1865 or visit the IRA page on our website.

About the Author:
Clint Siegner is a Director at Money Metals Exchange, a precious metals dealer recently named "Best in the USA" by an independent global ratings group. A graduate of Linfield College in Oregon, Siegner puts his experience in business management along with his passion for personal liberty, limited government, and honest money into the development of Money Metals' brand and reach. This includes writing extensively on the bullion markets and their intersection with policy and world affairs.