Investors have been well-trained in complacency. They have spent the past few years watching markets shrug off momentous geopolitical events – each more quickly than the last. Brexit's impact faded within days. Trump's election faded within hours.
Stocks traded at all-time highs this summer and volatility made all-time lows. That is the setup as we head into the fall...
Almost nobody seems nervous. In this age of central planning and highly artificial markets, it is hard to tell when this period of strange market serenity will end. But vigilant investors should have a few ideas. The next few months are going to challenge the status quo.
President Trump Is Under Siege
It has been clear from the beginning of his term that President Donald Trump has very few supporters in Washington DC. Democrats and progressives naturally oppose him. Deep staters have been working hard to undermine the administration. And you don't need enemies when you have "friends" like John McCain, Mitch McConnell, and Paul Ryan in the Republican-led Congress.
Turmoil in Trump's administration escalated last week. The president disbanded two separate business councils following the defection of high-profile CEOs who disagreed with Trump's response to events in Charlottesville, Virginia.
On Friday, Americans learned Steve Bannon, Trump's Chief Strategist, was kicked out of the White House. That will cost Trump some support from his core constituency, who favored Bannon.
The president is already taking flack from supporters such as Ann Coulter. Bannon's ouster leaves the President with an inner circle that is completely dominated by Wall Street insiders (with a history of supporting Democrats – such as Gary Cohn, Steve Mnuchin, and Dina Powell) and Pentagon brass.
Should a good portion of Trump's voters stop backing the president, he'll be in real trouble. And markets will start pricing that in.
Conflict with North Korea Possible, Even Likely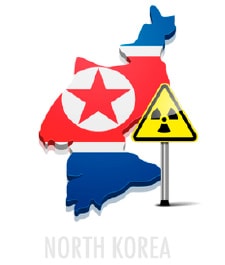 North Korean dictator Kim Jong-un ramped up the rhetoric again late last week in response to planned military drills conducted by South Korea and the U.S. Should the North Koreans test-fire another missile, the U.S. may well respond with force.
The generals advising the President appear to be succeeding in the effort to persuade him to get more aggressive. Steve Bannon's departure signals that Trump has heard enough counsel for a less interventionist foreign policy.
The former Chief Strategist was one of the few voices for restraint in the White House.
Bannon's views about North Korea in particular seem to be part of what put him at odds with the president. In an interview with the American Prospect, released just days before his ouster, Bannon said,
There's no military solution here- they got us. Until somebody solves the part of the equation that shows me that 10 million people in Seoul don't die in the first 30 minutes from conventional weapons, I don't know what you're talking about.
In recent days, fears over a confrontation with North Korea have seeped into the markets. If actual warfare breaks out, investors can expect a much bigger reaction.
Republican Leaders Angle for Debt Ceiling Increase
The Republican leadership in Washington DC wants to increase the borrowing limit, quietly and without fanfare. However, they may not be able to betray rank-and-file Republican voters and get away with it this time.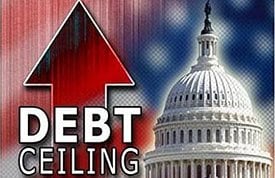 Conservatives in Congress look ready to revolt, leaving leadership in the awkward position of having to seek compromise with Democrats.
The problem is that Democrats are looking for any chance to thwart Trump and Republicans.
It's unlikely we'll see a fight over the debt ceiling that is big enough, and protracted enough, to have significant implications for markets. Past battles over the debt ceiling have been for show. In the end, Congress has never missed an opportunity to hike the borrowing limit – big government Republicans and big government Democrats always find common ground.
However, the polarization in Washington DC is unprecedented. It might even lead to a genuine stalemate this time around.
Wildcard: Russia Hacking Story May Implode on Democrats & Fake News Media
Democratic leadership and their friends in the media bet the farm on convincing Americans that Trump colluded with Vladamir Putin to subvert last Fall's presidential election. They have been telling the world that Putin stole damaging, confidential party emails and coordinated with the Trump campaign to release them at the most opportune time – just before the people voted in November.
Wikileaks founder Julian Assange says he can demonstrate unequivocally that the Russians are not the source of the leaked information. Last week, Republican Congressman Dana Rohrabacher met with Assange to discuss the matter and agreed to share the details with President Trump.
Investors should get ready for some significant developments to be announced soon.
It will be bad news for the Democrat Party and its legacy media allies if their Russia narrative falls apart. Particularly if it turns out whistleblowers from inside the Democratic National Committee were the source of the embarrassing leaks. Party leaders do not want Americans to turn their focus to scandals such as the DNC's effort to undermine Bernie Sanders or CNN feeding debate questions to Hillary Clinton.
If, as some on the right have speculated, the murder of Seth Rich is related to the leaks it could turn the political left upside down. That would shake Wall Street as well as Washington DC.

About the Author:
Clint Siegner is a Director at Money Metals Exchange, a precious metals dealer recently named "Best in the USA" by an independent global ratings group. A graduate of Linfield College in Oregon, Siegner puts his experience in business management along with his passion for personal liberty, limited government, and honest money into the development of Money Metals' brand and reach. This includes writing extensively on the bullion markets and their intersection with policy and world affairs.