The rise of cryptocurrencies, Bitcoin, in particular, is making waves in the precious metals markets. People see it as another form of honest money and there is plenty of excitement over the huge price gains. Some are wondering what the rise of Bitcoin might mean for precious metals over the longer term.
Will Bitcoin somehow supplant gold as the premier store of value? There are some hardcore cryptocurrency enthusiasts who think it will. But that's an extraordinary notion given that Bitcoin has existed for less than a decade and operates in the realm of technology where the best product today can, and often is, be replaced by a better "mousetrap" next year.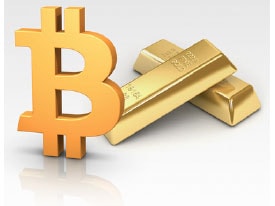 Our take is that Bitcoin offers some hope as one of several honest money alternatives to fiat money. We appreciate Bitcoin as an innovation that helps circumvent the central planners at the Fed and in Washington.
The decentralized nature of Bitcoin means officials have no one, in particular, they can target in an attempt to stop, regulate, or control. Strong encryption, private keys, offline storage, and other security innovations are major impediments.
Controlling cryptocurrencies is akin to controlling the internet itself, practically impossible. (Unless someone flips an internet kill switch, that is.)
Bitcoin promises to be an excellent medium of exchange. Developers working in the space are making progress on solutions that will enable hundreds of thousands of transactions per second – a scale that will be needed to compete with established systems for paying with fiat currencies such as the dollar. If those efforts are successful and transaction fees can be kept low, new merchants will continue to add Bitcoin as a payment option.
Gold and silver are far less speculative. Physical bullion is a proven store of value with a track record extending back thousands of years. Coins, rounds, and bars are totally "off the grid." Physical metals work with or without electricity or an internet connection and they can be used without leaving digital tracks behind.
Bitcoin offers great potential, but it should not be viewed as a substitute for holding gold and silver. Investors should consider holding both bullion and Bitcoin. We are happy to help. For more information on this subject, visit this primer.
Trade Your Bitcoin for Metals OR Your Metals For Bitcoin
People who are inclined to take some cryptocurrency profits off of the table and add to a metals holding can use Bitcoin to buy physical gold and silver at Money Metals Exchange. Simply order at MoneyMetals.com and choose Bitcoin as the payment method. The process couldn't be easier.

Alternatively, we can also assist investors who have physical bullion they would like to exchange for Bitcoin or one of the other major "altcoins" such as Ether or Dash. To swap your metals for cryptocurrency, just give one of our Specialists a call at 1-800-800-1865.
We will lock a selling price for your metals priced in U.S. dollars. You ship your metals to our vault in Idaho. When we receive your shipment, instead of sending your payment in dollars we will convert that payment to cryptocurrency and send you Bitcoin or another coin of your choice. The fee involved in sending your payment in cryptocurrency is just 3%.
Investors may also choose to buy and store precious metals in our new state-of-the-art depository. Storing with us makes it easy for investors to trade in and out of cryptocurrency for metals quickly and hassle-free. It also eliminates the delays and expenses associated with shipping.
We may look back on these years as a turning point for the cause of honest money. Confidence is failing in fiat currencies and demand is rising for the alternatives, whether it be bullion or Bitcoin. At Money Metals Exchange, meeting that demand is our business.

About the Author:
Clint Siegner is a Director at Money Metals Exchange, a precious metals dealer recently named "Best in the USA" by an independent global ratings group. A graduate of Linfield College in Oregon, Siegner puts his experience in business management along with his passion for personal liberty, limited government, and honest money into the development of Money Metals' brand and reach. This includes writing extensively on the bullion markets and their intersection with policy and world affairs.