Unfortunately for crypto investors "HODLING" onto Ripple, their huge gains have been wiped out in just the past few weeks. While Ripple's price surged to massive percentage gains in a short period, it came down just as fast. Unbelievably, Ripple's price surged from less than a penny in March 2017 to a peak of $2.81 on Jan 1st, 2018.
Ripple's stunning price increase would have made investors during Holland's 17th Century Tulip Bubble, quite envious. Ripple's price increased a staggering 46,700% in a mere nine months: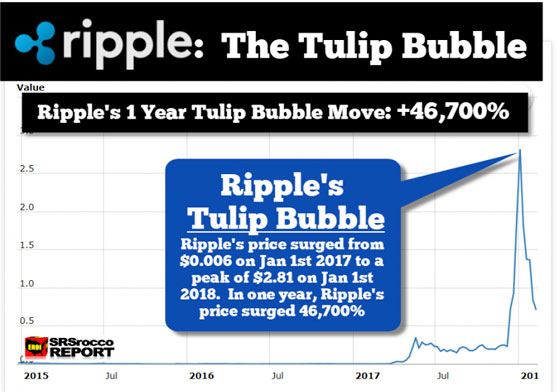 Ripple was trading at $0.006 at the beginning of March 2017 and then shot up to a peak of $2.81 on Jan 1st. An investor who placed a $100 bet on Ripple at that time, would have earned $47,000 if they were able to cash out at the top. Not bad. However, I doubt most individuals cashed out near the top… maybe a few.
Unfortunately, there is this idea put forth by many Crypto Aficionados that holding, or "HODLING" onto Bitcoin and the Cryptos for a long period is the way to go. I have even seen some of these crypto aficionados record videos of themselves, wearing hats that say, "HODL," telling their followers to hold onto their cryptos for much more significant gains in the future.
One of the more highly touted crypto aficionados in the alternative media is claiming that the new target price for Bitcoin is $13,888. While anything is possible in the future, as Bitcoin's price continues to head lower, down to its next stop at $6,500, the $13,888 Bitcoin price target by the end of February seems less and less likely.
Okay… now that I said that I want to make something perfectly clear. I had a much different opinion of Bitcoin and the Crypto markets last year. It wasn't until I began to witness the tremendous amount of fraud, corruption, and leverage in the crypto market did I change my mind. Regardless, I believe the SELLOFF in the Crypto Market will continue until the Bubble has popped for good.
Today, Ripple's price was down another 20% at the lows: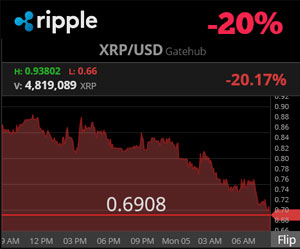 While it may be unpleasant for crypto investors to read my negative opinion about the market, I have to provide the information as I see it. Even though there is a chance Bitcoin and the Crypto prices will move higher and see some nice percentage gains for a while, if I were holding onto Bitcoin, I would certainly CONSIDER cashing out on price gains, rather than waiting for Bitcoin to reach $100,000. Please understand, I am not giving out any investment advice, just sharing what I would do.
Currently, Ripple is trading at $.70, down 75% from its high of $2.81. While investors who purchased Ripple for a few pennies are still sitting on nice gains… they are still SITTING on gains. You don't enjoy profits until you cash out.
I will end this brief post by stating the following: When the CryptoMarket finally capitulates, the alternative media community can finally get back to focusing on GOLD & SILVER… the true stores of wealth.

About the Author:
Independent researcher Steve St. Angelo started to invest in precious metals in 2002. In 2008, he began researching areas of the gold and silver market that the majority of the precious metal analyst community has left unexplored. These areas include how energy and the falling EROI – Energy Returned On Invested – stand to impact the mining industry, precious metals, paper assets, and the overall economy.