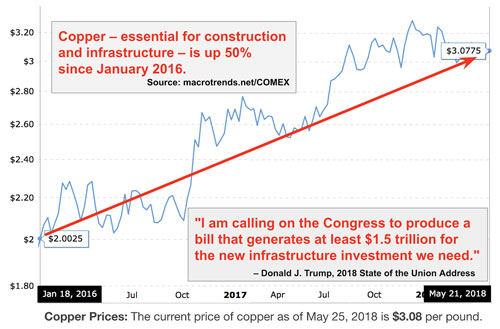 The Metal for the Era of Trump – You Can't Build Infrastructure Without Copper!
You Can Still Buy Copper at Near Absolute Melt Value – Almost ZERO Over Spot
PLUS Gleaming 1 oz. Copper Rounds – Any Design, a Buck Apiece
(MoneyMetals.com) Did you know that copper is up 50 percent since January 2016?
Copper is essential in the modern economy. Electronics, automobiles, and utilities among other things can't function without it. Optimism surrounding the President's $1 trillion dollar infrastructure spending proposal and his efforts to support U.S. manufacturing is driving copper prices higher.
Donald Trump's pro-business plans are very bullish for copper. This rally may just be getting started and savvy investors are taking notice.
The spot price of copper is up 50% since January 2016.
The copper contained $1,000 face value of pre-1983 U.S. Lincoln pennies is now worth about $2,200.
Yet you can still buy these appreciating 95% pure copper U.S. legal tender coins at – or very near – absolute melt value.
Precious metals investors – and dealers – tend to overlook copper. We think that's a mistake; Money Metals is stocking up on copper pennies and rounds to meet the demands of our savvy customers.
Copper in the form of 95% pure pre-1983 pennies is one of the few legal tender metals where the price you pay is nearly identical to the spot market price...
34 pounds of pre-1983 pennies: today's price from Money Metals, $101.66
Melt value: 34 pounds x .95 purity x $3.06 per pound spot price = $98.84
Percent over melt: 2.85% … virtually untouchable for legal tender metal!
It's been 35 years since the federal government dealt the third and final blow to precious metals content in US coinage – an essential part of its long-term strategy to devalue the nation's currency –
A stash of 95 percent copper pennies can come in handy in the event you need metals to barter and trade. Copper fills an important gap, being suitable for smaller transactions where gold and even silver may not be practical options.
Copper is the only metal that's the cheapest in coin form. The minting costs of pennies were paid off decades ago; unlike with gold and silver, there's no premium to get official, trusted, and legal tender coins. The coins are available at a huge discount relative to other forms of copper bullion!
Money Metals has pre-1983 95% copper pennies sold by weight in 34-pound bags (approx 4,925 pennies per bag). Stock up on these legal tender coins while we still have them at less than two percent above melt value. Order securely at MoneyMetals.com
ALSO: Gleaming 1 oz. Copper Rounds – Any Design, Under a Buck Apiece
Money Metals offers gleaming 1 oz. copper round from U.S. mints in five simply beautiful designs.
Copper rounds are not always bought for investment purposes. That's not to say that investment isn't also a possibility, but the cost of fabricating a 1 oz round relative to the metal value makes them expensive compared to copper pennies.
That said, Money Metals pays a large premium to buy them back. And it is hard to beat shiny brand new copper rounds when it comes to beauty and appeal.
Copper rounds are often more popular with collectors. They enjoy getting rounds stamped with a variety of designs – each carrying special historic meaning and significance. You can find anything from Native American portraits, Lady Liberty, and other designs taken from popular coins.
Our price is the same no matter which of the five stunning designs you choose – just 95 cents each when you purchase 1,000 1 oz. rounds (slightly higher for smaller quantities). Copper rounds are sold in sealed mint tubes of 20. Order securely at MoneyMetals.com