Trump Racks Up More Wins – The Rising Deficit Isn't One of Them
President Trump is winning on a number of fronts, and American conservatives are feeling better about their prospects than they have for a very long time.
Trump supporters are cheering an imminent shift in the balance at the Supreme Court. The President is expected to nominate a justice who respects the constitution to replace the retiring Anthony Kennedy. This legacy promises to endure for decades.
Americans' taxes are lower. The President has pruned some regulations. He has exposed the deep state and the extraordinary bias in the establishment media.
And he has even taken the moral high ground away from the Social Justice left.
However, the President has somewhere between 2 and 6 years left in office and his agenda remains vulnerable. The economy may prove to be the President's Achilles heel.
Trump has left a big opening for his opponents should the economy falter.
He is no longer critical of the Fed. He has embraced the phony rally in stocks and the low unemployment numbers. He no longer complains about easy monetary policy and the superficial nature of the economic recovery.
The Fed has caused both the private sector and the public sector to become addicted to debt. Trillion-dollar budget deficits are coming before the end of Trump's first term.
It isn't a good sign when Larry Kudlow, whom Trump recently appointed to the National Economic Council, isn't even aware of the trend in federal deficits. He declared they were shrinking on Friday. The reality is the opposite: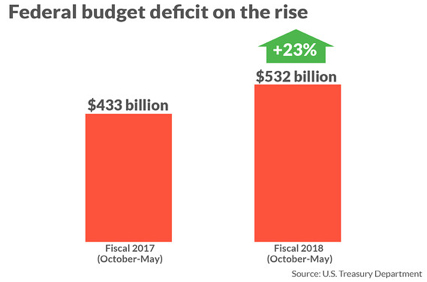 Trump signed the most recent budget expansion, and he is taking credit for positive signs in the economy. He will 100% own whatever happens from here. Right now that could be a dangerous proposition.
The US may not be able to avoid recession for another two years, let alone dodge a bigger reckoning down the road.
The current expansion is very long in the tooth, by historical standards.
The President's trade policy, regardless of its merits, is likely to create headwinds for some sectors of the U.S. economy in the short run.
Rising interest rates are going to slow borrowing – the lifeblood of this economic expansion.
And, perhaps most dangerous, Trump has plenty of enemies looking for ways to take him down. A recession or economic collapse is one way to do it.
The last few months have shown the U.S. economic engine starting to stall. The equity markets, which moved relentlessly higher during the first year of the new administration, have faltered.
The S&P 500 closed at 2,718 on Friday, well below the 2,873 top set in late January. And last week the official estimate of first quarter GDP was revised lower, along with the forecast for second quarter GDP.
The last thing the President needs is to be blamed for a major recession – or something even worse.
---