The silver market appears to be setting up for a big move.
After spending this spring stair-stepping lower in a narrowing range, silver prices have formed a falling wedge pattern. That pattern usually resolves in a powerful directional breakout. The good news for bulls is that falling wedges usually break out to the upside.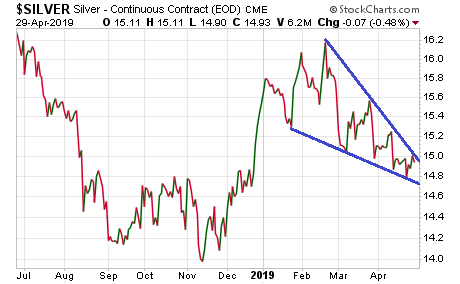 Commercial hedgers and bullion banks (i.e., "smart money") in the silver futures market have significantly trimmed their short positions over the past couple of weeks – a bullish development. While their net positioning isn't yet at an extreme, it is more favorable than not for a price rally to commence in the near future.
Of course, neither futures traders nor chart patterns are 100% reliable. Nor do they have any particular implications for where prices may be headed years from now.
Long-term investors can benefit from identifying opportune entry points on the charts. But if a big multi-year bull market is to come, it will be driven by fundamentals – supply, demand, relative valuations, inflation rates, and investor sentiment.
Let's, therefore, drill down into silver's fundamentals.
The Silver Institute is widely considered to be an authoritative source. The Institute released its annual World Silver Survey in April, which showed global silver demand rose by 4% in 2018 to more than 1 billion ounces. At the same time, supply from mine production fell 2% last year to 855.7 million ounces.
At first glance, these numbers present a compelling case for higher silver prices. Demand appears to be outstripping supply.
However, there is no actual physical shortage. The mining supply deficit is (for now) being made up by scrap recycling and other secondary above-ground sources of physical silver.
There ultimately will be a physical shortage if demand continues to rise while mining production falls. The market's way of averting such a shortage is through higher prices to incentivize more output and encourage thrifting by industrial users.
Silver is a difficult market to forecast in part because there are few primary silver miners in existence. Most silver production comes from gold and base metals mining operations.
The gold mining industry is shrinking as reserves get depleted without being replaced by discoveries and small companies get gobbled up by larger ones.
Some industry insiders believe "peak gold" has arrived, which would imply annual global gold mining output heads down in the years to come.
Silver can be viewed as a leveraged play on gold. Silver is the more volatile of the two monetary metals.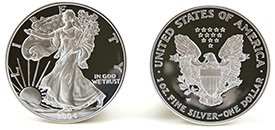 And right now it happens to be extremely cheap versus gold. Silver currently trades at about 1/86th the price of gold, just off a 25-year low hit earlier in April.
A mean reversion toward a more typical silver:gold ratio would imply massive silver outperformance going forward. At silver's last major cyclical peak in 2011 above $49/oz, the white metal traded at 1/30th the gold price. Going back further in history, there is precedent for further narrowing in the gold:silver gap.
The wild card is investment demand, which often actually rises during periods of rising prices. It's human nature to want to join a trend in motion – and over the past few years, U.S. retail investment demand has been soft amidst a trendless silver market.
Only the most farsighted, hardy, and patient investors buy aggressively while the market isn't going anywhere. They stand to reap the biggest gains, though, when prices finally do take off.
Weak sales figures over the past couple of years on popular bullion products such as Silver Eagles suggest investors remain largely disinterested in silver. However, digging deeper into World Silver Survey data, we find that global investment demand for bars shot up by 53% in 2018.
Much of that demand came from India and China, where more people of wealth are deciding to stack silver bars.
Gold has long been a powerful status symbol in Asia. But silver represents a more practical, more affordable way for the masses to hold wealth and conduct barter and trade transactions.
While central banks around the world (including China's) accumulate gold at an accelerating pace, individuals accumulating their monetary reserves in the form of silver bullion appears to be an emerging trend in the emerging world.
The bottom line is that the underlying fundamentals of the silver market are turning more and more favorable, even though the headlines aren't – yet.

About the Author:
Stefan Gleason is CEO of Money Metals Exchange, the company recently named "Best Overall Online Precious Metals Dealer" by Investopedia. A graduate of the University of Florida, Gleason is a seasoned business leader, investor, political strategist, and grassroots activist. Gleason has frequently appeared on national television networks such as CNN, FoxNews, and CNBC and in hundreds of publications such as the Wall Street Journal, TheStreet, and Seeking Alpha.