Primary Silver Producer's Most Profitable Mine Closed Indefinitely As Reserves Depleted
Endeavour Silver's most profitable mine will be shut down indefinitely by the end of November due to the exhaustion of mineral reserves. All employees will be laid off, and the mine will be put on care and maintenance. The El Cubo Mine will continue milling operations for a week in December to process the remaining stockpiles of ore.
This is quite a shame because El Cubo Mine was Endeavour Silver's most profitable primary silver mine, or so they say. According to the company's recent November Investor Presentation, El Cubo Mine has been operated continuously for the past 165 years: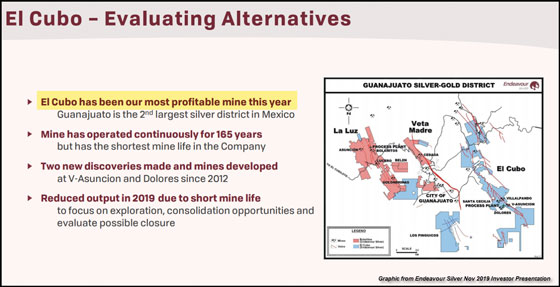 Management knew the mine was running out of reserves but tried to continue exploration activities over the past few years to find new profitable ore bodies. Unfortunately, the company failed to locate sufficient new reserves to continue operations so that the mine will be shut down indefinitely. As of the last Q3 2019 report, El Cubo Mine employed 350 people and 200 contractors.
Endeavour Silver plans to relocate some of the mining and milling equipment from the El Cubo Mine to other operations to reduce the company's capital costs:
Following suspension of the operations, Company and contract personnel will continue to maintain the security of the mine, plant and tailings facilities until final closure is completed. Management will evaluate alternatives for the plant and related facilities including moving certain components to development projects such as Terronera and Parral to reduce their future capital costs. The mining equipment will be relocated to Endeavour's other operating mines, particularly Bolanitos, to help facilitate increasing the mine output to fill the plants to their capacities.
Endeavour Silver acquired the El Cubo Mine in 2012, and it has been producing the lion's share of the company's silver supply for the past several years. Furthermore, the El Cubo Mine produced silver at an average yield of 4.7 oz per ton in 2019. Here is the production data for Endeavour Silver's three mines:
Total Silver Production 2015-2018:
El Cubo Mine = 8.8 million oz
Guanacevi Mine = 7.7 million oz
Bolanitos Mine = 4.4 million oz
Ironically, the El Cubo Mine had its best year in 2018 by producing 2.6 million oz of silver, 47% of the company's total 5.5 million oz. With the announcement of the closure of the El Cubo Mine, Endeavour Silver's stock fell 10%: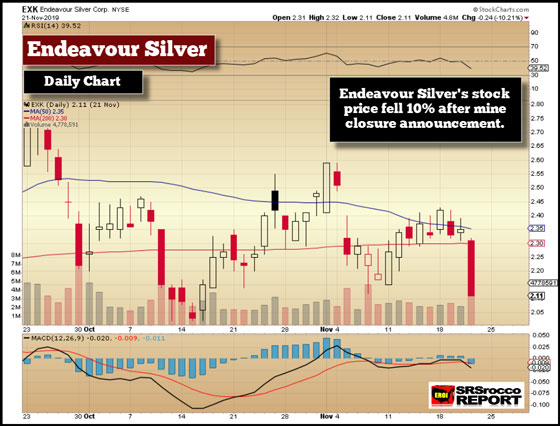 While Endeavour Silver lost one of its top primary silver mines, the company has another project in development called the Terronera Mine in Mexico. According to the company's newest investor presentation, the Terronera Mine will produce approximately 2.9 million oz of silver a year and 28,000 oz of gold. But, it may be a few years before the mine is in commercial status. I have not yet seen a proposed date for the first commercial production.
Thus, Endeavour Silver will have to limp along now with only two mines and a partial. The company added the El Compas Mine recently, but it only produced about 71,000 oz of silver for the first three quarters of 2019. This is the problem with running small mining operations. It seems that economies of scale tend to be the most profitable mining ventures.
Lastly, a tweet from Rudy Havenstein seems to wrap up the situation at Endeavour Silver: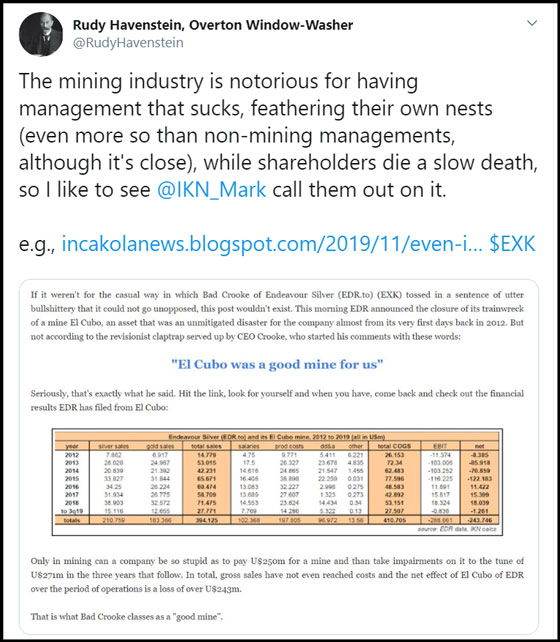 The closure of El Cubo Mine reminds us that silver reserves do not last forever. While the USGS published 20 years' worth of silver reserves remaining in its latest 2019 Silver Mineral Summary Report, I highly doubt we will recover 50% of those reserves. And with energy becoming a big problem over the next decade, we may (or already have) reach peak silver production much sooner than later.
---