Wall Street owns Washington DC – figuratively speaking. In literal terms, the largest banks in the nation own the Federal Reserve. They also bought and paid for a great number of DC politicians as evidenced by campaign contributions, Congressional voting records, and sham oversight.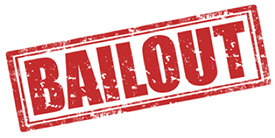 This was on full display at last week's Committee on Financial Services hearing. "The Honorable Randal Quarles," Vice Chairman of Supervision at the Fed, was among three people called to report for purposes of "oversight." A memo outlining the topics of discussion was published by the committee.
The discussion ranged from a proposed rule change that would allow individuals with "certain minor criminal offenses" to get a job at a bank to foster "Diversity in Banking." Virtue signaling Congresspeople would arbitrarily like to see more women and minorities running banks.
They should worry more about the overrepresentation of sociopaths in boardrooms and executive suites. Among other things, they should ask the "Honorable" Mr. Quarles exactly why the Fed is once again shoveling hundreds of billions of dollars into banks via the repo market. This latest swindle isn't anywhere on the committee's agenda.
Committee members should be embarrassed, but we doubt they are. The financial press isn't covering the story, and most Americans don't mind.
Americans are left to guess about the purpose of the program. Fed officials were lying when they characterized the program as very temporary and designed to address a routine cash crunch at the end of the third quarter.
Congress isn't asking any hard questions, even though "Who is borrowing all this cash?" and "Why?" are the biggest mysteries in the financial markets right now.
The repo market giveaway smells an awful lot like another bailout. The repo market froze up when banks started smelling trouble and rates for overnight, collateralized loans spiked north of 10%.
Many speculate that a major bank was on the verge of collapse – perhaps the long-struggling Deutsche Bank or HSBC.
Of course, it is possible that there is no crisis. The hundreds of billions might just be a simple charity for the nation's wealthiest institutions. Perhaps the Fed is printing and lending money at less than 2% to bankers who want it to speculate, pay bonuses, and/or lend it forward at much higher rates.
It sure would be nice to know. Next time the Committee meets for oversight we suggest some tougher questions, such as:
The original characterization of the Fed's intervention in repo markets was a fabrication. Can you explain the program's real purpose?
Is it appropriate for the Fed to print hundreds of billions and lend it to unspecified banks at far below market rates, and do it under false pretenses?
Is the Fed propping up one or more banks that would otherwise be in default? If so, please explain why "Too big to fail" remains the policy at the Fed and how well that policy is working out for Americans at large.
Is the Fed bailing out an international bank? Please lay out how it serves Americans' interest to send hundreds of billions of dollars to foreign companies.
The Federal Reserve Bank is not a federal agency. It is a quasi-private organization, and its shareholders are the largest banks on Wall Street. Does that have anything to do with why the answer to every problem in the financial markets seems to be "print money and hand it to the banks?"
And, is it appropriate for an organization that is wholly owned by banks to be the primary regulator of the banks?
While it would be wonderful if a principled Congressperson asked these sorts of questions, we aren't holding our breath.
The last time the Fed performed an overt bailout for bankers in 2008, Congress went along even though it was terribly unpopular. This is probably why Fed officials are lying and why Congress isn't challenging them for it.

About the Author:
Clint Siegner is a Director at Money Metals Exchange, a precious metals dealer recently named "Best in the USA" by an independent global ratings group. A graduate of Linfield College in Oregon, Siegner puts his experience in business management along with his passion for personal liberty, limited government, and honest money into the development of Money Metals' brand and reach. This includes writing extensively on the bullion markets and their intersection with policy and world affairs.