Pan American Silver announced today the suspension of two of its silver mines in Peru due to several workers testing positive for the COVID-19 virus. The two silver mines in Peru accounted for 6.3 million ounces of silver output for Pan American Silver in 2019.
It's not clear if Pan American Silver began full operations at its Huaron and Morococha Mines, but the company has now put them on care and maintenance. According to Pan American Silver's press release as of June 1st, they stated the following in regard to their two silver mines in Peru:
Pan American Silver Announces Resumption of Operations Previously Suspended by COVID-19 Restrictions
Huaron and Morococha: Pan American is awaiting the regulatory authorizations to restart these underground mines.
Pan American had suspended normal operations at its mines in Peru to comply with a mandatory national quarantine declared on March 15, 2020, which has currently been extended to June 30, 2020. On May 2, 2020, the government authorized the resumption of certain mining activities.
While Pan American Silver is shutting down its silver mines in Peru, its two gold mines, Shahuindo and La Arena, restarted operations on May 15th and continue to ramp up to full production. The Huaron and Morococha Mines produced 6.3 million oz of silver last year, accounting for 25% of the company's silver production: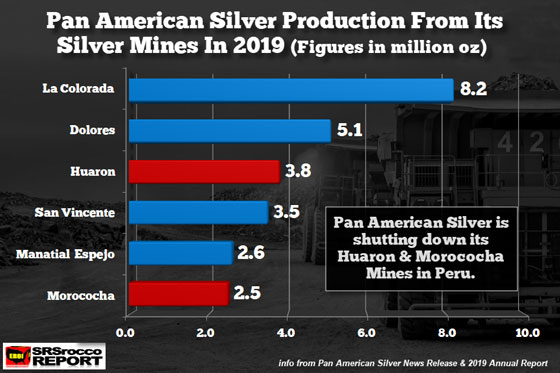 With more problems with silver mine closures due to the global pandemic, it will be interesting to see how this will impact the silver market. Today, the silver price has broken above its $19.75 level and is now trading 30 cents higher in the $20 range. As I stated in several articles, if silver broke through that $19.75 level, it will likely hit $21 quickly.

About the Author:
Independent researcher Steve St. Angelo started to invest in precious metals in 2002. In 2008, he began researching areas of the gold and silver market that the majority of the precious metal analyst community has left unexplored. These areas include how energy and the falling EROI – Energy Returned On Invested – stand to impact the mining industry, precious metals, paper assets, and the overall economy.