Gold prices have risen 35% since the March lows. The S&P 500 is nearly 50% higher. Stocks have outperformed but investors will want to think carefully before positioning for the months ahead.
The equity markets' move has been 100% fueled by the Fed's liberal sprinkling of pixie dust and the fantasy that the bubble will continue to grow indefinitely.
Stock investors must suspend disbelief and hope valuations will reach even greater record highs even as 30 million Americans remain out of work.
For anyone skeptical about whether the equity markets can continue to outperform gold, now would be a good time to switch horses. One of the best ways to do that is to transfer some retirement funds out of a conventional brokerage account and into a Self-Directed IRA.
These accounts allow you to switch some of your Wall Street assets for tangible assets such as gold, silver, and real estate.
Nervous investors are making the switch in increasing numbers.
And the cost of maintaining the account is often well below what Wall Street charges to "manage" your funds.
Banks and brokerages successfully cultivated the idea that IRAs should contain only conventional securities – stocks, bonds, and mutual funds. The vast majority of retirement funds are invested in those assets, and financial institutions get a rake on every nickel invested. It is no accident that paper is the ONLY option in most accounts.
Annual maintenance and storage fees for $100,000 in IRA funds invested in physical gold, including the storage at Money Metals Depository, are roughly 35 basis points (.0035) for the first year and 20 basis points (.002) ongoing. The maintenance and management fees built into many ETFs and mutual funds are triple that amount.
Today, several good IRA companies are offering self-directed plans, so it is worth covering how an investor might go about choosing one.
You'll want to start by evaluating the basics. Choose a firm with a reputation for providing great service and competitive fees. You might give extra points to a firm that is well-established in the industry.
We do not recommend using custodians charging more than $150 in annual fees or those charging more than $50 to process a transaction.
There are some very good IRA firms we vetted who charge fees significantly below those levels.
The capability to enroll, view, and manage transactions online will be a major consideration if you prefer the convenience of managing affairs electronically.
If you prefer to deal in person, inquire by phone to see if you can reach a service rep easily and get good care.
You should avoid IRA custodians who want to steer you into particular products or programs. Some "rare" and "proof" coin dealers have special arrangements with custodians to steer people into high-premium coins.
Those over-hyped coins generally do not perform well for anyone but the dealers selling them and should be avoided like the plague. The Wall Street Journal just published an extremely damning article about the proof coin market.
Many clients may want to store metals closer to where they live. However, we suggest there are more important considerations...
Storage fees should be low, of course.
Further, you should choose a reputable depository that offers segregated storage, outside of the COMEX custodial network and whatever tangled web of rehypothecation that could entrap your metals there.
Lastly, the depository should take physical security seriously.
Money Metals Depository meets all of the above recommendations and more.
MMD operates a Class 3 vault located directly below a County Sheriff's department!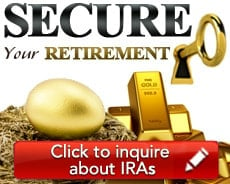 Segregated storage is the only type we offer in Idaho, and our facility is far away from the COMEX system of vaults, Wall Street bankers, and Washington DC politicians.
With segregated storage, the coins and bars you send in are the exact property you get back when the time comes.
If you would like to store your IRA metals with Money Metals Depository and take advantage of zero shipping costs and instant delivery from Money Metals Exchange, you'll want to choose New Direction IRA in Colorado, Advanta IRA in Florida and Georgia, or Mountain West IRA in Idaho.
Any of the above three IRA custodians can serve clients nationwide and come highly recommended by our IRA clients for low fees and great support.
If you need a specific recommendation on an IRA custodian based on your circumstance, please just give one of our Specialists a call at 1-800-800-1865.
And to get started with a precious metals IRA, visit this page.

About the Author:
Clint Siegner is a Director at Money Metals Exchange, a precious metals dealer recently named "Best in the USA" by an independent global ratings group. A graduate of Linfield College in Oregon, Siegner puts his experience in business management along with his passion for personal liberty, limited government, and honest money into the development of Money Metals' brand and reach. This includes writing extensively on the bullion markets and their intersection with policy and world affairs.