Last year provided extraordinary challenges to Americans as well as people around the world. Hundreds of thousands of deaths were attributed to the Chinese coronavirus.
The economic carnage and the attendant death and suffering along with the loss of civil liberties were grossly underreported.
We've seen one economic recession already and are likely in the early stages of a more extended depression.
2020 was capped by a rancorous presidential election with lots of allegations (and at least some evidence) of vote fraud glossed over by the legislatures, courts, media, and official investigators responsible for guaranteeing fair elections.
Americans enter 2021 more divided than at any time since the Civil War. Politics will remain a primary focus for Americans and investors in particular.
Unfortunately, more violence from various political factions cannot be ruled out. Secession movements may also gather steam.
Americans will hopefully see a widespread easing of the coronavirus lockdowns before the summer of 2021.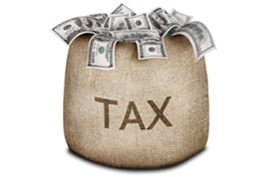 The virus will no longer be useful as a cudgel for Donald Trump's political opponents. New York Governor Andrew Cuomo has already done an about-face, calling for his state's economy to be re-open even as his public health officials are botching the vaccine rollout.
So long as a new vaccine-resistant strain doesn't emerge, the vaccination rollout will provide some cover for officials looking now to ease restrictions and declare victory.
Higher taxes are on the agenda. Democrats at the federal level may have the majorities needed to roll back some of the Trump tax cuts and impose new taxes.
But Democrats won't need to rely on their newfound power to pass additional stimulus and add trillions more to the federal debt. Big government Republicans never object to additional spending. Congress is already well on its way to passing another trillion-dollar package.
Total federal debt will blow through 30 trillion dollars this year as the parabolic debt curve steepens further.
The political and economic implications of total Democratic control over the federal government have largely been ignored by the financial markets, at least thus far.
However, those concerns are having a profound effect in one market where such fundamentals still matter.
Demand for physical bullion is on pace to set a new monthly record at Money Metals Exchange. Recent events have drawn in a new wave of buyers. However, our experience is not necessarily representative of the broader market because our company is growing more rapidly than most of our U.S. competitors.
Yes, indeed. It promises to be another "interesting" year.

About the Author:
Clint Siegner is a Director at Money Metals Exchange, a precious metals dealer recently named "Best in the USA" by an independent global ratings group. A graduate of Linfield College in Oregon, Siegner puts his experience in business management along with his passion for personal liberty, limited government, and honest money into the development of Money Metals' brand and reach. This includes writing extensively on the bullion markets and their intersection with policy and world affairs.