According to recent U.S. Mint production reports, demand for gold coins remains super strong.
Rampant global inflation, the war in Ukraine, stock market volatility, and central bank missteps have fueled retail interest.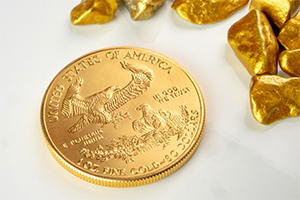 Last week, the U.S. Mint reported sales of 426,500 ounces of gold coins during the first quarter of 2022 – up 3.5% from the first quarter of 2021 and the highest in 23 years! March sales for the U.S. Mint were their best since 1999.
Even as the government-run institution continues to be plagued by its ongoing mismanagement, it sold 155,500 ounces of various denominations of the American Eagle gold coin in March alone, up 73% from the prior month.
With this morning's 8.5% Consumer Price Inflation (CPI) reading from the Bureau of Labor Statistics, inflation is no longer a topic confined to pundits and economists, its painful bite on Main Street has become widely acknowledged and felt.
Extremely high inflation globally, combined with the war in Eastern Europe and a shaky start to the year for equities, should underpin volatility-based demand for bullion throughout the year.
Meanwhile, although the U.S. Mint's silver coin sales remain strong, high premiums caused by production shortages at the dysfunctional government "enterprise" has put a crimp on sales as compared to early 2021.
The U.S. Mint reported silver sales of roughly 7.5 million ounces in the first quarter, a decline of 37% from the year prior.
Extraordinarily high premiums on silver American Eagles have pushed savvy investors to consider the wide array of more affordable silver options – especially silver bars and rounds along with silver coins produced by other sovereign mints.

About the Author:
Stefan Gleason is President of Money Metals Exchange, the company recently named "Best Overall Online Precious Metals Dealer" by Investopedia. A graduate of the University of Florida, Gleason is a seasoned business leader, investor, political strategist, and grassroots activist. Gleason has frequently appeared on national television networks such as CNN, FoxNews, and CNBC and in hundreds of publications such as the Wall Street Journal, TheStreet, and Seeking Alpha.